PPG Paints Selects Olive Sprig as its 2022 Color of the Year
This soothing gray-green shade represents healing and restoration.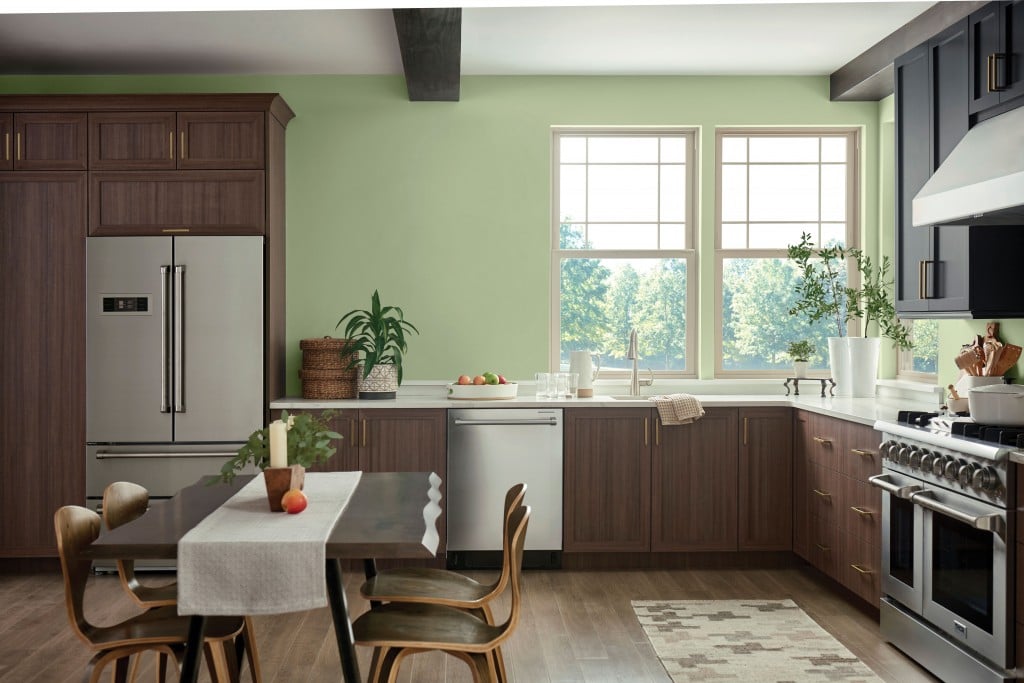 PPG Paints announced its 2022 Color of the Year as Olive Sprig, a soothing and sophisticated gray-green that's meant to exhibit regrowth and resiliency.
"As many of us know following a year of lockdown, the easiest way to shift your mindset is to change your environment. While we begin to trade sweatpants for strappy shoes, recipes for reservations, and a night in for a night out, our paint color preferences are shifting too, in both residential and commercial spaces," says Amy Donato, senior color marketing manager of PPG paint, in a press release. "DIYers, property managers, designers and architects are shifting away from the stark, neutral palettes of yesterday and opting for color in all forms. Call it rebellion, but we are certainly here for the resurgence of optimistic colors to guide us into a new era of home design."
Olive Sprig is a versatile color that brighten spaces and brings out a relaxing appeal. Use this tone to create a sanctuary in the bedroom or to provide a neutral backdrop in other rooms.
In addition to picking a Color of the Year, PPG Paints chose three color stories — Invaluable, Introspective and Inspired — palettes that resonate with homeowners and professionals, as well as follow a central theme of Horizon, which portrays hope and new beginnings.
Pick up Olive Sprig and other paint colors at select PPG Paints stores across the Islands.