Refreshed New Looks
Little accents make a big difference.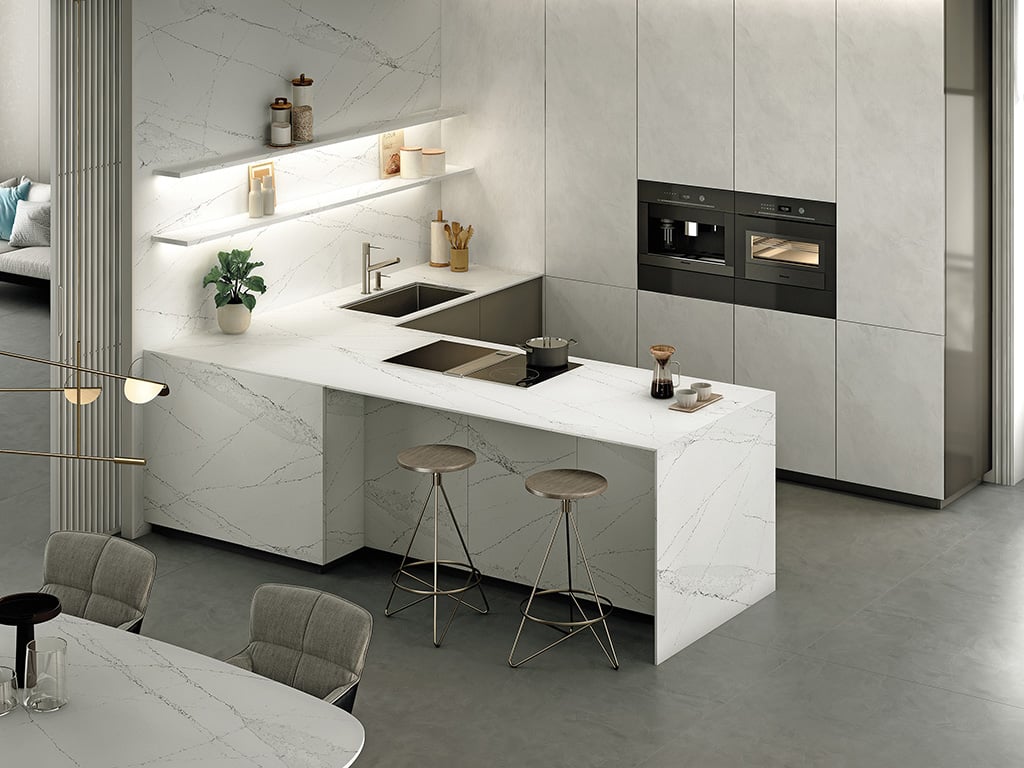 Trends may come and go, but the desire to keep updating your style at home is here to stay. Consider making some upgrades to your kitchen and bathrooms, starting with your countertops and then working down to other details.
Built to Last
Engineered quartz stone countertops are popular because their colors mimic traditional marbles of Italy, says Kevin Nip of Selective Stone. The whites with light-to-darker gray hues and veins in engineered quartz resemble Italian marble varieties such as Calacatta Gold and Statuario, Arabescato and Carrara white.
"Traditionally, the actual natural stones quarried from the higher altitudes of Carrara, Italy, are not suitable for kitchen appliances due to their higher degree of porosity and potential maintenance issues," explains Nip.
Advanced technology, however, makes it possible to manufacture dense and durable slabs that are 91% to 93% natural quartz stone, mixed with eco-friendly additives. That technology makes engineered quartz slabs a designer and homeowner's choice, "and specifically for colors that replicate higher-end white marbles."
Quartz in the Bathroom
Engineered quartz stones are also being used for bathroom vanities, with glass or stone mosaics for the backsplashes. "Incorporating glass, glass with stone, and stone mosaics for backsplashes is a design concept that is gaining popularity," says Nip.
Maximize Harmony
To bring a sense of peace into your bathroom, try out the minimalist nature of Japandi design. Ferguson Bath, Kitchen & Lighting Gallery offers the Kintsu Bath Collection by Brizo, which highlights the simplicity and great craftsmanship that are foundational in Japandi.
Accessorize with Black Matte
American Standard's Studio S Collection also at Ferguson Bath, Kitchen & Lighting Gallery is a breath of fresh air. The black matte vanities and light fixtures contrast effortlessly against white or neutral-colored walls and flooring. Add some greenery into your bath space for the finishing touch.
Black matte is one way to personalize your home because of its non-traditional finish and modern look. Bathroom faucets are easy to replace, so consider trading yours out for black matte to get a feel for the look before fully committing. Once you're all in, a black matte bathtub could be the centerpiece of your bathroom and will definitely stand out in your space.
Lasting Elegance
In the kitchen, consider gold accents. This style never goes out of fashion when matched with timeless products like Kohler's Tempered Cast Iron Farmhouse Kitchen Sink with the Tempered Semi-Pro Kitchen Faucet from Ferguson Bath, Kitchen & Lighting Gallery.
Finance Options
To finance your latest kitchen and bathroom upgrades, explore a home equity loan or cash-out refinancing from American Savings Bank. "Both options allow homeowners to take advantage of the rise in property values experienced recently," says Alan Fentriss, the bank's senior vice president and director of home loans.
"A home equity loan is based on the equity in the home, which is the difference between the value of the property and any existing mortgages on the home," he explains. "It's a line of credit where your amount can be partially or entirely borrowed and paid back and borrowed again at any time during the initial draw period of the loan.
"On the other hand, a cash-out refinance is a standard mortgage that gives borrowers a lump sum amount of cash and replaces the existing loans on the property."
For more information on either of these options, visit the Banking and Borrowing page at asbhawaii.com.