Roofing
It's important that your roofer is familiar with Hawaii's unique climate challenges.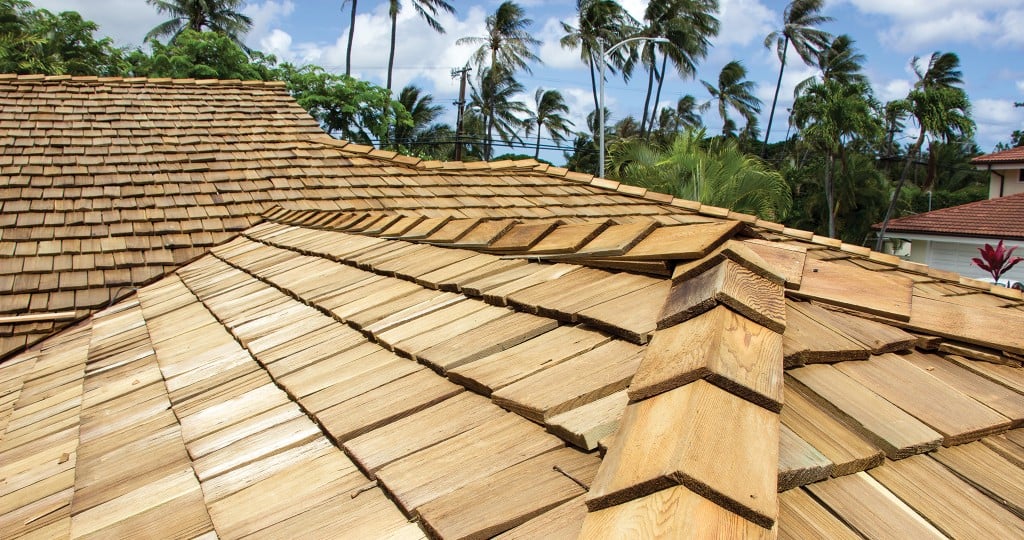 This article is part of the 2019 Hawaii Home + Remodeling Resource Guide, an organized and vetted directory of professionals, services and shops in the building and home improvement industry.

A house is more than just the roof over your head — but you still want to be sure that your roof is in good hands. Though most Hawaii homes use asphalt shingles, you'll want to select a contractor with the experience and know-how to install any kind of roof, whether it's asphalt, metal, concrete, clay, wood or another material. It's also important that the roofer you select is familiar with the challenges posed by our unique Island climate. The team at Kapili Roofing & Painting is an excellent choice. With more than 50 years of combined experience, the local family-owned business is skilled at roof repairs, replacements and inspections.
Take it from the Top
Kapili offers:
• Free estimates
• 25-year workmanship warranties
• 50-year nonprorated material warranties
About Kapili:
• Fully licensed, bonded and insured
• CertainTeed SureStart 5-Star installers
• Hawaii's only GAF Master Elite contractor
• Malarkey certified contractors
House Painting
Kapili offers painting services, too! With more than 30 years in the painting industry, its team specializes in exterior and interior residential painting.
---
Roofing
A to Z Roofing Company
With over 50 years of combined experience, our locally owned family business is a leader in
quality roofing in Hawaii and will cater to all your roofing needs.
______________
94-547 Ukee St., Ste. 107
Waipahu, Oahu
678-6600
atozroofinghawaii.com
ABC Shade & Awning Inc.
Honolulu, Oahu
847-8862
abcshade.net
ABC Supply Co. Inc.
73-4939 Kamanu St.
Kailua-Kona, Big Island
808-327-0445
______________
446 Ala Makani Pl.
Kahului, Maui
808-877-6507
______________
749 Mapunapuna St.
Honolulu, Oahu
836-8077
______________
91-252 Kuhela St.
Kapolei, Oahu
682-0659
abcsupply.com
Advanced Roofing Technology Inc.
590 Farrington Hwy, #524-424
Kapolei, Oahu
235-5542
advanced-roofing.com
All Aces Roofing, Renovation and Raingutters Inc.
86-180 Mailiilii Rd.
Waianae, Oahu
697-8134
All Weather Surfaces Hawaii Inc.
99-890 Iwaena St.
Aiea, Oahu
487-3043
allweathersurfaces.com
Aloha Roofing Inc.
Honolulu, Oahu
538-7663
aloharoofinginc.com
Aluminum Shake Roofing
94-432 Maikoiko St.
Waipahu, Oahu
847-8885
aluminumshakeroofing.com
Coatings Hawaii
Honolulu, Oahu
478-9001
coatingshawaiihi.com
Commercial Roofing & Waterproofing Hawaii Inc.
94-260 Pupuole St.
Waipahu, Oahu
841-7246
commercialroofinginc.com
Cool Roof Store/LeakMaster Roofing
1363 S. Beretania St.
Honolulu, Oahu
591-1905
coolroofstore.net
leakmaster.com
David's Custom Roofing
& Painting Inc.
96-1217 Waihona St.
Pearl City, Oahu
833-1633
davidsroofinghi.com
EcoShade
Honolulu, Oahu
271-2545
ecoshade.com
Haas Insulation
94-1388 Moaninai St., Ste. 111
Waipahu, Oahu
845-0775
haasinsulation.net
HPM Building Supply
HPM Building Supply is a local, 100-percent employee-owned company helping pro-builders and homeowners. Build Better with products selected especially for Hawaii.
______________
74-5511 Luhia St.
Kailua-Kona, Big Island
808-334-4200
______________
380 Kanoelehua Ave.
Hilo, Big Island
808-935-0875
______________
3419 Iwipoo Rd.
Lawai, Kauai
808-332-7376
______________
91-302 Hanua St.
Kapolei, Oahu
808-682-8560
______________
64-1027 Mamalahoa Hwy.
Kamuela, Big Island
808-885-6036
hpmhawaii.com
J & K Roofing Company Inc.
Waipahu, Oahu
678-8069
Kapili Roofing & Painting
Wahiawa, Oahu
621-7663
kapiliroof.com
KCB Soft Roof Cleaning
Honolulu, Oahu
595-4503
Kloeckner Metals
Our premium metal roofing systems have a successful track record with many design and color options. Steel and galvanizing services also available. Since 1959.
______________
91-104 Kalaeloa Blvd.
Kapolei, Oahu
682-3000
hisales@kloecknermetals.com
kloecknermetalshawaii.com
M & R Roofing
2045 Lauwiliwili St., #1509-1510
Kapolei, Oahu
492-0003
mandrroofers.com
MRC Roofing
1041 Puuwai St.
Honolulu, Oahu
842-4464
mrcroofinghawaii.com
Oceanview Roofing LLC
1051 Keolu Dr.
Kailua, Oahu
234-1000
oceanviewroofing.com
Ohana Construction Inc.
2144 Kauhana St.
Honolulu, Oahu
219-0539
ohanaconstruction.us
On Top Roofing
Mililani, Oahu
688-7407
ontoproofinghawaii.com
Pacific Islands Construction
1545 Hau St., Unit 101
Honolulu, Oahu
841-7756
Pacific Industrial Coatings LLC
Honolulu, Oahu
440-8975
pichawaii.us
Plywood Hawaii
1062 Kikowaena Pl.
Honolulu, Oahu
834-1144
plywoodhawaii.com
Precision Truss LLC
91-227 Hanua St.
Kapolei, Oahu
690-1222
precisiontrusshawaii.com
Protech Roofing LLC
1074 Mikole St. #4
Honolulu, Oahu
845-1300
protechroofinghawaii.com
R&C Roofing Contractors
3302 Campbell Ave.
Honolulu, Oahu
888-2524
roofinspectionhawaii.com
R.K. Builders Inc.
Hilo, Big Island
808-959-4060
rkbuildershawaii.com
Rainbow Roof Maintenance
648 Laumaka St., #C
Honolulu, Oahu
842-0488
rainbowroof.com
Surface Shield Roofing Co.
3442 Waialae Ave., #3
Honolulu, Oahu
739-9599
surfaceshieldroofing.com
Tory's Roofing & Waterproofing Inc.
96-1382 Waihona St.
Pearl City, Oahu
456-5990
torysroofing.com
Tropical Roofing and Raingutters Inc.
94-78 Leokane St.
Waipahu, Oahu
847-0030
tropicalroofinghawaii.com
Tropical Wholesale
1351 S. Beretania St.
Honolulu, Oahu
263-1252
tropicalwholesaleonline.com
Truss Systems Hawaii Inc.
235 Nakii Rd.
Puunene, Maui
808-877-0036
trusssystemshawaii.com
United Roofing & Rain Gutters
2669 Kilihau St.
Honolulu, Oahu
256-6433
unitedroofinghawaii.com
West Oahu Roofing
94-170 Leoole St., Ste. 107
Waipahu, Oahu
671-6886
westoahuroofing.com
Wilkinson Shake Roofing
96-1417 Waihona Pl., Unit C
Pearl City, Oahu
456-5006, 235-1777
wilkinsonshakeroofing.com
Yama's Roofing
45 Pohaku St., Ste. 202
Hilo, Big Island
Hilo: 808-961-9248
Kona: 808-329-3044
yamasroofing.com