Sky Diving: The suspended infinity pool designed for Anaha at Ward Village
A unique pool in Hawaii, brought to life by Pacific AquaScapes, merges artistry with engineering to create a one-of-a-kind experience.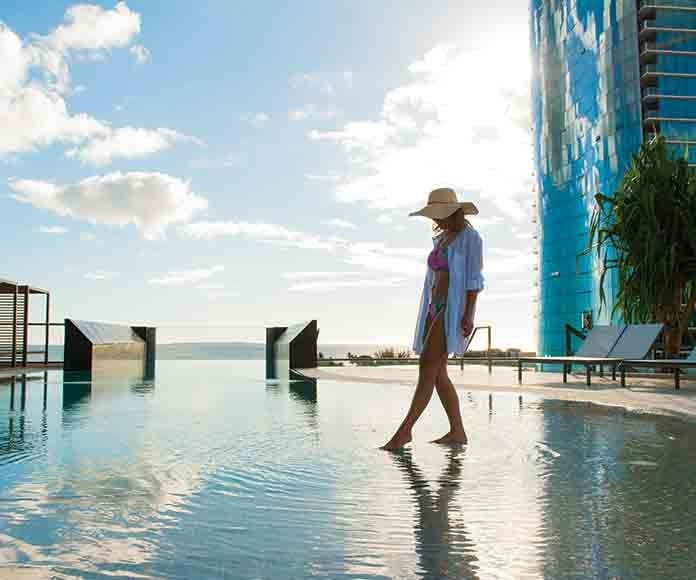 Perched high above the streets of Ward Village, a pool hangs 15 feet off the edge of the Amenity Deck at Anaha. Supported by cantilevers, the water feature stretches 75 feet long in its entirety and is the first of its kind in Hawaii. With Albert C. Kobayashi Inc. as the master contractor, the local pool builders at Pacific AquaScapes partnered with Surface Design Inc., a California-based architectural firm, to bring the iconic pool to life.
"During the initial meeting, we were asked if we could do this. We said, of course," laughs Wendell Lee, vice president of Pacific AquaScapes. "But after we walked out, I thought, man, how are we going to do this?"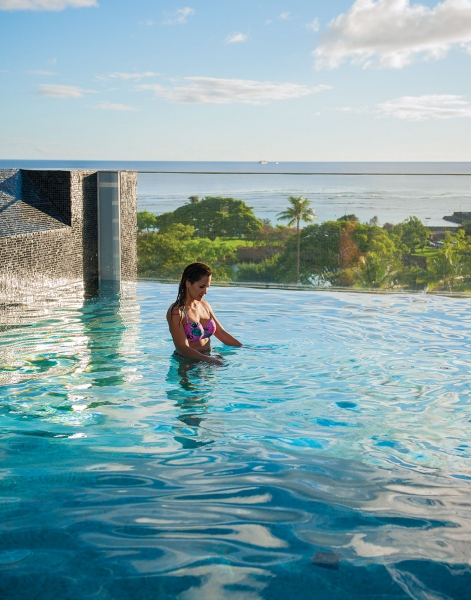 The building process was not without its challenges. The most notable was gaining access to even begin construction, explains Frank Fontana, president of Pacific AquaScapes. "We had to work from the street," he recalls. Nevertheless, Fontana and his crew worked tirelessly, performing everything from the initial build process down to the installation of the iridescent tile that lines the inside of the pool.
"They really nailed the magic, not just the architectural genius."
— Bernyce Peplowski, Anaha Resident
"No problem, however crazy we can dream up, they can make it a reality," says James Lord, principal architect at Surface Design Inc., whose firm led the design and planning.
A clear acrylic glass floor and end-wall removes any visual obstruction, connecting residents with the ocean just beyond. From below, passersby need only look up to view the magnificent water feature set against the warm skies above.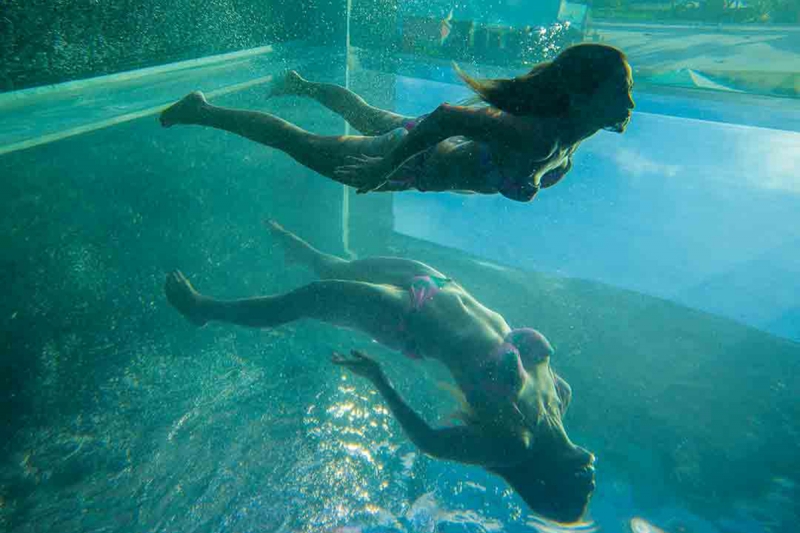 It was the joining of land, sea and sky that captivated Anaha resident Bernyce Peplowski. "The pool captures the communion of all the colors that you see," she says delightedly. "That's what makes it so spectacular." Holding a deep appreciation for architecture, Peplowski often finds herself poolside, admiring the angles, the reflection of colors and the structure itself. "They nailed the magic, not just the architectural genius," she notes.
The iconic pool is unlike any other Hawaii has seen before, blending artistic brilliance with engineering prowess. "Now the question is, who's going to beat it?" Lee says with a smile.