6 Colorful Backsplash Ideas for a Kids' Bathroom
Splash down with these ideas.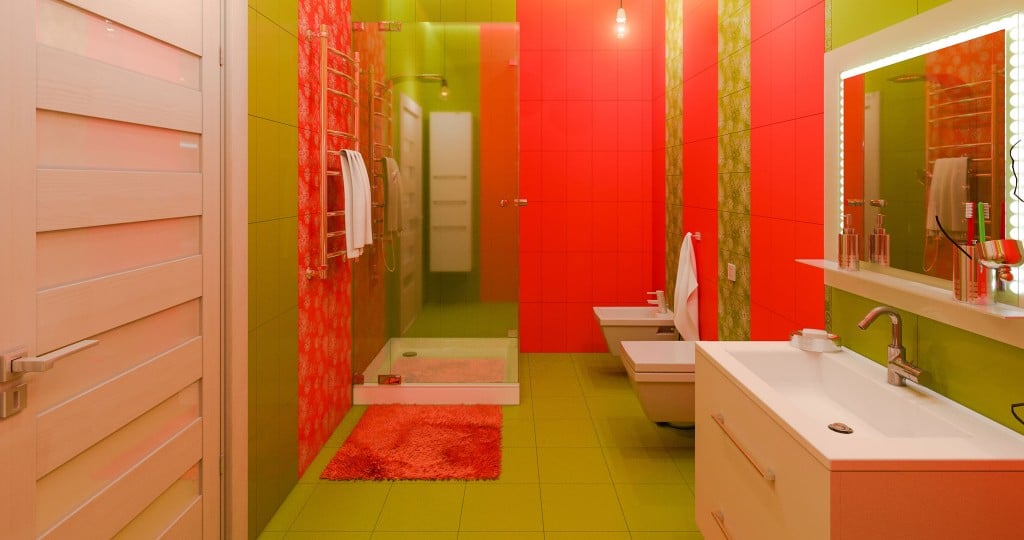 Here's a simple way to add some flair to the kids' bathroom: backsplashes. It gives the walls a vibrant boost of color and you can make it a fun family affair by including the kids in the decision-making process for color, patterns and finishes. Here are three places to get started:
Tile Warehouse
"The backsplash is probably the most seen as you walk into the bathroom," says Ramsey Tolentino of Tile Warehouse. "Showers can be blocked by either a curtain or a glass door. Bathrooms are one of the rooms in a home where you can really have fun with colors."
Since bathrooms are treated as separate rooms in the home, you don't have to worry about it matching the rest of the home. Tolentino suggests having a theme for the kids' bathroom — from beach to forest, retro, just to name a few — and designing it to be both fun and unique from the rest of the home.
The Glass Guru of Honolulu
"Backsplashes are unique for their virtually seamless appearance. You can basically use any color you want and get a high-gloss appearance to make any room pop. Plus,  they are easy to clean and maintain," says Guerric de Coligny of The Glass Guru of Honolulu, where clients can customize tile colors they want painted behind one of two different options for glass: regular glass or low-iron glass.
Due to the iron content in regular glass, the glass has a tinge of green, which affects the paint color that shows through. The low-iron glass is clear and shows the true color of the paint.
Selective Stone
Selective Stone is one of the state's largest and most diversified flooring and countertop supply companies. Kevin Nip of Selective Stone says tile is so versatile now you can virtually turn any tile into a backsplash. "Manufacturers are expanding their lines of tiles that can be cut into mosaics in a specified pattern," says Nip. "Different finishes on tiles, such as hone, polish, line chisel and rock-face, are
being incorporated for design and versatility.
And, when it comes to choosing tile from glass or stone, you don't have to settle for one material. Select a combo to give your bathroom a unique look. "Mixed mosaics, glass and stone express creativity, and are usually in a consistent pattern," says Nip. "The homeowner has the option to select colors that can blend in with countertop, cabinet and paint color selections while offering a different choice of material for the splash."