Thanksgiving, with Aloha
Support small businesses this season at Aloha Home Market.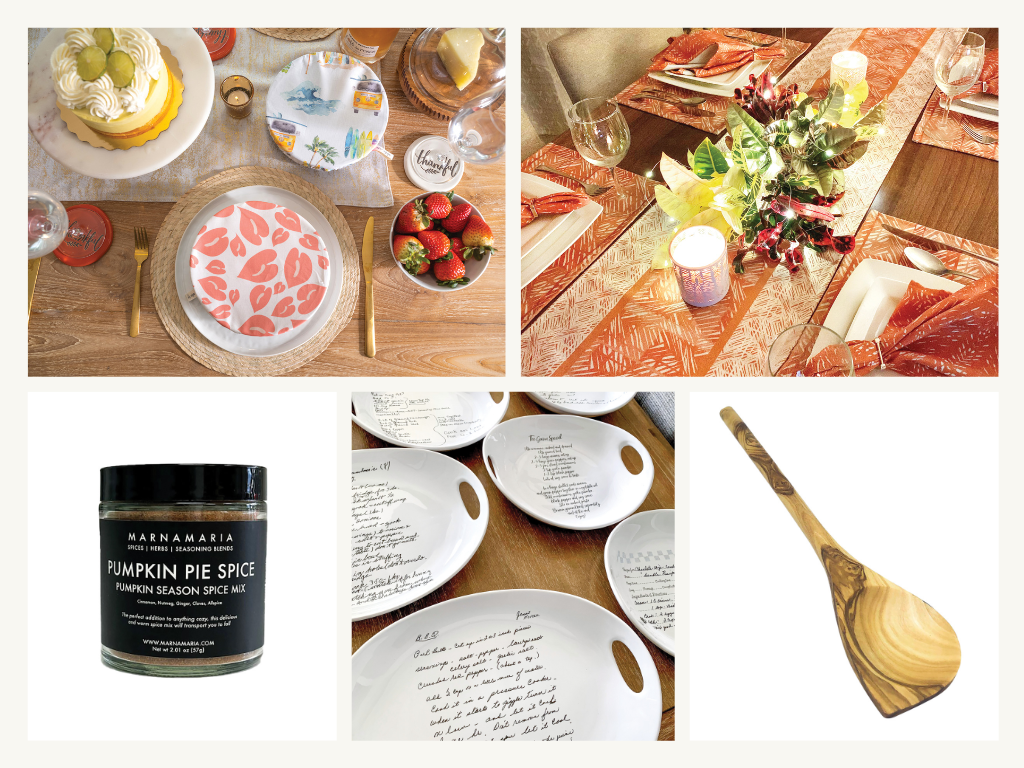 You'd be remiss not to add a touch of love to your Thanksgiving table this year. With the help of Danielle Scherman, founder of Aloha Home Market, we've curated products from Island vendors that will add heartfelt Hawaii vibes to the holiday. Check out Aloha Home Market's upcoming events, as listed on alohahomemarket.com.
Aloha de Casa
Scherman and husband, Javier Jarrin, started Aloha de Casa as a business that connects their family's Hawaii, New York and Ecuador roots. Jarrin's mother crafts these cotton dish covers by hand. Pack of four (small, medium, large and extra large), $35, alohadecasa.com
Noho Home
Textile designer Jalene Kanani Bell launched Noho Home in 2018. Shown here are the Moena table runner, paired with a place-mat set in the same print and Batik dining napkin set. The Moena woven pattern symbolizes strength, unity and connection. Table runner, $59.95; place-mat set of two, $49.95; dining napkin set of two, $59.95, nohohomehawaii.com
MarnaMaria
Kailua native Brittany Lum is behind the MarnaMaria line of internationally inspired spice blends and kitchen goods. Check out seasonal specialties such as the Pumpkin Pie Spice mix (cinnamon, nutmeg, cloves, ginger and allspice). MarnaMaria also offers a unique "corner spoon" made from olive wood that combines the best functions of a round spoon and corner spatula. Pumpkin Pie Spice, $5.99-$10.99; Olive Wood Corner Spoon, $10.89, marnamariaspicesandherbs.com
Sal Terrae 808
Sal Terrae 808 is an Etsy shop run by four sisters who celebrate faith and family. The company can add a custom touch by taking your favorite handwritten recipes or notes and kiln-burning the images onto ceramic-handled platters or plates. 12-inch wide-handled platter, $110; 16-inch wide-handled platter, $130; 10-inch round plate, $85, etsy.com/shop/salterrae808