The House of Hope
Hawaii author Dale Hope's vintage Polynesia-themed home is built on aloha.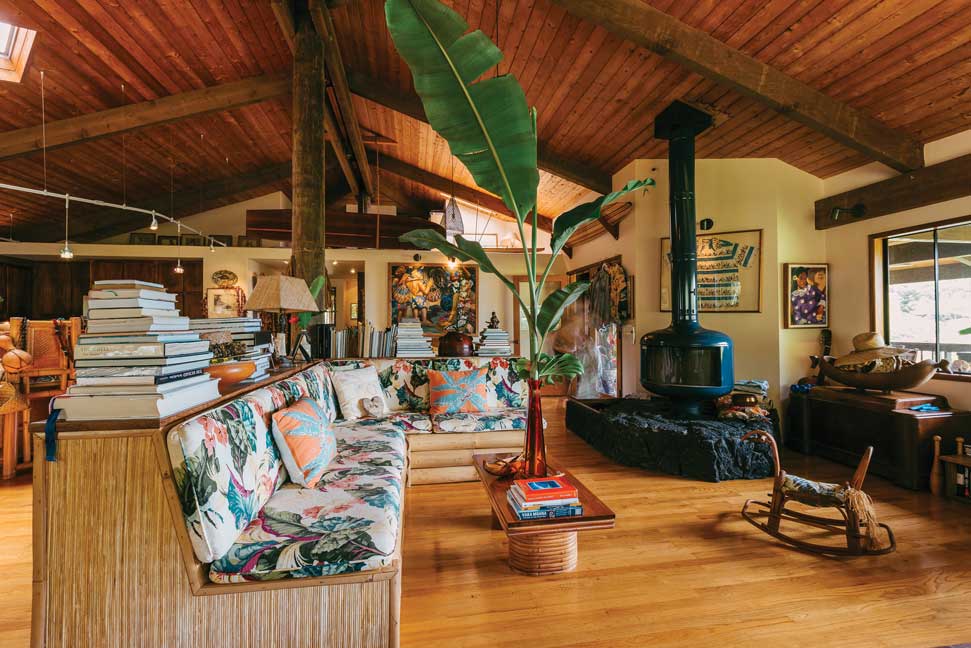 The moment you take off your slippers to step into the home of Dale Hope, you instantly realize he has the vintage Polynesian aesthetic dialed in.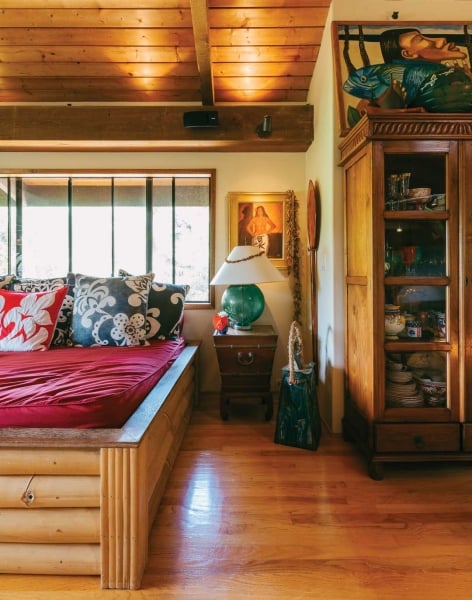 Gorgeous paintings with tropical subject matter by artists, such as Avi Kiriaty, Jon Severson and Yvonne Cheng, adorn the three-bedroom, three-bathroom, two-car garage and a loft home. Hope has worked with each of them in the past as an aloha shirt maker. In addition to the stunning artwork, there are "wall-hangers," expensive vintage, out-of-commission surfboards, prominently displayed. Each would drop the jaw of any surfer in the know.
Among all this artistic beauty and aquatic elegance, the part of the home that truly captures attention is the living room fireplace. "When it's really chilly, we for sure put it on. It makes the house cozy," says Hope. "It's awesome to have a fire burning in your house and the reflection around the room. The flame kind of shows up in different places in the house."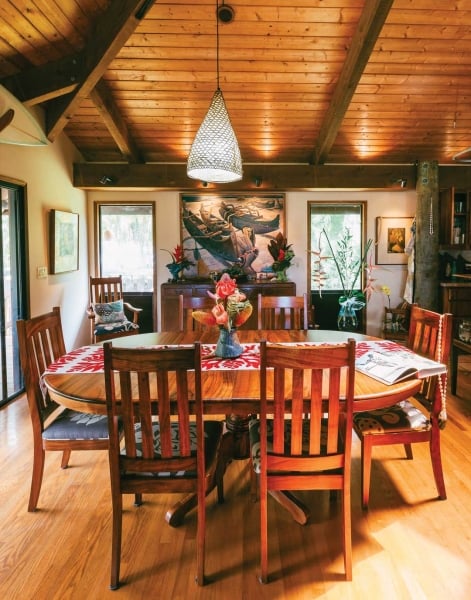 The wooden floors and high ceilings also give this Kaimuki Mauka house a comforting warmth. The close proximity of the living room to the kitchen, coupled with the absence of a TV, lets you know this is a home filled with conversation and laughter. The home, which Hope bought 25 years ago, is a rural, country-style home for him, his wife and their daughter in urban Honolulu. The 63-year-old first noticed this area as a student at Punahou School while on a hike.
"When I was a teenager, I was hiking in the mountains up here and saw this area. This was probably one of the most special places on the island to be," says Hope. "I would have preferred to live on the North Shore, but I didn't really want to be driving an hour and a half every day back and forth in busy traffic, so I tried to find something in town that was representative of a country-living style."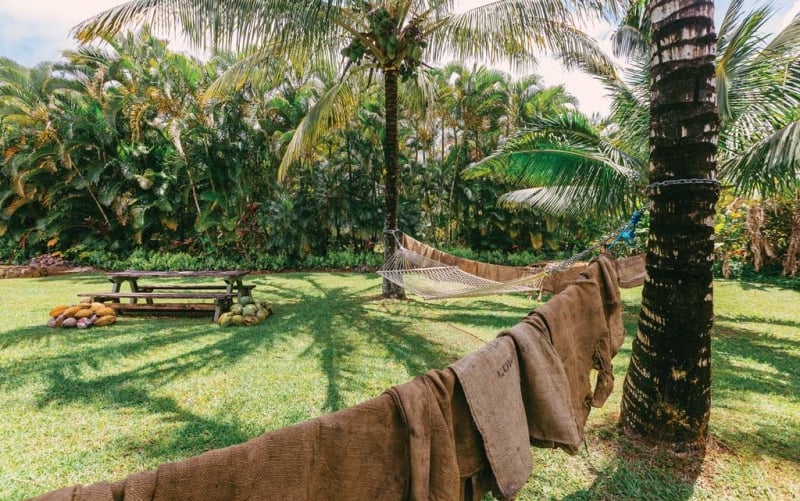 Today, Hope's focus is on being a family man with Hawaiian values. You can see it not only in his work, but also in his yard, which is full of fruit trees, plants, palms, breadfruit and a Hawaiian oven called an imu. He's had this for a decade and it gets heavy use in November and for charitable functions. In addition to the imu, the home is designed to be sustainable, with water catchment and photovoltaic systems, so the Hopes are off the grid.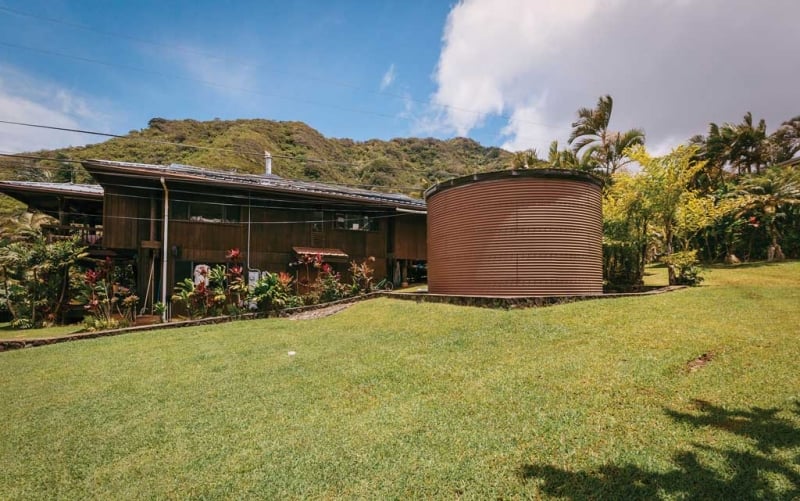 "Growing up and being in the fashion industry in Hawaii you know one of the companies that really got my attention was Patagonia from very early on. I always emulated them and thought it would be so great to be the Hawaiian Patagonia, but it's tough out here in the Pacific to be as green and responsible as we could with our garments," says Hope. "When we built our house, I thought it would be great if we could try to be as respectful as we could. So, we collect our own water and we have never run out. We have a 15,000-gallon tank of great-tasting water and full photovoltaic. Plus, we don't run air conditioning, we just let the natural trade winds keep us cool."
Always in touch with Hawaii's natural side, Hope is an experienced surfer, canoe paddler, paddle boarder and fisherman, so there is a variety of water crafts on the first floor. His father-in-law recently did an inventory, counting 62 surfboards. They're all not Hope's boards, though; he stores many of them for friends from Tahiti and Japan. His most prized papa hee nalu (surfboard) is a 10-foot balsa board shaped by Joe Quigg.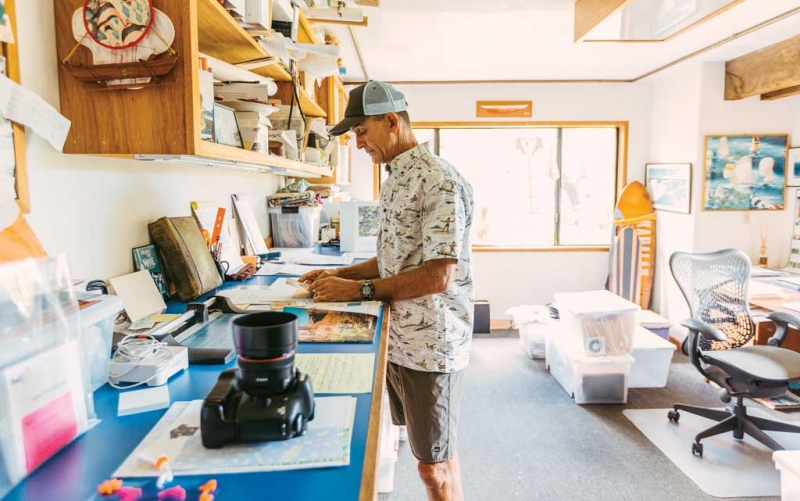 Among all the ocean crafts is Hope's downstairs office, where he keeps an amazing archive of pictures, materials, interviews and shirts. He recently re-released his book, "The Aloha Shirt: Spirit of the Islands," which is a comprehensive history of the iconic Hawaiian shirt and tribute to the industry. Hope's father, who was a resort wear designer, manufacturer and owner of Sun Fashions, eventually needed help and Hope got involved in the family business. Since then, Hope has revived the Kahala alohawear brand, started Hawaiian Style and collaborated with numerous internationally recognized brands on aloha shirts.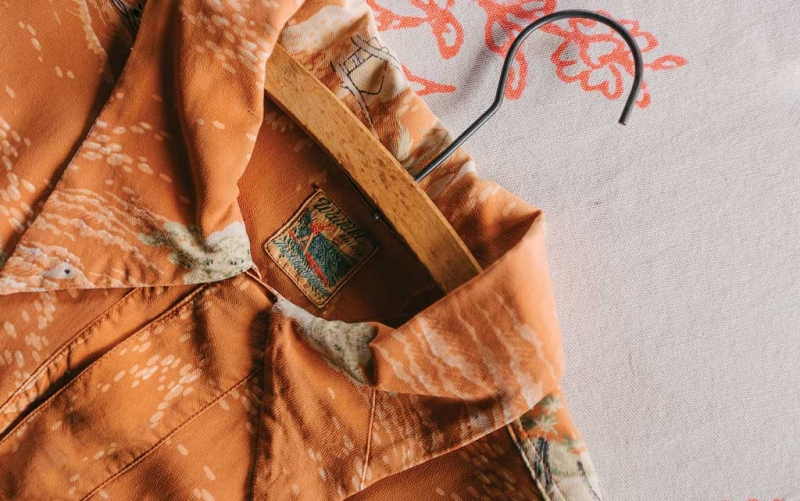 "Well, when I was with Kahala and you're an owner of a company, you know I was there six or seven days a week," Hope says. "Now I'm not chained to a desk. It's more working around in my house doing projects I enjoy and people I want to work with and people who have something young and fresh and different. They can use the experience of an old dog who's been around and has done this for many, many decades and grew up with it."