The Only Thing Missing From This Property Was a Pool
Three sisters worked with Pacific Pool & Spa to add the missing element to their otherwise perfect property.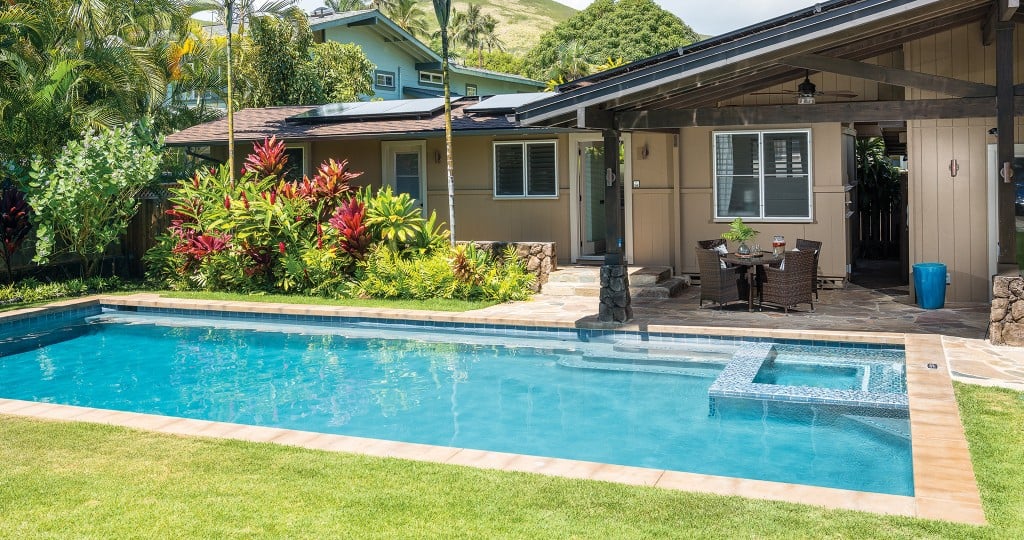 This Lanikai property looks like it was meant to have a pool. When Patricia Melnikoff and her sisters purchased the property together, they were drawn to the backyard, nestled between the main house and two small cottages, with tropical plants along its perimeter. The one element that was missing for their extended family, Melnikoff knew, was a swimming pool.
The property transformation began with Bedford Construction renovating and uniting the two small cottages in the back. The cottages' extended roofline now creates a covered patio where the family can take a break from the sun without stepping completely inside. These changes set the backdrop for the pool — their most desired improvement to the property.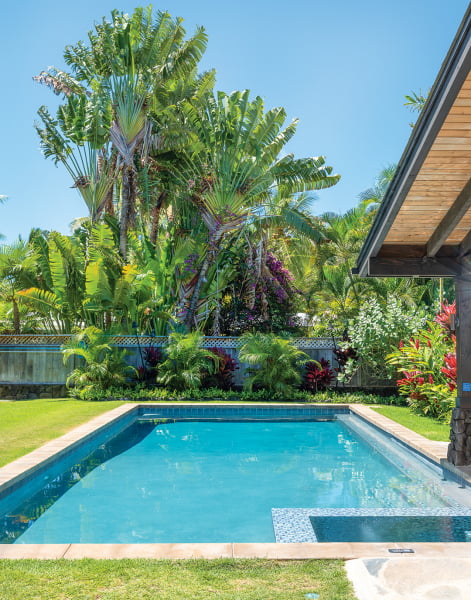 The sisters worked with Kailua-based Pacific Pool & Spa to design and build a pool that would complement the property and its surroundings. Within the clean, straight lines of the pool's sleek, rectangular shape are design features that elevate it to the next level.
The pool ranges in depth from 3.5 to 6.5 feet — a feature driven largely by geological restrictions. "The water table was at 5 feet deep and she wanted a 6.5-foot-deep pool, so we had to dewater a foot and a half to complete construction," explains Clifton Crawford of Pacific Pool & Spa. His company pumped the ocean water out and created a dry bed of gravel for the pool shell to be installed.
A bench runs along the length of the pool, so family members can sit along the edge — or easily hop out of the pool without relying on a ladder, which would have disrupted the pool's sleek aesthetic. Steps on the shallow end lead up to the bench. A spa in the corner beside the steps is on a level plane with the pool, blending in without detracting from the pool's shape.
This area becomes the social side of the pool, with its close proximity to the outdoor dining and barbecue areas.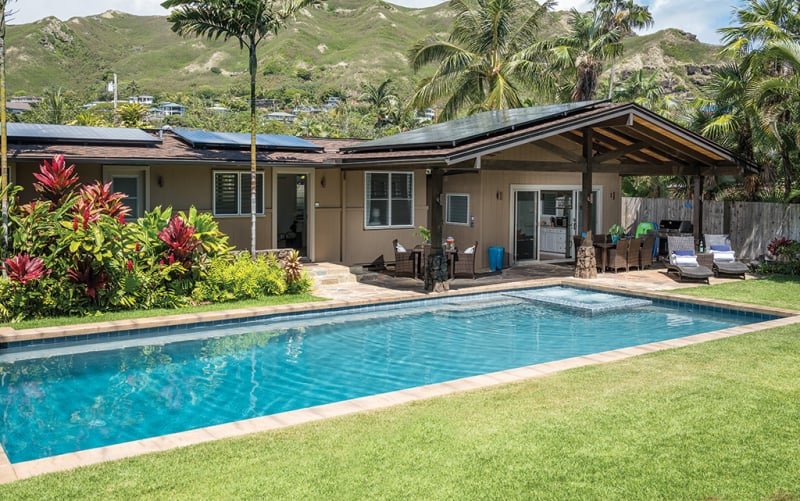 "Last week I was swimming laps and there were two people sitting on the ledge, talking, out of my way," Melnikoff recalls. "It's a large space, and it works for our group."
With the renovation complete and the pool in play, the family is able to spend time together outside, day or evening. Family dinners are now enjoyed outside, with tiki torches setting an ambiance that carries conversations past sundown and into the evening, sometimes back into the spa. "We love it," Melnikoff says. "I call it the full effect dinner."