This Charming Open-Concept Kitchen Shines On
A Manoa home's kitchen radiates with light and style.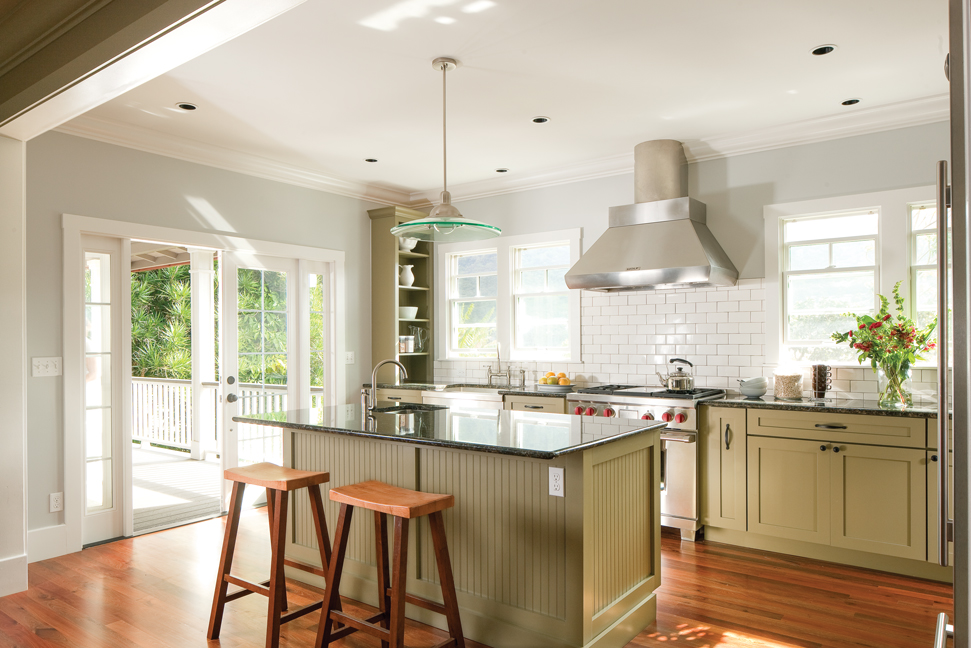 This charming 1940s home in Manoa was in need of an update. The one-story house was on a downslope, where its tight layout could hardly accommodate the family and its guests. So the owners called upon Homeworks Construction to help renovate and expand their home.
The design-build team completed a whole-home renovation, including the addition of a downstairs extension that required excavating and removing dirt, rocks and boulders. The challenge proved worthwhile, giving the family a whole new level to enjoy.
The homeowners love to cook and entertain, so it was necessary to have a kitchen that was up to the task. "The new kitchen space was formed from the owners' idea to bring natural light in while having a cooking friendly experience and space for the family to gather," shares Sean Bradshaw, kitchen and bath specialist for Homeworks Construction.
The open-concept kitchen is highly functional and features painted shaker-style Wellborn cabinets, open shelving and an island that serves as a prep and seating area. Double hung windows and a wide open glass French door that connects to the lanai let in natural light and fresh air. To the right of the kitchen is the pantry and additional cabinetry and counter space.
What the homeowners really appreciate about their new kitchen is its layout, which allows them to move through spaces easily. "It's just really efficient, really easy to move around, even when there's other people," says the homeowner.