This Island Home is Built with Purpose
This Aina Haina home is a dazzling display of everything Build Oahu LLC is capable of.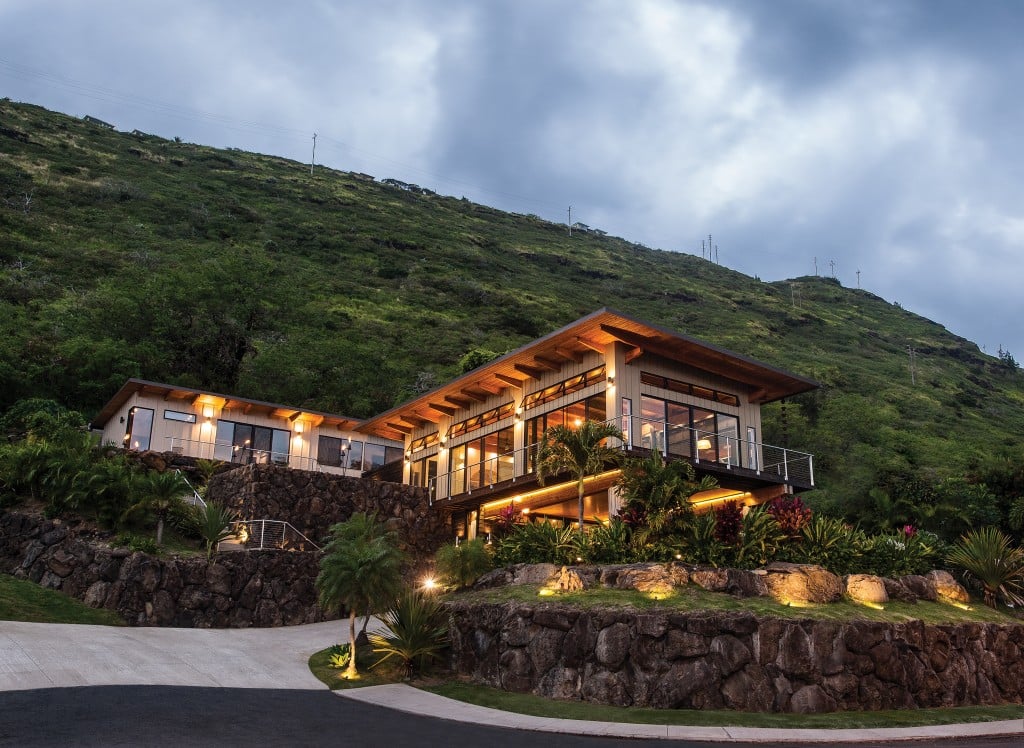 When James and Jae Hee Kijek first saw an older Aina Haina home with several issues, all they could see was its potential as their future dream home.
"It's great because it's not far from the shopping center, it has excellent views, and we don't have to drive up any ridges to get to it," says James Kijek, who is the owner of Build Oahu LLC. "And from my perspective, it was a dual opportunity. We approached it as a way to showcase and stage what my company can do. Instead of putting a client's money in play, I put my own money toward it to prove what we're capable of and demonstrate the level of energy that we bring to every project."
Boasting unobstructed ocean views framed by craft-oiled beams and silvered ipe lanai, the house is a masterpiece. Originally designed as a three-bedroom home with two full baths and two half-baths, the Kijeks currently use it as a two bedroom home, with the third room converted into a retail-inspired master closet. There is also a large office, plus a media room on the main floor; an open-concept kitchen and dining area with huge northeast-facing windows that take up the second floor, as well as a charmingly concealed hot tub near the master suite.
"All of the materials of a craftsman's job are exposed as you walk through the house," says Bart Abbott, operations coordinator for Build Oahu LLC. Polished concrete floors and tastefully exposed CMU walls are a nod to masons and the woodwork, including the ceiling and exposed wood beams, speak to the carpentry crafts. There's also high-end cabinetry and waterfall countertops, as well as carefully selected stone and [concrete] flatwork. "And then when you leave," Abbott adds, "the landscaping features beautiful volcanic rock work as well. All the different trades are highlighted."
Adds Kijek: "All the rock that you see on the property came from the property. When we did all that excavation, there were truckloads with tons of rocks in them. The big ones that we could barely move stayed on-site and did this dance as needed; we'd kind of maneuver them around and out of our way." The smaller rocks were taken to Waimanalo, washed, and brought back; each one now adds to the unique outdoor space of the property.
Kijek says that though the house — particularly the exterior — was designed to be bold and masculine, he and his team toned it down with feminine touches throughout the interior. "The backsplash is made up of three-quarter-inch mosaics with little flowers on them," he says. "A very similar floral pattern is used in the bathrooms as well. Because of the use of all this big heavy timber and steel, we balanced it out."
As stunning as the home is, it's more than just a beautiful structure: Materials were carefully selected to ensure the house is highly functional and as low maintenance as possible. "It's kind of popular and a whole lot cheaper and easier to have a brush finish," Kijek says, referring to the railings. "But we decided to go with a mirror finish on all the stainless steel because it doesn't have little grooves to hold salt and collect dirt, dust and grime." The Kijeks also opted for concrete floors — which are both alluring and easy to clean — as well as ipe decks, which are naturally resistant to rot and decay.
"One of the things that has come across in previous conversations with some of my general contractor friends was that we get to build all of these awesome spaces for other people, but we can't afford them or don't get to experience them for ourselves," Kijek recalls. "I remember that idea … and me thinking that I'm going to make sure that one day, I'm going to make that happen for myself."
Abbott adds that he would love to build or renovate other Hawaii homes like the Kijeks'. "James rolled the dice on his own company to really demonstrate what we can do as a team," he says.
"It was definitely a dream," Kijek attests. "I'm extremely happy with it. We love the house. It's a dream house and it's been a pleasure being able to build it and live in it and appreciate it."