Tile Trends for the Fall Season
Bella Pietra Design shares its forecast for popular tile styles this fall.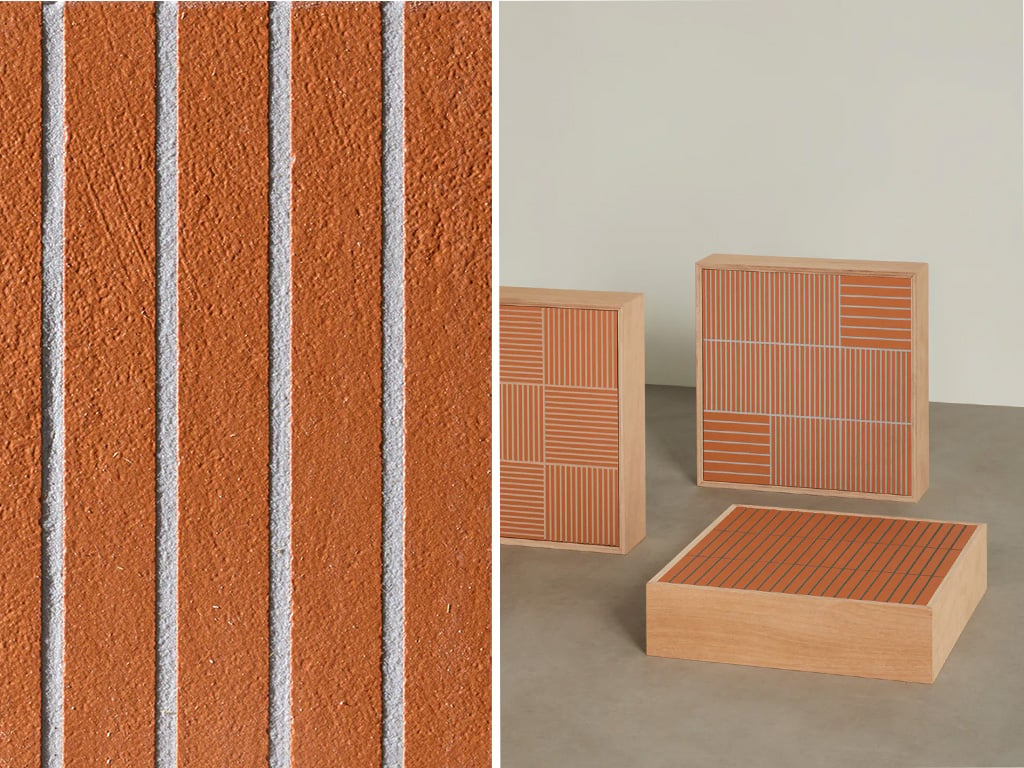 While temperatures may cool in the fall, industry insiders are seeing a transition to warmer colors for home design. In the case of tile trends, classic cool gray and ocean tones are giving way to a more autumnal aesthetic, full of rich, inviting hues. For mother-daughter duo LaWanna and Meagan Jensen of Bella Pietra Design, these fresh fall looks are an exciting change.
"We're seeing more pops of color," states Meagan Jensen. "We're seeing more blush, pinks, rich reds and burnt orange, which is a really nice transition into fall." These terracotta tile trends point to elements of Spanish colonial architecture, where bright white stucco walls are poised in stark contrast to a rustic, red clay roof. Romantic in style and structure, these earthy, autumnal tones can be a grounding addition for any home.
Jensen notes that Vanilla Onyx is one of the most popular offerings from Artistic Tile, a high-end brand carried exclusively in Hawaii by Bella Pietra Design. "It's a warmer, honey tone –– which is a really nice, subtle way to do a statement. And because it's so popular, they are now coming out with new mosaics almost monthly in that same color palette so people can do bigger field tiles or even utilize the slabs as countertops, flooring and walls, while also offering a lot of accents."
One of Jensen's fall favorites is Artistic Tile's new Fringe collection designed by Michael Anastassiades for Italian ceramic manufacturer Mutina. Available in 5-by-5-inch tiles in white, anthracite, gray, red and rose colors, Fringe is gently grooved with stripes in two different widths; it's best suited for floor and wall installations.
Fringe is "a porcelain tile with an almost raked effect with carved, grooved lines through it. There are five different colors, but there is a really cool burnt orange color that I love. You can also grout those thin or thicker stripes with colors like tan or charcoal gray, which create really cool patterns and a heavy texture," shares Jensen. LaWanna Jensen says she's even seen examples of the Fringe tile in beige with teal-colored grout, demonstrating yet another unique way to use colored grout to make a statement.
The versatile size of tiles such as Fringe can work well with Hawaii's indoor-outdoor living style: Use them in large open areas such as seamless showers or dining rooms that flow onto outdoor lanai.
The opportunities are endless with the vast selections at Bella Pietra Design, and, in particular, the new fall tile trends it offers from Artistic Tile. "Strike that balance between something fun, bold, and different," says Meagan Jensen. When it comes to selecting stone for your home, she and LaWanna say you should let the warmth of your personality shine.
"Master bathrooms and powder rooms are a great place to do something fun — where you can elevate a space, but it's not a huge square footage," she says. "Put some bold somewhere, even if it's somewhere small. I love a statement so you can really make your house your own."
Take a look inside Bella Pietra Design's Honolulu showroom for more stunning stone and tile selections.