Inside Bella Pietra Design's Stunning Showroom
Beautiful stone and tile on display.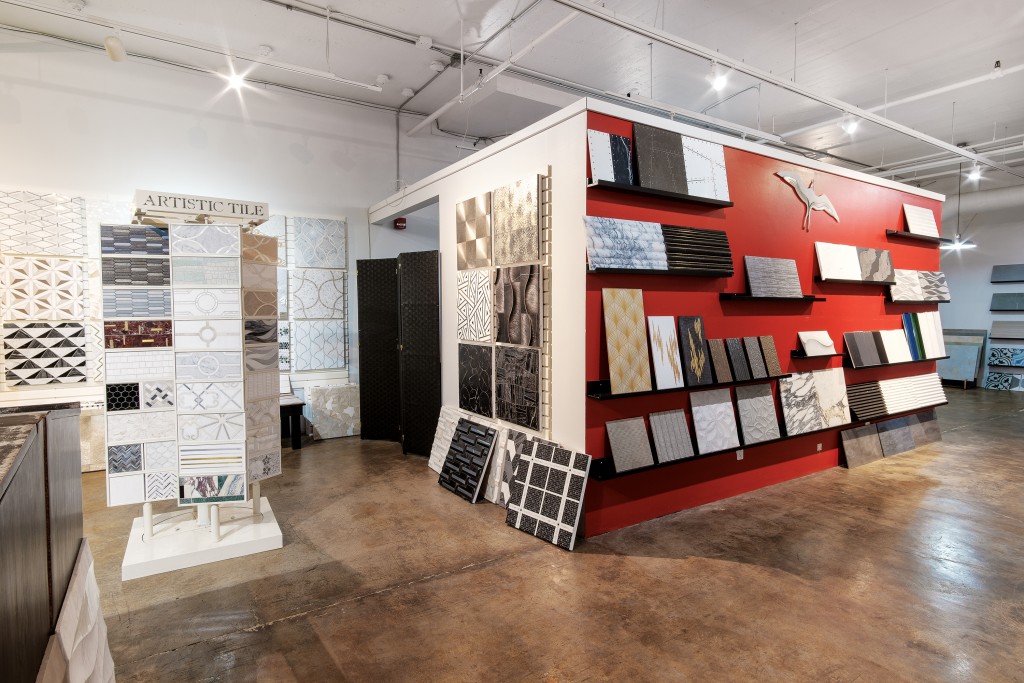 Located in Na Lama Kukui, a lifestyle and design center, Bella Pietra Design offers a premier selection of stone to bring luxury into your home.
Bella Pietra Design opened in 2001 with Layla Dedrick at the helm. Today, the mother-daughter duo of LaWanna and Meagan Jensen run the place with one goal in mind: to provide Hawaii with a luxury tile experience. "We are a boutique store that focuses on unique, one-of-a-kind materials and a one-of-a-kind experience," says Meagan Jensen.
At the 3,028-square-foot showroom, customers can discover a beautiful array of tile, from decorative ceramics, glass mosaics and porcelain to natural stones like granite, marble, semiprecious gemstones and quartzite. The company also carries a variety of exterior tiles, shares Jensen, as well as man-made quartz and ultra-compact surfaces.
"To us it is important to provide a luxury high-end experience both with the material selection as well as your personal experience with us in the showroom," says Jensen. "We focus on offering a selection that you can't find [anywhere] else." As a boutique shop, Bella Pietra Design can provide clients with all the assistance they need, from selecting the right pieces to completing a beautifully finished product.
"We want you to feel at the end of the day as though your project is truly a one-of-a-kind masterpiece," says Jensen. "To us it is more important to figure out what the client truly loves versus focusing on current trends. Those will come and go but we want our client to create a space that they will want to live in forever and something they would be proud to hand down to future generations."
STYLISH SELECTION
Bella Pietra Design's showroom includes specialty lines and exclusive offerings.
Teaki Tiles is locally designed and made of reclaimed teak in Bali that's completely customizable. This is a brand-new line available at the shop.

Exclusively offered at Bella Pietra Design, Artistic Tile is a high-end renowned brand known for its award-winning designs. It offers marble, glass, ceramic, porcelain and more.

Lunada Bay Tile's latest collection, Kapa, is made in collaboration with Tommy Bahama and features captivating, lightweight handcrafted concrete tiles.
Bella Pietra Design | Na Lama Kukui, 560 N. Nimitz Highway, #107A, Honolulu, Oahu | (808) 587-7779 | Hours: Monday-Friday, 9 a.m. to 3 p.m.; Saturday, by appointment only; Sunday, closed | bellapietradesign.com