Transform Your Living Space
Outside-Inside Creations at Na Lama Kukui specializes in unique items to enhance your home or office and create an indoor/outdoor experience.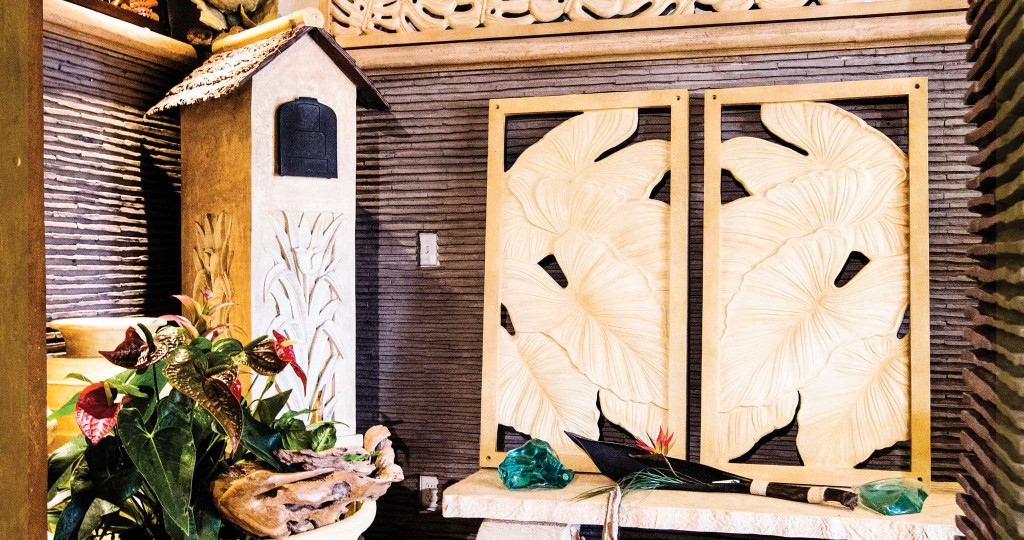 Homes and offices are much more than just spaces in which to sleep and work. All surroundings — including living and working environments — directly impact a person's happiness, creativity and sense of well-being. A lot of thought is put into furniture and appliances, but walls — which are often overlooked — can play a big role in the overall aesthetic and feel of a room.
At Outside-Inside Creations, which was founded by the late artist John Groark, a variety of wall panels in multiple styles and finishes are on hand, providing the opportunity to transform the dullest walls into works of art.  Customers often use the panels for accent walls, room dividers or creating a textured woven ceiling or property wall. Complementary columns and wall caps are also available.
Plain wall surfaces can even be transformed with decorative panels, which also come in a plethora of styles; open-designed panels create a dramatic effect when they are back lit.
"Many of our clients are just thrilled to find out that we can offer them a cost-effective alternative that they didn't know existed," says Joey Groark, owner of Outside-Inside Creations. "Because we are the manufacturer, custom design and creativity are an added bonus for our clients."
For customers who are happy with their current walls but simply need a little something to add life to their space, Outside-Inside Creations also offers a unique line of artistic creations, including paintings, photography, sculptures, prints and other interior décor.
Outdoor options include decorative fence and rock walls, as well as panels, pots and columns in various styles and materials. Outside-Inside Creations also offers stepping stones and rock accessories, which complement its pre-fab waterfall collection, enabling the creation of dramatic, natural environments for the outside — or for the inside, too!