Universal Design: With local expert Glenda Anderson of Details International
Universal design is meant to create spaces with greater accessibility to all occupants of a home.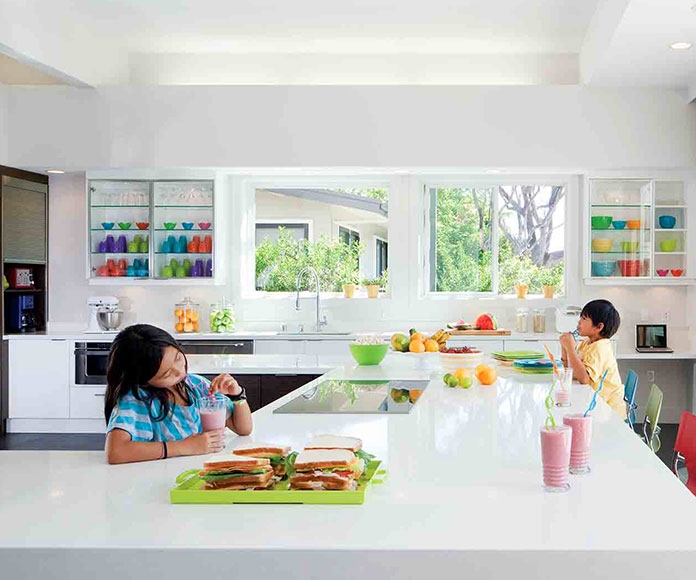 In architecture and interior design, universal design is a concept meant to create spaces that meet the needs of all people, including the elderly and individuals with disabilities. From the arrangement of rooms, placement of appliances and even color choices, universal design is all about accessibility in the home. Glenda Anderson of design firm Details International shares insight on universal design and architecture for all.
"Universal design is the only way design should be executed in our world," says Anderson. "It's a design concept that creates space and flow in a home for anyone." Proper flow, Anderson emphasizes, promotes health and safety for children, the elderly and everyone in between. Incorporating adequate flow within a home requires careful thought about the position of rooms and their relationship to each other; how a room is laid out in terms of doors, windows and furniture; and fitted solutions for kitchens and bathrooms. All occupants should be able to circulate throughout the home easily. Good flow is compromised when something awkward interrupts the openness or route around a space, such as a kitchen island or sofa that obstructs a route to the lanai doors.
"Safety is a primary concern," notes Anderson. "Universal design is a way to protect the self in the future. The home should be designed to accommodate changes and life's unexpected accidents."
Lifelong accessibility is often overlooked in home design, but beautiful homes lose comfort and appeal if homeowners cannot move freely through rooms and independently perform daily tasks. An unexpected accident, chronic illness or age can limit occupants' mobility within a home, restricting access and enjoyment.
"If the kitchen is the heart of the home, the bathroom is the soul," says Anderson. "In these shared spaces, we want to make living comfortable and easy."
Key features of universal design in the kitchen include ergonomic placement of appliances, such as ovens at waist level, cutting boards built into drawers, and counters built at table-height so that children or individuals in wheelchairs can participate in cooking and dining activities.
In the bathroom, walk-in showers built without curbs allow easy access and cleanup. Sloped shower floors with trough drains placed along a wall side ensure that water flows down and away from the feet. A trough drain prevents water from pooling – since occupants no longer have to stand on the drain – and lessens the chance of slips.
Anderson's team likes to incorporate blocking bathroom walls behind the drywall, a discreet feature that will make it easier to install grab bars or shower seats in the future; it involves the installation of solid wood blocking between the wall studs.
"Design does not have to compromise look," says Anderson. "Holistic design, another concept we work with, focuses on proper colors and lighting in the home." Determining the right color of lighting with natural and artificial light promotes a feeling of well-being and calm within the home. "Install lightbulbs with a healthy color temperature between 3,000K to 3,500K," says Anderson. "Lighting is paramount to creating a space with peaceful energy."
Universal and holistic design offers homeowners the greatest return on their home project investment with the promise of extended use and accessibility as they age. For homeowners interested in learning more about these concepts and how to incorporate them into their next home project, make an appointment for a free consultation at Details International located within Na Lama Kakui on Nimitz Highway.
Details International
560 N Nimitz Hwy #104
521-7424
details-international.com