What's in the Flooring Forecast?
Experts from Pacific American Lumber discuss popular picks and why working with a pro is key.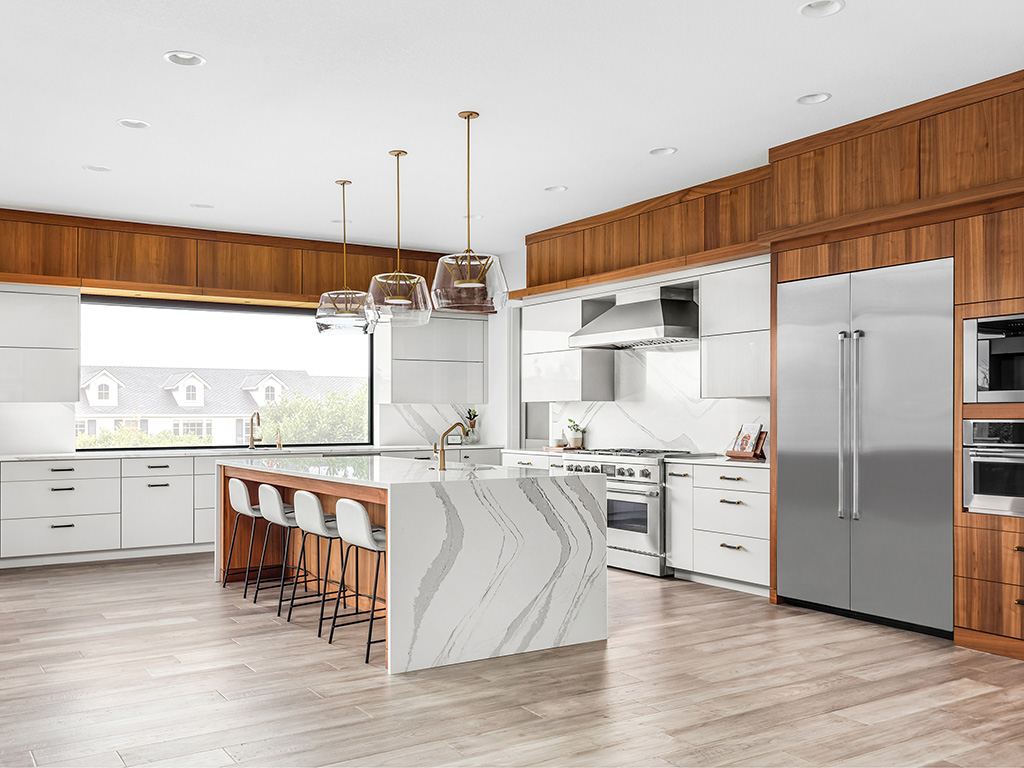 The world of flooring is filled with an expansive array of options and Pacific American Lumber has experienced local people on staff to help Island homeowners with the complex decisions that come with selecting the right flooring materials. Here are some of their notes for your next upgrade.
Engineered hardwood has been — and likely will continue to be — the gold standard for flooring in Hawaii. But according to Natascha Roblee of Pacific American Lumber, wider oaks and matte-finished exotics are currently trending as well.
Spotted gum, a new product from Australia that is available in wide widths, is also gaining popularity. Spotted gum's natural strength and durability make it an ideal option for Hawaii homeowners' indoor/outdoor lifestyles. Spotted gum comes in myriad colors, from shades of pale gray and cream variations to deep brown hues, and can be painted, stained or polished.
Although spotted gum is a trendy option, Roblee says you should consider several things before selecting it or another product line for your next project. For example, how do you want your floors to feel underfoot? Do you wish for something warm and soft, or is a harder surface preferable?
The next consideration is price point. "There's waterproof laminate," notes Roblee, "which is going to be around $4 per square foot, whereas engineered hardwood is going to be around $8 per square foot. Ultimately though, if you really love a certain type of flooring, you should go with that one and trim your remodeling budget in other places."
Regardless of which type of flooring you choose, hiring a professional installer is important to ensuring that the product is handled correctly and your project turns out well, says DJ Alfapada, sales manager at Pacific American Lumber. "That is the number one tip I would give to any homeowner," he says, "especially when it comes to wood flooring."
Alfapada has been in the industry for 23 years and says he has likely seen every type of flooring mistake made. He is often the first person whom homeowners connect with when visiting the Pacific American Lumber warehouse in Kalihi, and he's adept at explaining the details of every flooring option offered. "There are so many variables that can affect a floor's performance," he explains. "Only a true wood flooring installer would know all the intricacies."
Moisture levels, for example, will determine how engineered wood flooring is installed — only a pro would know how to best accommodate the conditions at different sites, Alfapada says. "Get a professional to take a look and offer you a quote," he recommends. "Even if they don't get the job, they're going to make you aware of issues you should address with the installer you ultimately choose."
He echoes the advice from Roblee about project costs. While it's an important factor in planning your remodeling project and in your decision on whether to hire an expert installer, it's important to keep in mind that the most budget-friendly options aren't necessarily the best options. "You're going to get what you pay for," says Alfapada, adding that getting to know manufacturer brands beforehand can help you make informed decisions later. Brands that are well-known in the industry and that have been around for a long time are more likely to offer high-quality products.
"With all the current concerns regarding off-gassing and being more environmentally friendly," he says, "you want to know what you're getting and where it's coming from."