What's New in Kitchen and Bath Design
Design trends to keep an eye on in 2021.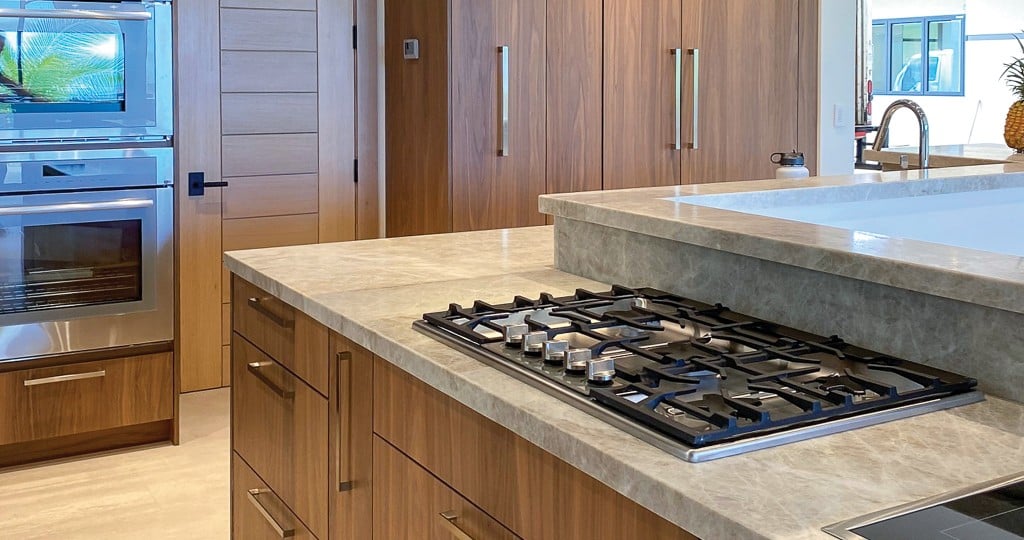 A new year brings new beginnings. This is so true for the kitchen and bath industry with the unveiling of the 2021 design trend forecast. Now more than ever, homeowners will be looking to design professionals to personalize their new 2021 spaces.
The organic/natural design aesthetic is going to be one of the top requests for kitchens and baths. Homeowners want to get back to clean lines and clutter-free spaces with wellness and health in mind. Earth tones will be big this year, creating tranquil spaces in calming colors (olive greens and creamy whites) and textures (soothing and soft matte, textured grain). One of the continuing trends for 2021 will be a mix of natural woods with metal tones, natural wood floors with wood tone cabinets and neutral light countertops. European influences will also make their mark in the new year. Although a little different from the light and airy organic design, the trends coming to us from Europe bring lots of wood tones for cabinets with black or dark countertops, appliances and metal fixtures.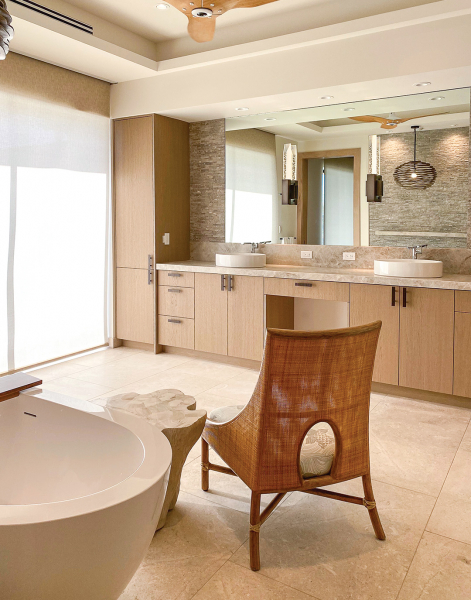 With families spending more time together and eating out less, the kitchen will continue to be the most requested space for a remodel. Here in Hawaii, with so many multigenerational households, the ohana kitchen is a popular design focus. Kitchen islands in 2021 will be bigger with cantilevered eating tables at islands to accommodate additional seating options. In addition to clever storage ideas to make use of every available space, smart appliances and accessories will be on the design wish list. Technology will continue to make tasks efficient and easy with touchless faucets and electrical cabinet operations. Ranges, ovens and dishwashers can be controlled from the touch of a phone or personal device while watching TV in the other room.
While renovating the bath, big soaking tubs and free-standing tubs are becoming the top requests next to floating custom cabinetry with open shelves. Technology also makes its mark in the shower with programmable settings for water pressure, streams and massage.
To learn more about the National Kitchen & Bath Association and to find a local NKBA Aloha Chapter professional near you, visit nkba.org.
Cris Johnson is president of the NKBA Aloha Chapter.