What's Your Cabinet Style?
Your guide to choosing the right cabinets for your home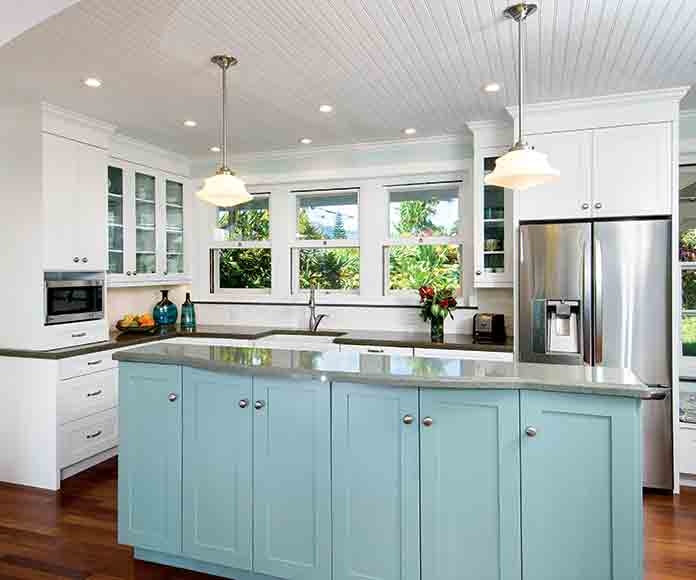 It's been said that the kitchen is the heart of the home. It's the one space that nourishes us and rejuvenates us, whether through delicious food or time spent with loved ones around the table. It makes sense then that one of the most popular spaces to remodel is the kitchen. Cabinets are just one of many elements that affect how a kitchen will function, look and feel. Beyond that, they add a layer of personality to your kitchen. Thankfully, there are a ton of options available for any kind of style you desire.
But cabinets aren't cheap and decisions aren't to be made lightly. It's important to find a design that aligns with both your tastes and the design of your new kitchen. If your time and resources allow, it is best to work with a designer who understands your needs and tastes to guide you through the process. In the meantime, we spoke to a few local cabinet experts for some recommendations based on the varying styles and designs available.
The Modernist – Valdesign Italia Cabinetry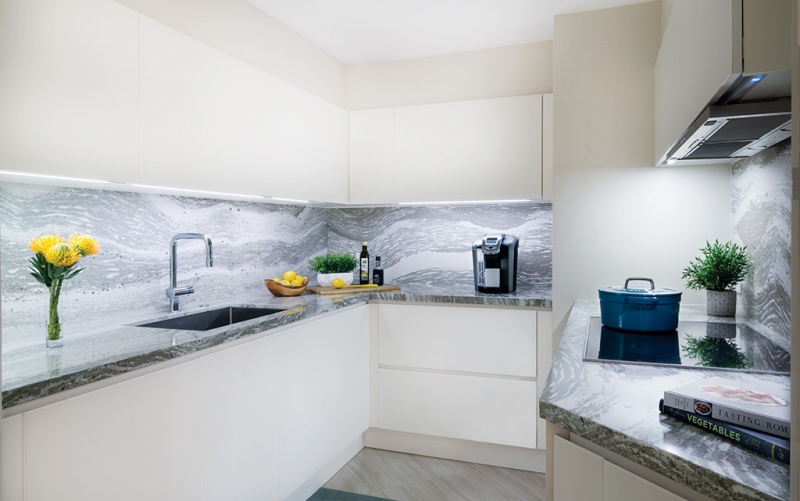 Featuring a semi-custom Italian modern design, ValDesign Italia cabinetry focuses on the whole-home concept and is an excellent choice for those seeking a consistent look throughout their home. "Our design and finishes can translate a modern, clean, effortless style from the kitchen to the living spaces, and from the bedrooms to the bathrooms and wardrobes," says J.R. Ludlow, lead designer at INspiration Interiors. The flat slab doors showcase the beautiful finishes, presenting a sleek exterior and avoiding any fuss over door ornamentation.
Who is it for?
ValDesign is an excellent choice for those who are looking to update to a contemporary and modern style. "As design keeps moving toward a cleaner, more simplified lifestyle … modern finishes become the perfect solution that will transition well into the future," says Ludlow.
The Southern Charmer – featuring Bellmont Cabinet Co., 1900 Series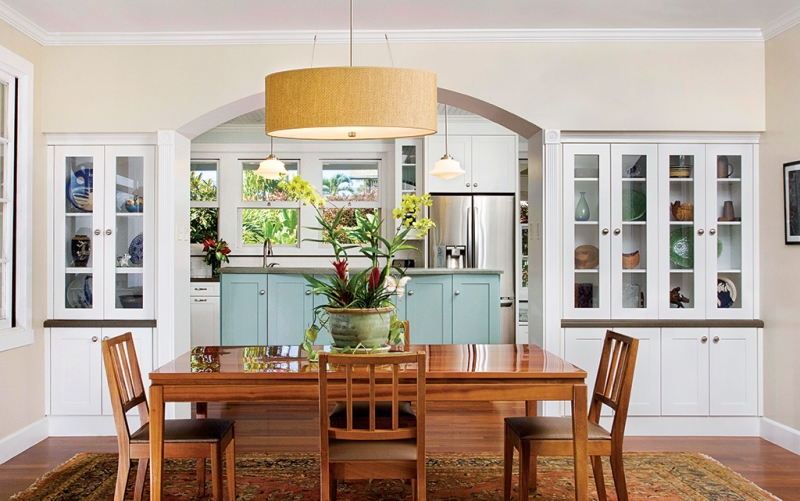 Not simply limited to the kitchen, the cabinets in this Waialua residence extend to the island, pantry and dining areas for a more complete design. The homeowner desired plantation-style cabinets to tie in with the rest of the home. The cabinets feature a two-tone painted look with two different counter colors. "Beadboard ceilings and classic accents like crown molding were used," says Shelley Tanner, lead designer at John Cook Kitchens. It has a painted finish on medium-density fibreboard core, which is recommended for climates with high humidity like Hawaii because of its resistance to expansion and contraction, minimizing the potential for joint fractures.
Who is it for?
Painted door styles like those done in this project by John Cook Kitchens are especially popular in areas such as Manoa and Nuuanu, where older homes have a lot of character and more of a traditional, classic feel to them, Tanner explains.
The Jack of All Trades – featuring Exotic Woodlines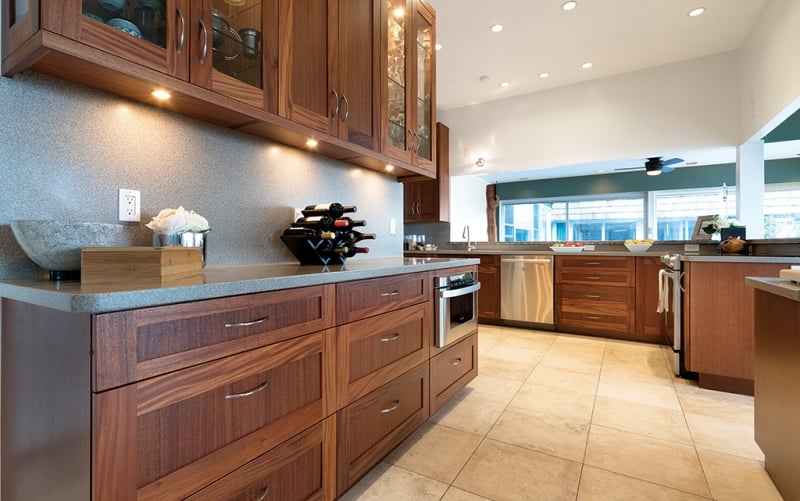 The cabinets that decorate this tropical kitchen are classic and simple – the signature design of Shaker-style cabinets. They typically feature a recessed center panel and basic hardware, which allows for a tasteful yet functional appearance throughout the kitchen. The patterns within the warm wood tones help to add texture to the clean, straight lines of the cabinets. Under-counter lighting is also included to showcase the new kitchen space.
Who is it for?
Whether your kitchen has a modern or a classic design, this style of cabinet functions well in many homes. Shaker-style cabinets are a staple in design trends due to their understated and straightforward aesthetic, says Kimberly Jones, kitchen and bath designer at Plus Interiors. They can be played up or toned down to accommodate a wide variety of styles, making versatility one of their strongest points.