Why the Made-in-Hawaii Lyfted Hammock is a Must-Have Home Accessory
This product from Lyfted will change the way you do outdoor living.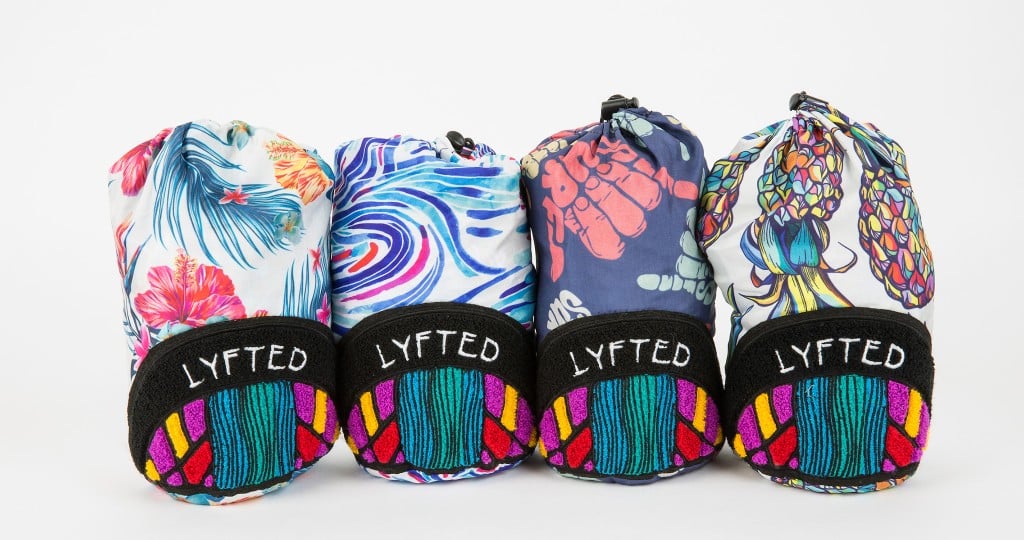 It was just over a year ago, on a bright and sunny day, when Nicholas Parker found himself enjoying life in his hammock near Magic Island – swaying in the breeze, reading books and basking in the sunlight. It's something he had done many times before, and doing so would always garner attention, admiration and curiosity from passing beachgoers. But on this day, a passerby suggested that Parker should consider renting hammocks out to people, so that they too could enjoy the park in paradisiacal bliss. It got him thinking.
"I kind of went along with the idea, but I thought 'Instead of renting them out, I'll just create my own,'" Parker says, recalling the trouble he had when searching to buy his own hammock. They were seasonal products in limited quantities, and when they were available, there weren't very many colors or styles to pick from. Parker says it was this experience that inspired him to make his hammocks more accessible and more practical for everyone.
After many prototypes, trials, errors, and triumphs, Parker is proud to introduce Lyfted hammocks to the public – and after trying them out ourselves, we have to say, they're amazing. Here are the top 3 reasons this hammock is unlike any other you've yet to try.
1. They are lightweight, portable, yet extremely durable.
When tucked away neatly into their built-in travel pouch, these hammocks weigh just over a pound! That's lighter than a carton of milk or one liter of soda in your kitchen. The ultra-portability of these hammocks means you can take them to your front yard or your back yard, and position them anywhere that catches the breeze or under the shade. There's nothing to screw in or install. But just because it's lightweight doesn't mean it's flimsy. The hammocks are made of parachute nylon, and its straps made of high-quality seatbelt webbing. These things are made to handle the outdoors – and keep up with you.
2. They are perfect for relaxation.
Unlike other materials, the parachute nylon that Lyfted hammocks use is silky smooth to the touch. When you're swaying underneath palm trees in the shade, you can relax in maximum comfort, enveloped in a cocoon of satiny plush fabric. Parker also designed his hammocks to be hassle-free, finding elegance in simplicity. "I wanted to keep it as simple as possible for the user," he explains about the current design. From set up to break down, and every moment in between, you can be sure your day in the sun will be smooth and full of relaxation.
3. They're a real work of art.
In coming up with new concepts for his hammocks, Parker went around the island, looking at the kinds of hammocks other people used. "It came to me that a lot of people were just trying to express themselves with their hammocks," he says. "Whether they liked Bob Marley colors, squares, triangles, or other things of that sort." Because of that, Lyfted now sports a collection of designs, partnering with local and international artists all over the world. "I wanted to create designs that, when [someone is] in a hammock, they can really connect with it," Parker adds. These are so much more than just a piece of fabric to relax in. They're works of art, expressive pieces and a beauty to behold, whether you're out and about in public or just chilling in the privacy of your own home.
To find out more about how you can get your hands on a Lyfted hammock or to see more of the stunning designs, visit lyftedhammock.com or follow them on Instagram at @lyftedhammock.