Add Some Bling to Your Bathroom
Elegance shines in a new light with the rising trend of bathroom chandeliers.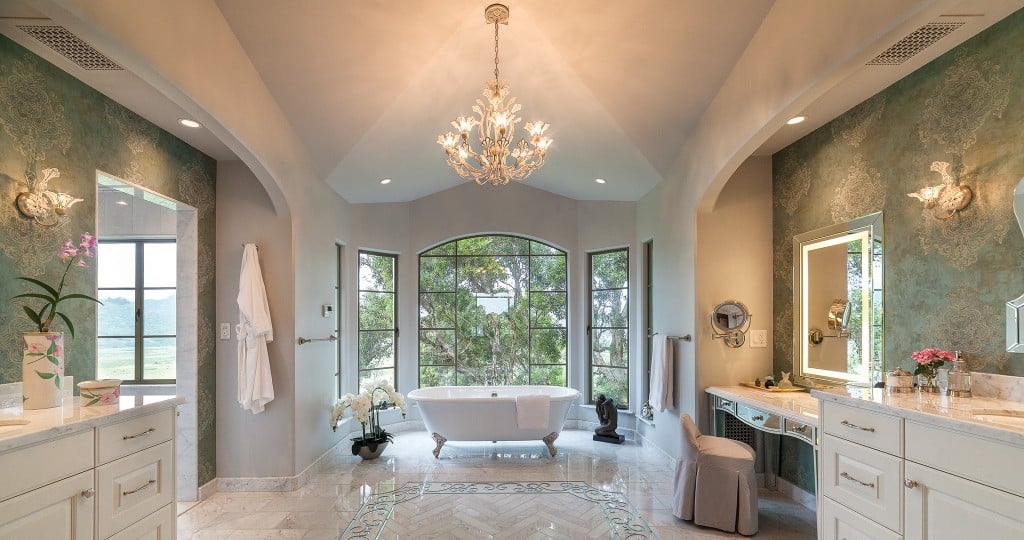 Add a grand piece of jewelry to your bathroom with a chandelier. The elegant lighting fixtures have long been popular in dining rooms and living spaces, and now homeowners are bringing a little "bling" to their bathrooms, too.
"It's not so out of reach anymore, and it has become a normal request for homeowners after viewing bath inspirations in magazines and television shows," says Cris Johnson, president of the National Kitchen & Bath Association Aloha Chapter and owner of Hawaii Kitchen & Bath.
Chandeliers make great focal points and brighten the mood. "It's an opportunity for homeowners to put their unique spin in their bath while evoking a sense of opulence and tranquility," Johnson says.
Styles of chandeliers range from simple to very grand. They come in many different shapes, colors, sizes and materials, and can range anywhere from a couple of hundred to tens of thousands of dollars. Scale is important in selection, so if you want to add a chandelier to a smaller bathroom, such as a powder room, consider a mini chandelier.
One of the most popular locations for bathroom chandeliers is in the center of the room, which allows the chandelier to be the focus and center of attention. Ideal placement will vary depending on layouts. "Every bathroom is different. It takes planning to execute a 'good' chandelier placement," says Tiare Pinto, president of the American Society of Interior Designers — Hawaii Chapter and interior design firm Archipelago Hawaii.
If you're thinking of adding a chandelier to your bathroom, it's important to consult a professional designer who is familiar with regulations and building codes. Visit nkbaaloha.org, hi.asid.org or biahawaii.org to find a pro.