Create a Coastal Tablescape to Impress Your Dinner Guests
Having company over? Consider these pieces from Pacific Home for an inspiring ocean-or beach-themed tablescape.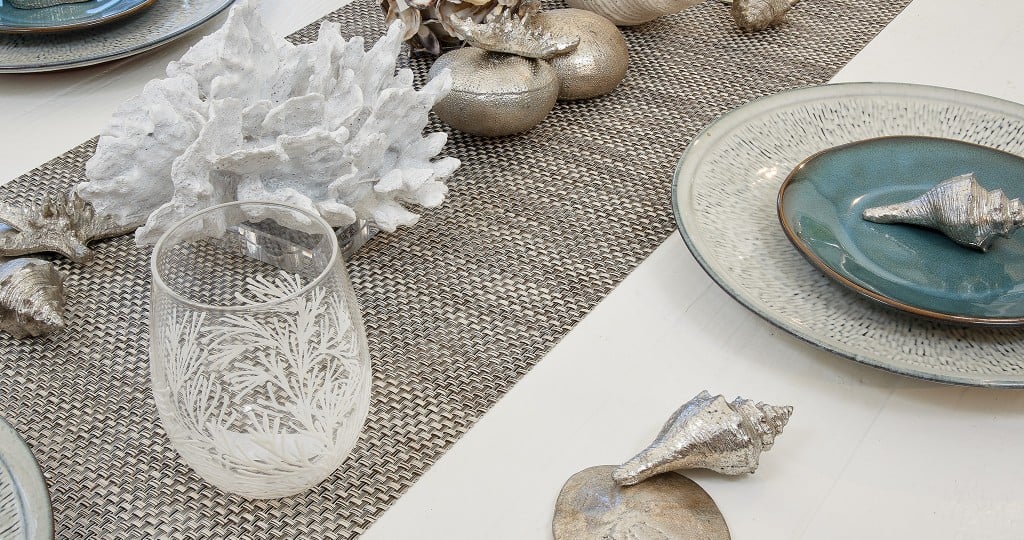 This holiday season, make your guests feel as if they've been transported to a serene beach under a shimmering moon. A coastal-inspired holiday tablescape will help your guests feel relaxed and at ease — especially during the hustle-and-bustle of the holidays. Leave a lasting impression with luminous underwater treasures and sophisticated décor from Pacific Home.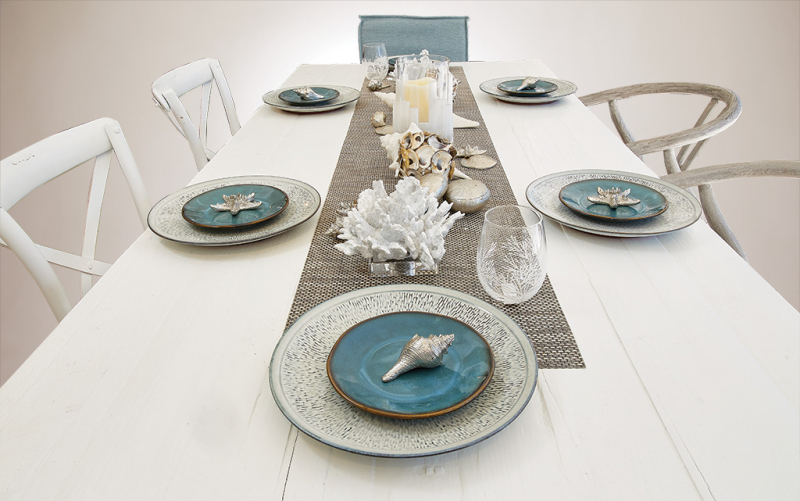 This 84-inch dining table that can seat up to eight guests is reminiscent of the weathered texture of driftwood. The wooden surface is painted the color of bright white sand. Mira Dining Table in white, $1,920.
Incorporate gray, white and blue seating to imitate the colors of waves splashing along the shoreline with these tranquil and textured dining chairs. Hart Dining Chair in blue, $551; Estra Dining Chair in gray, $579; Maya Dining Chair, $515.
Bring luminosity to your table with a sparkly runner that mimics sand on the beach. Add a combination of white and blue tableware to tie the sand and ocean theme together. Chilewich Runner, $65; Soho Glaze Plate, $15; Glaze Plate in blue, 11 inches, $20.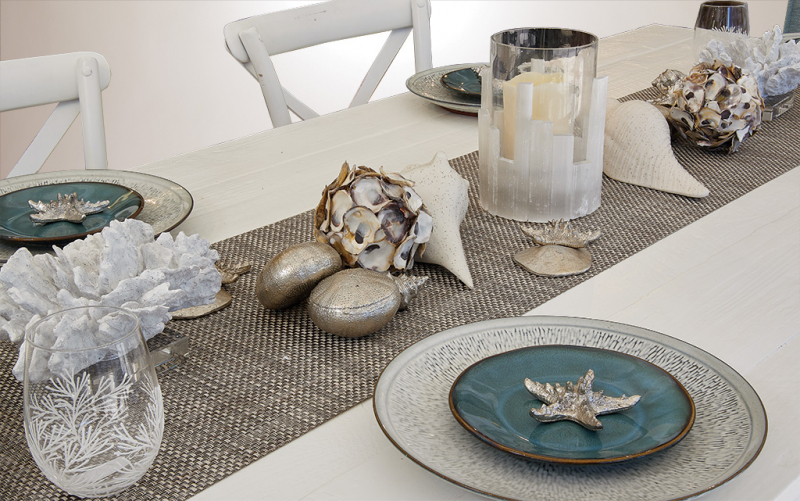 The coral design on these stemless wineglasses effortlessly wraps around the glasses, creating an opulent look. Continue the coral reef theme by bringing in a statement piece of flower coral on a crystal platform that mimics the blooming of flower petals. Coral Reef Stemless Wineglass, $21; Flower Coral on Crystal, $87.
Brighten the mood with a candle in a selenite crystal candleholder, which will make your guests feel like they're taking a moonlit walk on the beach. LED Pillar Candle, $24; White Selenite Candleholder, $239.
Sprinkle your beach-themed tablescape with even more treasures that reflect the deep sea by displaying silver ceramic shells as napkin holders or simple decorative pieces. Ceramic Shells, $29; Oyster Shell Ball, $27.