Design Trends to Watch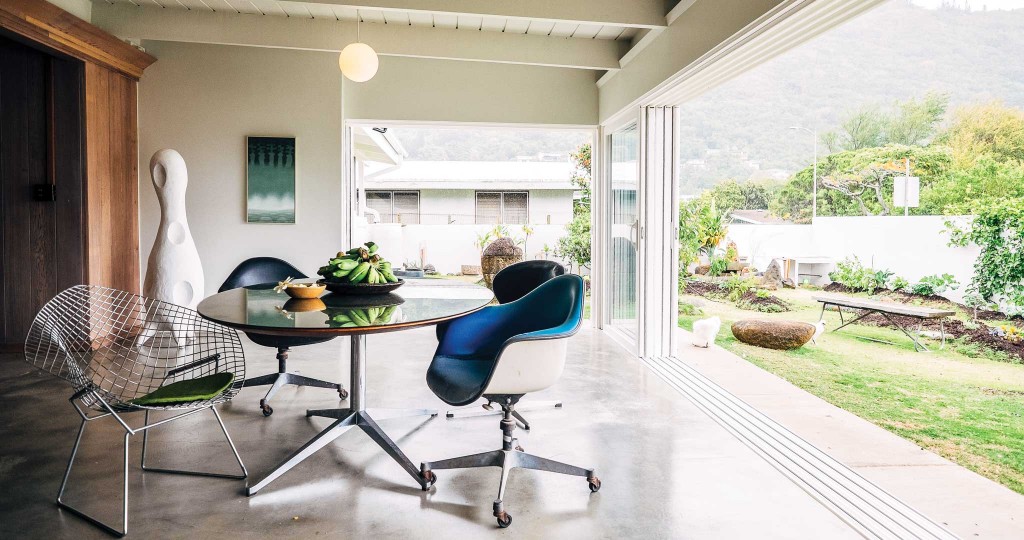 Here are the newest trends in home design that Hawaii will see in the coming months and years, based on the National Association of Home Builders' Best in American Living Awards.
Intimate Outdoor Spaces. Many custom and production homes include intimate outdoor gathering spaces.
Mid-Century Modern Detailing. Mid-century modern is now 21st-century chic in furniture, elevation design and detailing.
Indoor-Outdoor Convergence. What was once a distinct line between two living areas has been replaced by floor-to-ceiling retractable glass walls and screens. Families can easily move between these areas.
Troughs and Spouts. Outdoor tables with open, troughlike water channels add interest, often culminating in a delicate waterfall off the edge of the table into a pool or water feature below.
Interior Board and Batten. More often used as exterior cladding, board and batten is now being featured inside a large number of homes, adding a three-dimensional layer to interior finishes and providing an interesting alternative to paint and wallpaper.
Copper Bathtubs. Copper tubs are a striking addition in any home, from rustic to modern to traditional.
White With Exotic or Repurposed Wood Accents. Stark, modern white paired with rich wood accents create a striking combination in flooring, ceilings and cabinets.
Modern Industrial Accents. Mostly in multifamily projects, this trend combines sleek lighting and furniture with brick, glass and steel elements of a building's shell and skeleton. Vibrant pops of color offset the cooler color palette of metals and whites.
Barn Doors. These are appearing everywhere, from kitchens to closets. They offer an alternative to traditional doors and become a design feature of the home.
Intricate Stairways. Designers increasingly feature curving glass railings, detailed iron newel posts, unique stair accent walls, glass treads and intricate tile work.
Waterfall Islands. Still trending are waterfall-edged islands, in which the kitchen bar is inset into the cabinetry rather than extended beyond it.
Find a BIA-Hawaii member who is ready to bring these exciting new trends to your home at biahawaii.org. And be sure to attend our upcoming Remodel It Right Expo, Aug. 12-14, to meet with contractors, designers and suppliers in person.