Dive into the Newest Trends in Decks, Pools and Spas
Materials that will make your Hawaii pool or outdoor space unique.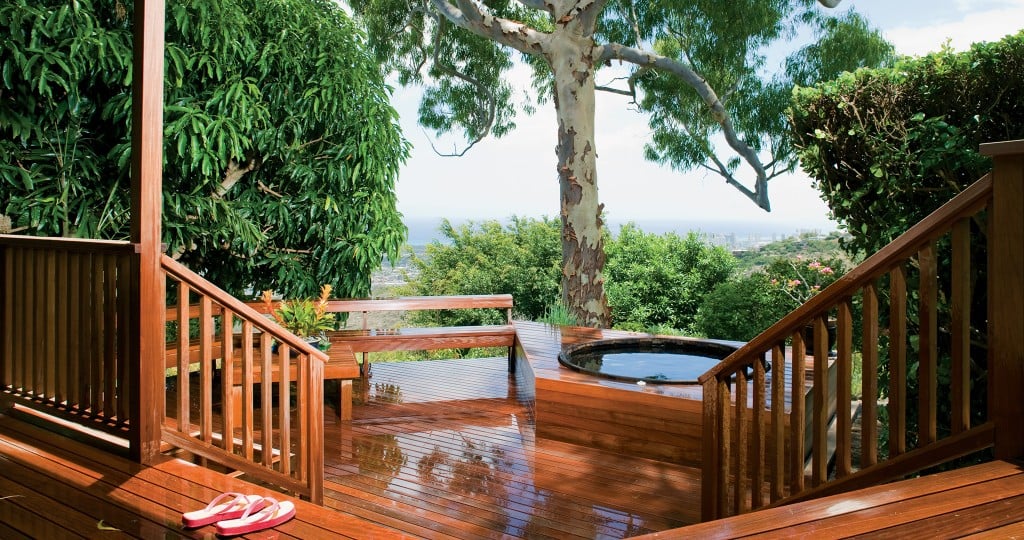 "People are looking for materials that will make their pools and outdoor spaces distinctive," says Wendell Lee, president and head of design for Pacific Aqua-Scapes. This year, new technology merges with tried-and-true materials to create fabulous design options for outdoor living. Ready to dream about the world beyond your back door? Start here.
Durable, Beautiful Ipe
Since 1992, Pacific American Lumber has supplied Hawaii's homes with superior timber. The company's decking line is no exception. Iron Woods decking is hand-selected ipe, chosen for consistency in grain and texture. These decks are known for their scratch and pest resistance, and come with a 25-year warranty. Iron Woods lumber is also responsibly harvested.
Stone Surrounds
Marblehaus Hawaii brings a superior selection of granite, marble, slate, travertine and more for interior and exterior uses. Company owner Kevin Nip suggests surrounding pool areas with quartzite tile or flagstone. The rough stone offers a nonslip surface for possibly slick-when-wet areas. Nip chose Marblehaus's exclusive Hebei Gold quartzite for this home.
Tip: Looking for a way to keep your pool clean using fewer chemicals? Consider an ozone system, which uses oxygen to purify pool water. Ozone systems keep algae and bacteria from growing without the need to shock a chlorinated pool with a large amount of chemicals.
The Look of Real Stone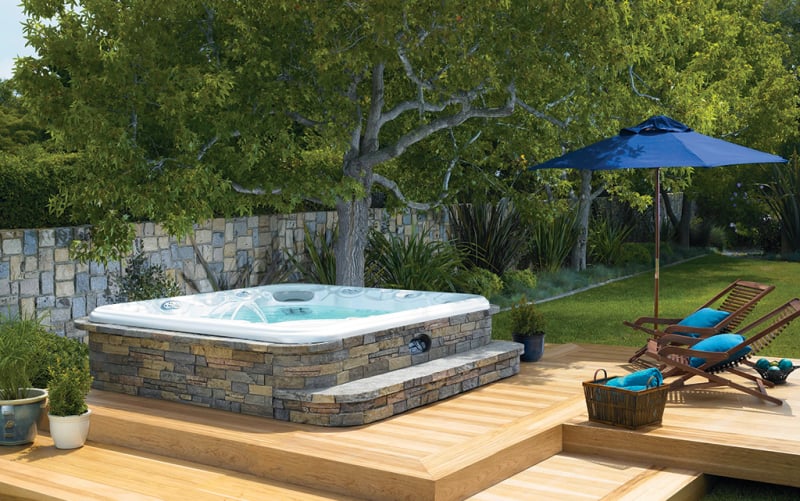 Looking for a more natural way to embellish the look of your spa? Blue Champagne Pool & Spa's Hot Spring SpaStone Surrounds might be just the thing. They're made from synthetic stone but have the look and feel of the real thing. Bonus: These spas are portable, but the natural stone surround gives them a built-in look.
Tip: Solar heating systems are a great, environmentally friendly alternative to traditional heating methods, according to Gary Ralston, of Hawaiian Island Solar. Pool water is pumped to rooftop photovoltaic panels, heated by the sun and returned for swimming.
Sleek Artistry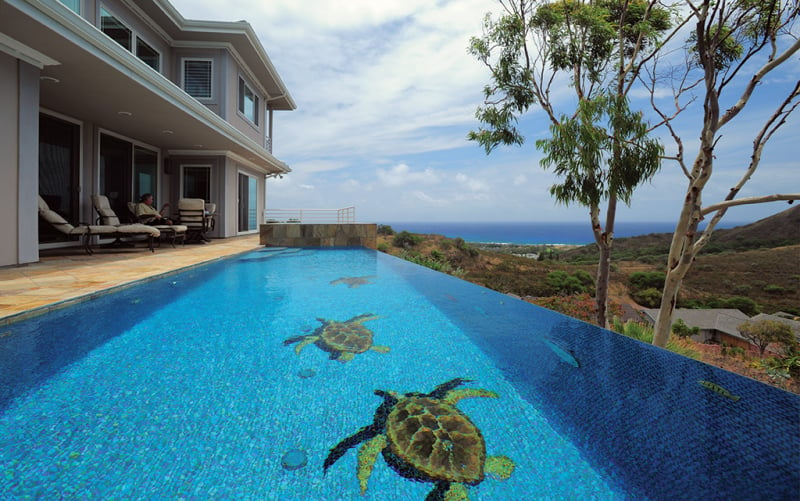 This infinity pool and coordinating spa by C&J Contracting constantly overflows, creating a sleek, glassy edge. Ceramic interior pool tile from Selective Stone echoes the color of the ocean on a calm day, while custom-made ceramic sea turtles and fish, created by artist Dennis Yee, dot the bottom and sides. At night, the lights go on, thanks to the pool's Jandy lighting system, which reveals eight color options ranging from soft white to deep purple. The surrounding deck is fashioned from 12-inch-by-12-inch quartzite pieces from Marblehaus. Even the keenest eye may be unaware of the pool surround's slight slope downward, a feature that keeps water from collecting on its surface.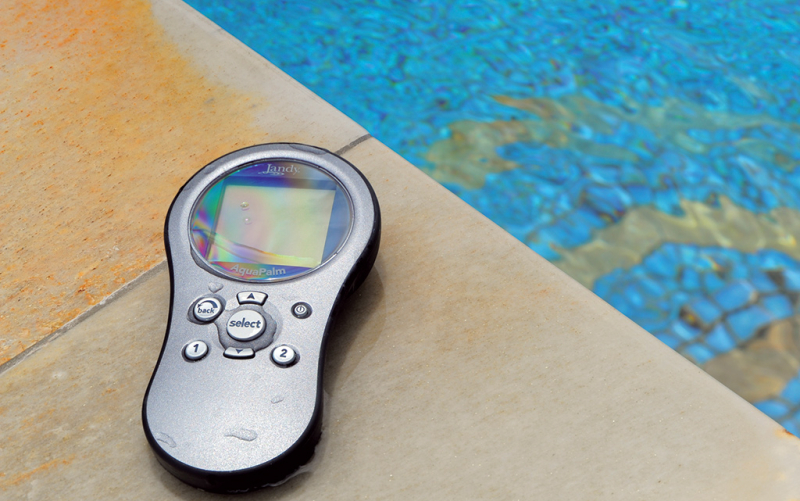 The AquaPalm manufactured by Jandy, puts all of this pool's heating, lighting and cleaning functions at the push of a button. "This can get wet without damage, and it has a radio wave, so it can go anywhere you go," says Clifton Crawford of C&J Contracting.
Sublime Salt Water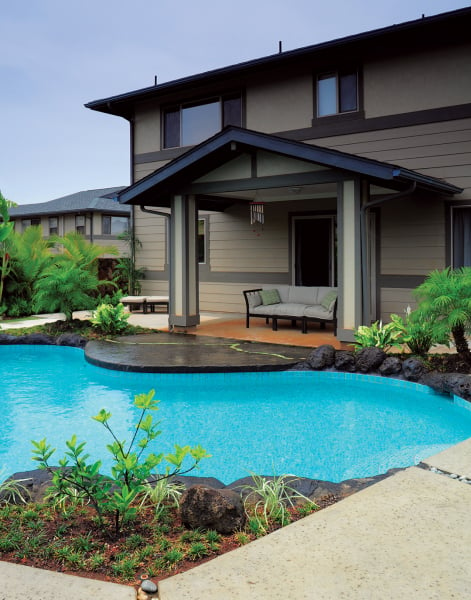 This salt pool presents a popular alternative for sanitizing pools, because fewer harsh chemicals are needed to treat the water. "The feel of the water is very soft compared to traditional chlorine," says Monte Sloan of Gemini Pool & Spa. Gemini can also install a Mineral Springs unit, which gives the water an even softer feel and makes it easier to manage pool chemical levels.
Reclaimed Wood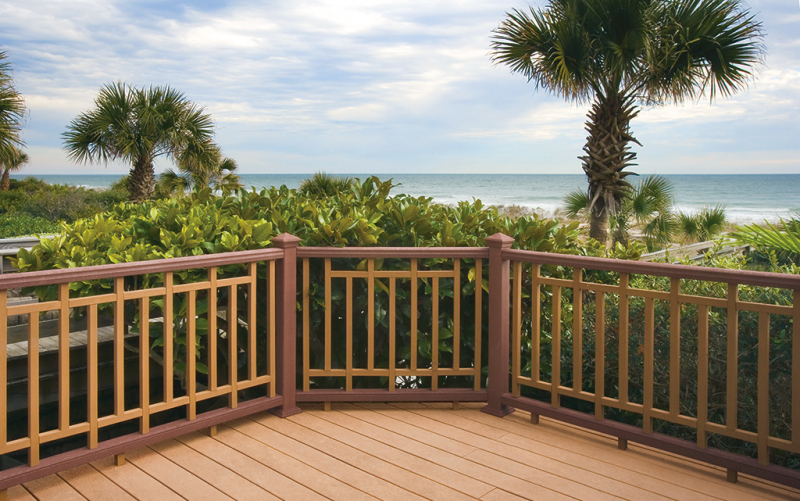 Creating a green outdoor area is easy, especially with Trex from Honsador Lumber. This composite deck material is made from recycled plastic grocery bags (keeping them off our beaches) and reclaimed wood. Thanks to its efforts, Trex is a member of the U.S. Green Building Council. In addition to being earth-friendly, Trex features more than 10 colors for its decking, trim, railings and fencing. A 25-year warranty illustrates its durability—Trex won't warp, fade or rot.
New Spa Technology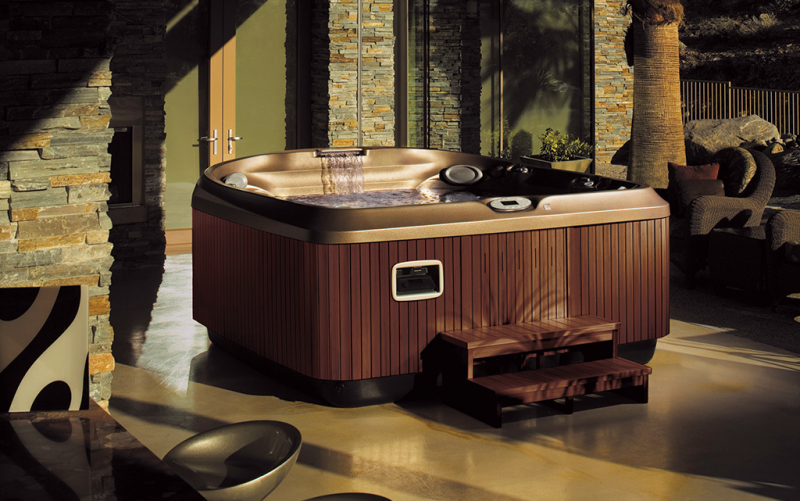 What if you could listen to your favorite song, get a great massage and watch a beautifully lit, trickling waterfall all at the same time? If you own a Jacuzzi 400 Series spa, available at T. Oki Trading Co., you can. Its jets deliver a perfect air-to-water ratio for a water massage that doesn't sting. Lights in cup holders, on the spa floor and even in the waterfall provide great visuals. And you can control your own music selections thanks to the iPod docking-station stereo system with subwoofers and floating, waterproof remote control.
Stone Pavers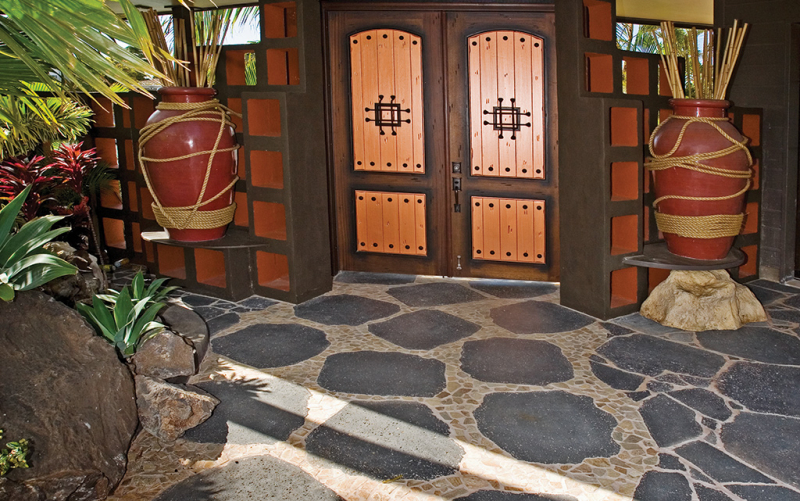 Add a touch of Hawaii around your home with Bella Pietra's puka lava rock in random flagstone pavers. The rich, black stone creates nonslip surfaces, perfect for poolside areas. Bella Pietra is one of Hawaii's premier stone distributors, offering random flagstone or tiles of travertine, limestone and basalt in a variety of finishes, plus quartzite and slate in natural finishes for all outdoor applications.
Durable Decking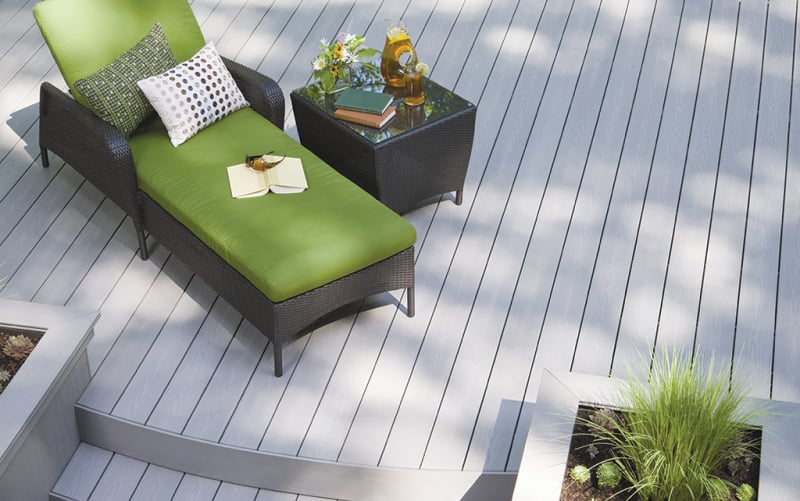 TimberTech composite decking, railing and trims offer that real-wood look, while adding durability and selection, thanks to its mix of reclaimed wood fibers and plastic resins. This material doesn't ever need to be painted or refinished. Termites won't ever be an issue, either. Homeowners can choose from a variety of wood tones and styles, including the company's newest offering, Earthwood planks in teak, rosewood and walnut. TimberTech is available on Oahu from Hardware Hawaii and on the Big Island from HPM Building Supply.
Tip: When cleaning pool tile, use products sold at pool maintenance and equipment stores, advises Crawford. They're specially formulated to clean tile exposed to the elements—and to chemically treated pool water.
Glass Pool Tile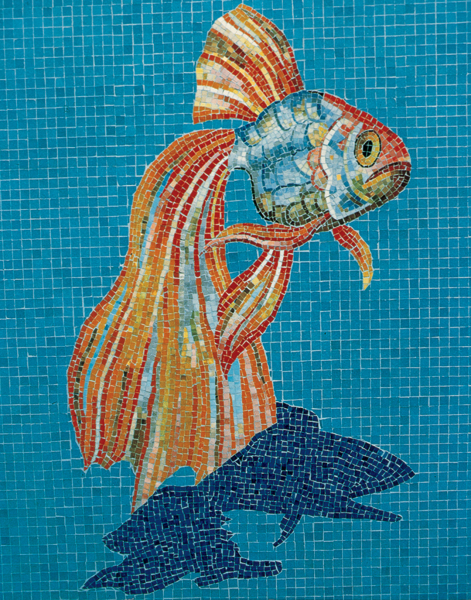 While glazed porcelain tile is still a great-looking and cost-effective option for pool surfacing, glass tile is the ultimate in luxury. "We use it on more of our higher-end pools because we can do so much artwork with it," explains Travis Schonleber, pool and exterior lines representative for Daltile. "You can make murals out of it … fish scenes, coral scenes … you name it. They are all made by hand."
No-Slip Surfaces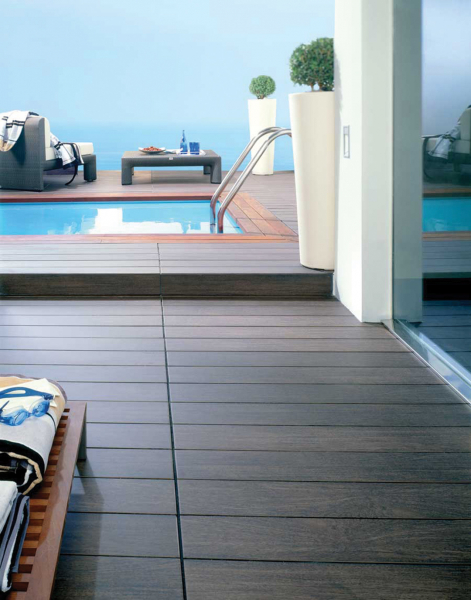 Combining beauty and function, Porcelanosa offers STON-KER AntiSlip tile. While this line resembles natural materials like stone and wood, its synthetic material is both impervious to water and durable for high-traffic areas. It's great for pool surrounds, because it prevents wet feet from slipping.
Pretty Patterns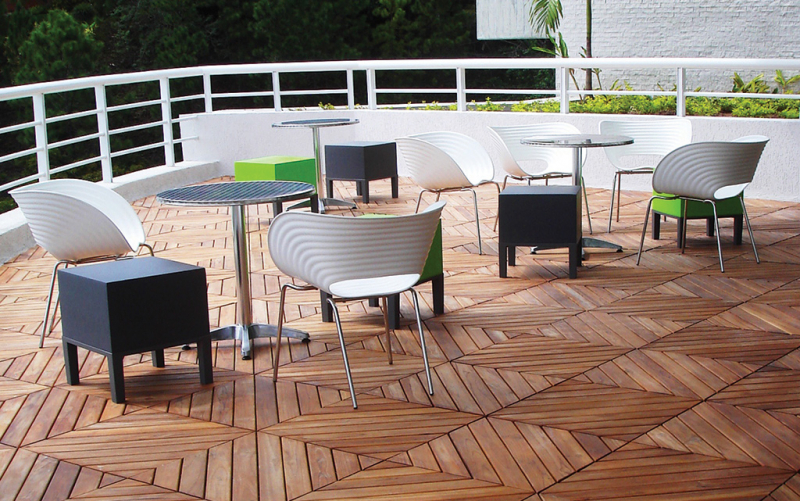 This summer, Maru Flooring is bringing Venteak to Hawaii's lanai. Available in solid or mellow teak and ipe, in straight or diagonal patterns, Venteak's interlocking pieces make installation a snap. Plus, the hardwood material stands up to Hawaii's extreme sun and moisture. We like Venteak for its green side—the company uses sustainable harvesting practices, and is certified green by the Forest Stewardship Council.
Concrete Concepts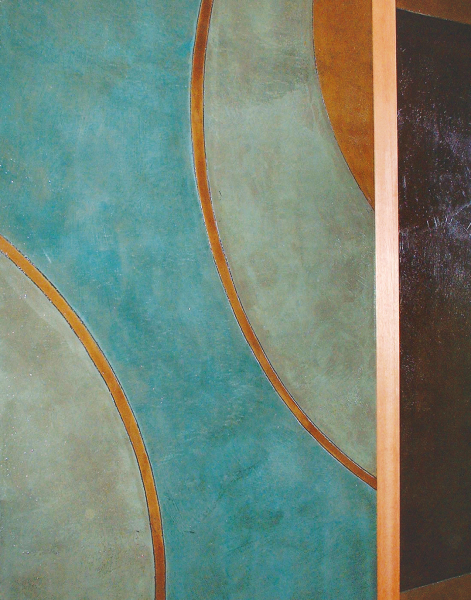 Concrete is the perfect poolside material for Hawaii—it stands up to heat and moisture. However, a wash of gray hardly makes a pool oasis inviting. That's where Tyson's Inc. comes in. The family business and licensed contractor has been in Hawaii for 10 years and offers coatings, concrete staining and stamping for indoors and outdoors. The company practices sustainability by repairing and covering existing concrete, while updating bland spaces with brilliant colors and designs. Beyond the masonry aspect, the Tyson team (Ken, his wife and two daughters) brings an artistic eye to each project: Ken worked for 17 years in the silk-screen business, and one of his daughters is company vice president and an interior designer.
Rock Veneer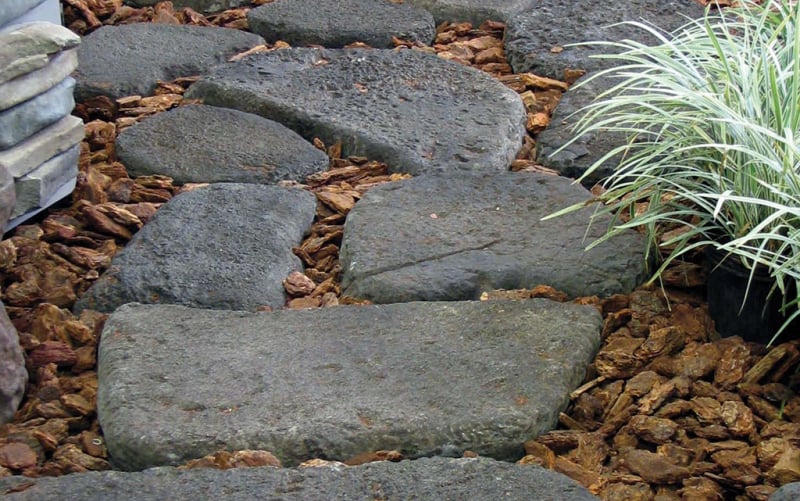 Just like painting to transform the indoors, Big Rock Manufacturing's lightweight stone veneers can help dress up decks and lanai. For 25 years, Big Rock has offered lavarock and mossrock wall veneers and pavers to transform ordinary outdoor pools into grottos, and flat, cement decks into natural-looking havens. The company's accessories, including fountains, sculptures and planters complete the scene.
Where to Get It
808 Stone Inc.
621-2711
www.808stoneinc.com
Access Lifts of Hawaii Inc.
1525 Young St.
955-4387
www.accessliftshawaii.com
All Weather Surfaces
99-890 Iwaena St., Aiea
487-3043
www.allweatherhawaii.com
Bella Pietra, the Beauty of Stone
701 N. Nimitz Hwy.
587-7779
www.bellapietra.com
Big Rock Manufacturing
1050 Kikowaena Place
834-ROCK (7625)
www.bigrockhawaii.com
Blue Champagne Pool & Spa
307 Keawe St.
538-3665
www.hotspring.com
C & J Contracting Inc.
32 Kainehe St. #101, Kailua
261-3508
www.candjcontracting.com
Daltile
1200 N. Nimitz Hwy.
523-3660
www.daltileproducts.com
Foundations Hawaii
94-547 Ukee St., Ste. 211, Waipahu
678-9522
Futura Stone of Hawaii
2895 Ualena St.
833-7433
www.futurastonehawaii.com
Gemini Pool & Spa
406 Kamehameha Hwy., Pearl City
488-7419
www.geminipools.com
Hardware Hawaii
3 Locations on Oahu & 1 Location on Kauai
Kailua Home Showroom
105 Oneawa St.
266-1009
www.hardwarehawaii.com
Hawaiian Island Solar
261-9740
www.hawaiianislandsolar.com
Honsador Lumber
5 Locations Statewide
91-151 Malakole Road, Kapolei
682-2011
www.honsador.com
HPM Building Supply
3 Locations on the Big Island
380 Kanoelehua Ave., Hilo
935-0875
www.hpmhawaii.com
KDI Elements
590-E Paiea St.
441-0997
www.kdielements.com
LF International Trading
2855 Kaihikapu St.
833-3825
Lokahi Stone
505 A Kamani St.
596-8833
www.lokahistone.com
Marblehaus Hawaii
2933 Koapaka St.
836-3449
www.marblehaus.com
Maru Flooring Inc.
727 Waiakamilo Road, Bay B-1-2
853-1717
www.maruflooring.com
Pacific American Lumber
142 Mokauea St.
845-8700
www.pacamlumber.com
Pacific AquaScapes
91-170 Olai St., Kapolei
682-1020
www.pacificaquagroup.com
Porcelanosa
(808) 268-1961
www.porcelanosa-usa.com
Retractable Screen Solutions
735-4321, or 1-888-PHANTOM
www.phantomscreens.com
Selective Stone
2979 Koapaka St.
839-2979
www.selectivestone.net
Skylights of Hawaii
2255 Kuhio Ave., Suite 1001
596-2780
www.at-marketing.net
T. Oki Trading Co.
2722 Waiwai Loop
834-2722
www.t-oki.com
Tropical Pools Hawaii
94-243 Iliula Place, Mililani
386-6946
www.tropicalpoolshawaii.com
Tyson's Inc.
533 Oneawa St., Kailua
864-2390
tysonsinc.com