Enhance your Small Spaces with These Expert Tips
Think big.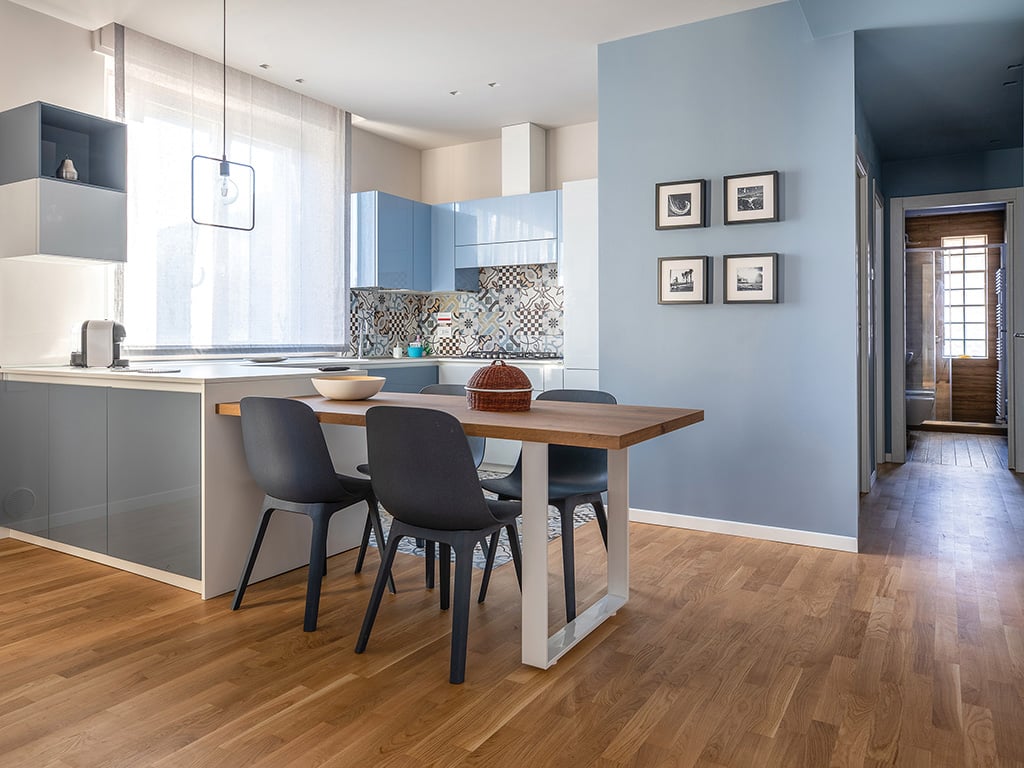 Less is more and sometimes smaller is better. While being on an island often means living with limited space, we do our best with what we have. On the bright side, small spaces are easier to decorate, easier to keep clean and easier to organize. Plus, there are ways to make your small spaces look bigger. Here are just a few.
Getting Started
First, clear out the clutter. Having too much stuff makes a small space feel even more cramped. Set up an organizational system to keep your clutter out of view. You can do this by keeping things behind closed doors, beneath a table that has a table skirt, on shelves or in storage bins. When things are neatly arranged and out of sight, your space will feel orderly and open.
Invest in Mirrors
"Mirrors can instantly transform any room," says Guerric de Coligny of The Glass Guru of Honolulu. "A large wall mirror is the easiest trick to make any room appear larger and brighter, and not just in bathrooms." They're also effective in living rooms and kitchens, and near windows and lanai to widen your beautiful Hawaii views.
"The best way to make something seem big is large mirrors," adds J.R. Moorhead of Moorhead & Company Inc. For example, homeowners can place a large framed mirror on a wall or stand an oversized framed mirror against a wall. The reflecting natural light leads to a stylish, more open feeling, and makes the inside of your home seem larger than it is.
The trade-off is it's harder to put stuff in front of those mirrors, cautions Moorhead. So, it's important to strategically place your mirrors throughout your home. Moorhead suggests putting one behind the bed so that it doesn't take up any additional space but will make your bedroom larger.
Utilize Glass
"Beyond mirrors, glass in all forms can help a room feel more spacious," says de Coligny. Glass shower enclosures make bathrooms appear larger and brighter and indoor glass stairway railings open up interior living spaces and can bring more light to surfaces, he says.
"Exterior glass railings around lanai can expand beautiful island views," he adds. "So many homes on Oahu have lanai with gorgeous scenery, so it makes sense to maximize those views with glass railings."
Additionally, using tempered glass as a tabletop instead of a large solid surface can make a kitchen or dining room appear brighter and more spacious.
Floors Make a Difference
Your floor — both the type and the color — can also make a difference. Natascha Roblee of Pacific American Lumber suggests using larger tiles and wider planks to make your space feel larger. Wider planks can range from 5 to 12 inches while larger format tiles can be 16 by 16 inches.
Opt for light-colored floors such as gray or white oak hardwood, or luxury vinyl flooring with white or off-white tiles, says Roblee.
Think About Storage Space
Once all of your clutter is cleared, be sure to keep your small space clean and organized. Think about getting a kitchen table with storage space beneath it, suggests Moorhead. Or shop for a cushioned bench or ottoman that you can keep belongings in. "It's really about hiding storage," says Moorhead. "You can never have enough."
For the kitchen, Moorhead recommends counter-depth refrigerators so that they're not sticking out. In your living room or bedroom, consider mounting your TV and possibly investing in a Murphy bed.
Choose Lighter Colors
It's not just your floors that should be a lighter color. While darker colors may make your space feel cozy, light and cool, colors can open up each room. Consider soft tones of blue and green and notice your small space enlarge. Once you decide to go light, be sure to have your furniture and room accents match your color scheme. Coordinate your wall and furniture colors so everything flows nicely throughout your home.
And letting in natural light is vital. Get rid of heavy draperies, open your windows and watch the outdoors blend into your space.