Editor's Notes: August-September 2022
Home is Where the Heart is.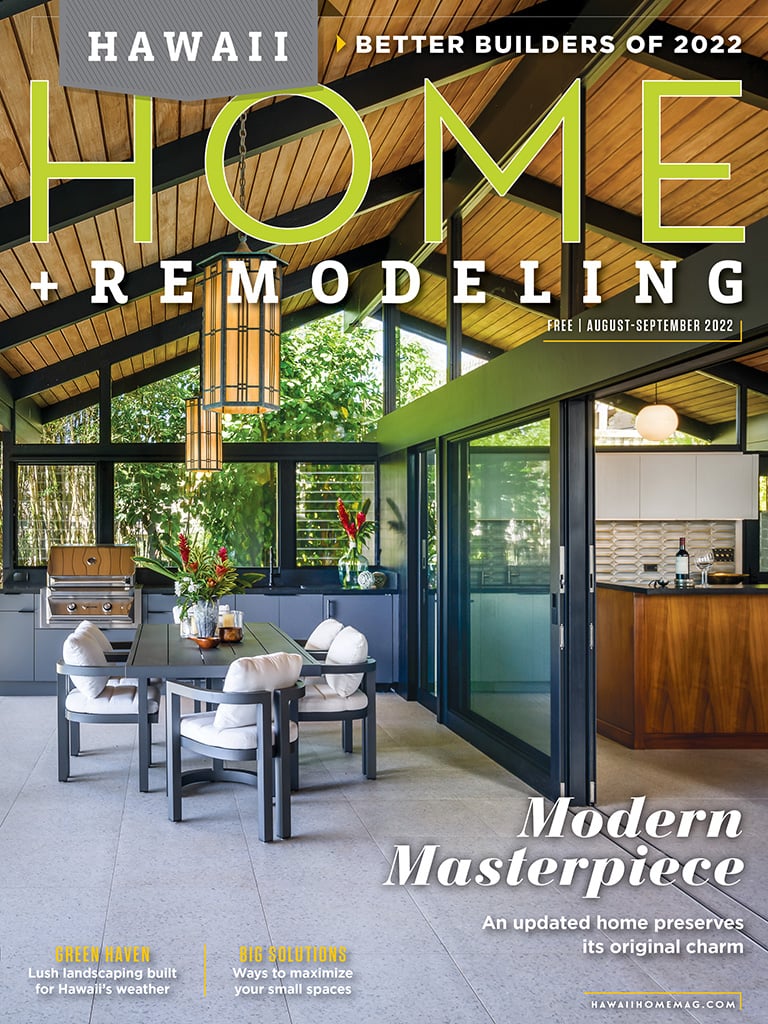 Since my first day onboard as Hawaii Home + Remodeling magazine's new editor, I've been thinking about the Mötley Crüe song, "Home Sweet Home."
The hard rock hit was released in 1985, but its vibe is timeless: There's still no place like home.
From studying publishing in New York City to covering a Hawaii saint's canonization at the Vatican to tackling tough issues in the social justice sphere — I'm honored to now be joining Hawaii Home + Remodeling. Mahalo to the magazine team and aio ohana for their warm welcome!
To you, dear reader, I extend my welcome as well. Whether you are picking up this issue as a loyal fan of our publication over the past 41 years, or a recent social media follower checking us out in print for the first time, I invite you to get comfortable and enjoy the great work we've put together for you.
Our August/September edition features fantastic stories for summer-to-fall home inspiration. Moorhead & Company Inc. shares a modernized Kaneohe kitchen upgrade here. Steve's Gardening Service offers landscaping notes here on a North Shore project thoughtfully curated to withstand Hawaii's elements.
In this issue, we also highlight 2022 Better Builders, our continued partnership with the Better Business Bureau Great West + Pacific. Get to know contractors who have earned an A rating or higher from the BBB. These companies embody core values of quality and commitment to excellence, which are foundational to any home project you undertake.
We've compiled tips for creating a stylish closet on here, as well as innovative ways to freshen up small spaces here. Last but not least, our savvy shopping Radar provides finishing touches with the latest local finds.
As a homebody at heart, I love Hawaii Home + Remodeling. The magazine is a terrific resource for our community, connecting Island families with businesses to build spaces, dreams and memories. Big or small, all home projects and ideas are welcome to the table. Share photos of your home by tagging us on Instagram and using the hashtag #hawaiihomemag. Thank you for reading!
Aloha,
Darlene Dela Cruz, Editor