A Closet Perfectly Designed with Style
Dressed in beauty.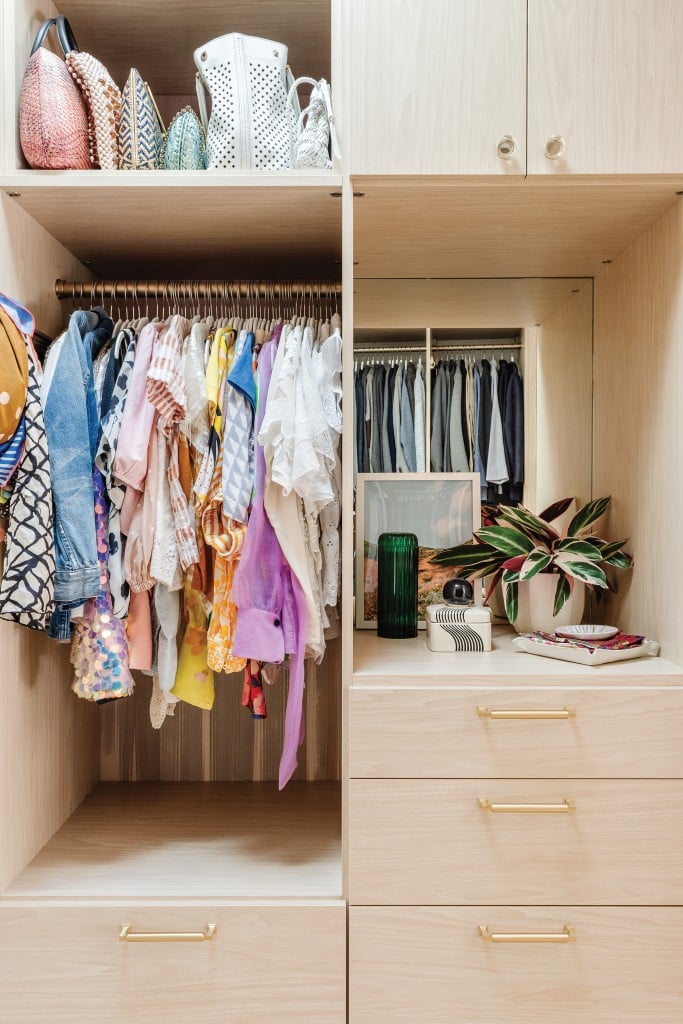 Your closet can be a fun space in which to get ready as well as a place that exemplifies your personality. That's what homeowner and Oh Joy! founder and creator Joy Cho figured when she partnered with California Closets. Here are just a few ways that Cho's closet stands out.
"We wanted to maximize the spaces, but at the same time have the designs fit into the homeowner's personal aesthetic," says Nicole Caswell of California Closets. "Clean lines, a place for everything and of course a pop of color!"
There are many drawers and shelves throughout the space for seasonal items, shoes, folded clothing and handbags. "Every inch of the closet was designed specifically for their needs."
Beautiful Wallpaper
Selected from Drop it Modern, this wallpaper is used as the main closet's backing. "It was important to keep the closet finish in a lighter neutral in order to not compete with the wallpaper and clothing," says Caswell.
Matte Gold
The eye-catching hanging poles and handles by Schaub & Company complete the overall look.
Personal Space
A countertop area on top of a bank of drawers gives the homeowner and her husband a space to make their own.
Hidden Hamper
There's also a hamper that can be accessed from both the closet and the laundry room on the other side of the wall, a genius idea from the homeowner.
Natural Lighting
"It was important to keep in mind the skylights in the ceiling and the different depths of the closet," explains Caswell. "We wanted the room to feel balanced and to make sure the built-ins looked perfectly created for the space."
Additional Wow! Factors
Texture
Bright colors
Gold accents
Full-length mirror
Great rug