Better Builders 2022
Program in partnership with the Better Business Bureau Great West + Pacific.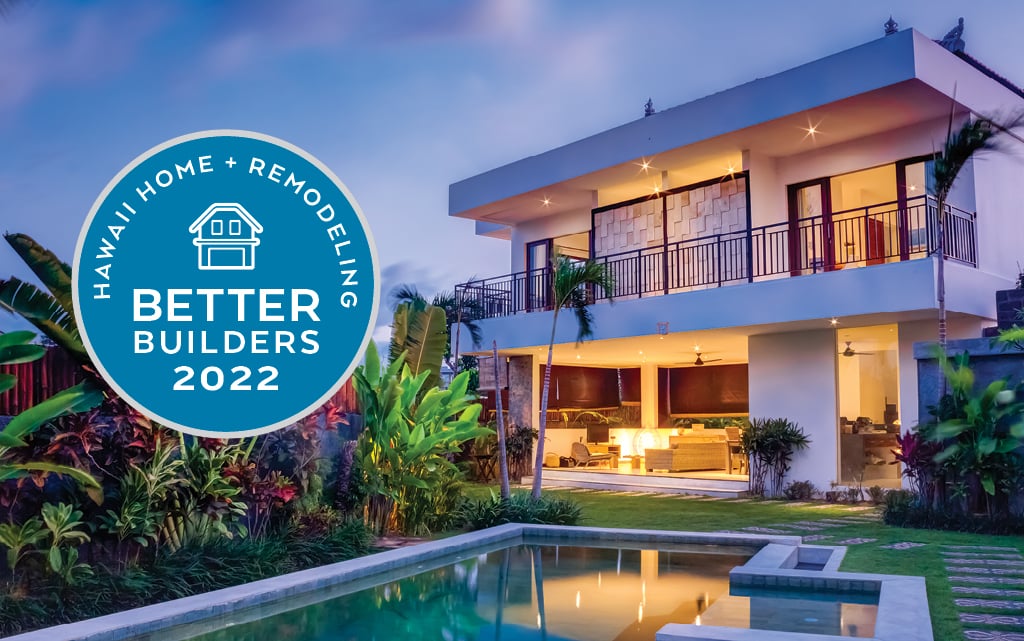 A new home build or renovation is only as sustainable as the values it's built on. Before the first physical piece of a project's foundation is laid, homeowners must select the builders or contractors best fit to turn their ideas into reality. To support homeowners in this search, Hawaii Home + Remodeling and the Better Business Bureau Great West + Pacific partnered to create the Better Builders program. Now in its third year, Better Builders highlights contractors and builders rated A or higher according to Better Business Bureau standards.
Companies that shine in BBB rankings are carefully evaluated under an extensive list of criteria to determine trustworthiness and integrity. Ratings A or higher reflect a vendor's history of responsible and responsive communications with clients, which is reviewed through its BBB complaint history. BBB also assesses a company's adherence to ethics in advertising, legal matters and interactions with marketplace peers, and its compliance with government requirements.
According to Roseann Freitas, public relations and communications manager for BBB Great West + Pacific, Better Builders is a great starting point for homeowners who may be feeling "overwhelmed with choices" or "unsure about where to find verified, unbiased information." Doing thoughtful research about builders and contractors may be a lot of work for homeowners initially, but Freitas notes that it is one of the most important steps toward achieving quality results.
"Finding a contractor who exceeds minimum standards requires doing your homework," shares Freitas. "Having a builder who embodies integrity, is someone you can trust, and is transparent about costs and expectations, will save homeowners money and time."
Better Builders connects BBB's expertise with the community of local companies serving Hawaii Home + Remodeling readers to help make your next project a success.
Read on to learn more about our 2022 Better Builders:
Amano Construction • Graham Builders • Homeworks Construction • Moorhead & Company Inc.
Hiring a Contractor Checklist: Recommendations from the Better Business Bureau
Research and Gather Information: Search for a contractor at BBB.org and do an online search for reviews and complaints.
Ask for References: Ask for local references, so you can talk with customers about their experiences and ask to see previous work.
Professional Associations: Check to see if your contractor belongs to any professional associations and is keeping up with the latest trends and developments in the industry.
Verify License and Insurance: Always be sure that the company you decide to work with has the necessary licenses and insurance to operate in your region.
Bids: Make sure all bids consider the same criteria and are solicited from multiple contractors to compare prices. Remember, the cheapest bid may not be the best bid.
Work Permits: Specify who obtains necessary building permits. Proper work permits ensure your safety and protect the resale value of your home.
Contract: The contract should contain start and completion dates, a detailed description of the actual work, material costs, payment arrangements and warranty information.
Deposit: Never pay the total price of the contract upfront.