Glass Rainbows
Add a Touch of Glass to Your Island Home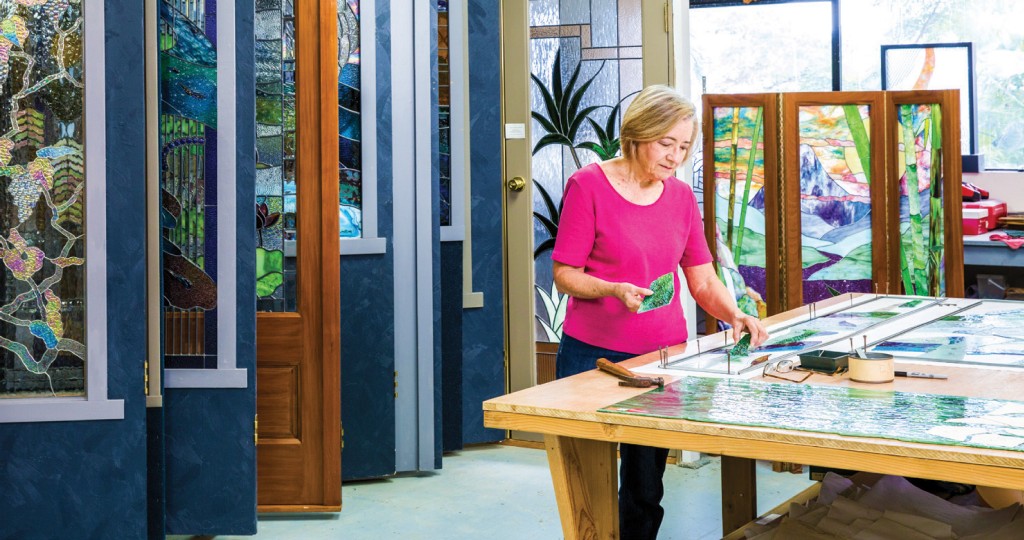 Glass Rainbows
glassrainbows.net
47-376 Lulani St., Kaneohe
239-7978
WHAT SETS GLASS RAINBOWS APART?
While there are other stained-glass studios, only Glass Rainbows offers an extensive inventory of hand-selected art-glass sheets from around the world. "Some glass is mouth blown, some hand thrown, some machine made," says glass designer Annalee Jones, who uses stained glass throughout her own home. "The variety is amazing."
CUSTOMER SERVICE COMES FIRST
"My goal is always to design to the client's desires," Jones says. "We use glass that complements the design and works with the available light at the installation site."
EXPLORE THE POSSIBILITIES
Be sure to bring covered shoes and your imagination to the Glass Rainbows studio. "Client visits to the studio are generally for glass viewing and selection, exploring possibilities and satisfying curiosities," Jones says. Visits to the studio are by appointment only, and bringing children is discouraged.
WHAT MAKES ART GLASS A PERFECT ADDITION TO HOME DECOR?
Jones says it's all about the light. "Art glass lifts your spirts each time you pass by," she says. "As the light changes throughout the day, so does the effect of the light on the glass.
I know of no other art form that does that."
I am often asked if the color fades over time and I receive skeptical looks when I say, 'No, never.' But colored glass truly never fades."

— Annalee Jones, Glass Rainbows
HOW LONG DOES IT TAKE TO COMPLETE A CUSTOM PIECE?
About six to eight weeks, depending on a number of factors including design, production and installation. "Stained glass is very labor intensive, but we try to meet each customer's scheduling needs," Jones says.
STYLE POINTS
Jones designs all styles of art glass including Hawaiiana, Victorian, Art Deco, Frank Lloyd Wright,  Asian and Contemporary. "I even do a combination of styles," Jones says. "If you can describe it I'll design and make it."
---
3 TIPS TO PICKING A PRO
PORTFOLIO. "Look for quality and quantity," suggests Annalee Jones of Glass Rainbows.
PERSONALITY. "The initial interview should make you comfortable the artist is
listening to what you want and offering good, knowledgeable suggestions."
PRICE. "Get a color design and price before you commit," Jones says.