Gray Is the New White
Give your kitchen and bath a trendy hue update.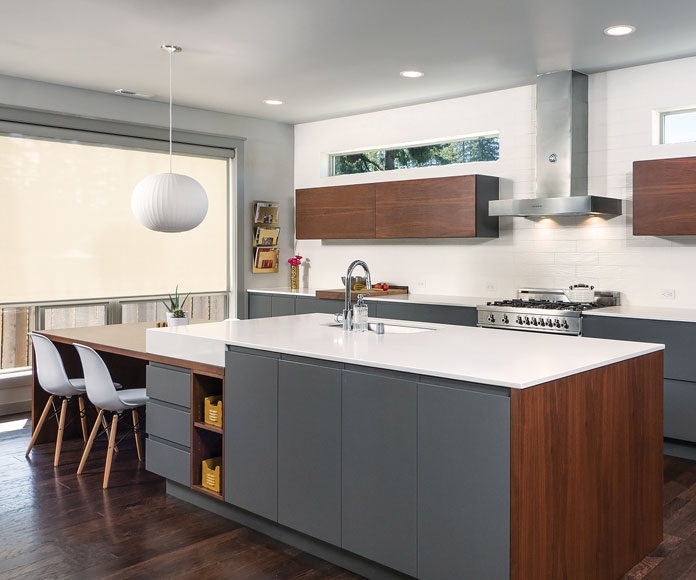 Trends come and go, but there's one update that just might be here to stay: gray as the new white. Though white is nice, the home remodeling industry's leading manufacturers and designers concur that shades of gray are most likely to take over the traditional neutral's top spot. "White is sterile and pure," says Glenda Anderson, CEO of Details International, "but gray is wonderful. It's comfortable."
Brad Iseri and Peggy Benson, kitchen and bath designers for HPM Building Supply, have seen an increased interest in gray stains and natural wood cabinets. "It's also become popular to mix natural wood cabinets with gray laminates," Benson says.
Another way to bring gray into the space is with a new countertop. The Cambria Marble Series "Queen Anne" has a velvety-gray marbled background, which offers a calm canvas for the billowing white streams that spread throughout.
A lighter option is Karis, from LG Hausys' Viatera Masterpiece Collection. It's a blend of alabaster white and dark-hued veins, creating a pleasant montage of light and shadow.
The LG Hausys Viatera quartz countertops are a perfect complement to frameless Downsview cabinetry, as seen in this Diamond Head kitchen, shown at right. "I love gray," says Details International senior designer Heejin Uchimura. "It's such an awesome basic color that goes with everything. I love the fact that it's so versatile in creating classy looks as well as fun looks."
Of course, gray hues are being seen on more than just cabinets and countertops. Franke's Active Plus faucets provide a harmonious blend of form and function, and are available in a stylish shadow gray. The matching Franke 32-inch, peak-in granite sink completes the look.
The Brizo Belo single-handle, pull-down kitchen faucet has a more traditional look, but is still a work of art in itself. Though it is also available in a standard chrome color, the stainless option provides a gray tone that's currently in style.
Linkasink's apron-front, farmhouse sinks are individually crafted from stainless steel. Their delicate, hand-hammered texture is not only easy on the eyes, but it hides water spots as well as scratches.
In the bathroom, gray paired with white provides a sleek, modern look. "Gray is known as the 'artist palette color,'" says Hinano Nahinu, design studio general manager at INspiration Interiors. "It allows other colors to appear on a toned neutral background as they would appear in art."
Kartell by Laufen's matte grey vanity with ceramic washbasin is both elegant and sophisticated, maintaining clean lines while keeping functionality in mind with a hidden outlet.
Carved from a single block of stone, the Infinity pedestal sink slopes gently from the top rim. Its earthy, unique look earned an Interior Design Magazine Best of the Year Honoree award in 2016.
The Kohler Shagreen bathroom sink has a more traditional shape, but it's no less beautiful, with subtle coloring and a distinctive pebbled texture of natural shark and ray leather. Inspired by oil spot glazes that originated in China during the Song Dynasty, the basin is created with a two-step glaze process, which uses minerals to create an interplay of both shimmery and matte effects.
Lighting is also an important feature to consider. Take yours into orbit with the Craftmade Anello pendant. Its four-segment ring seems to spin around an axis, creating what appears to be minimalism in motion.
Whether it's in the kitchen, bath or anywhere in between, gray is both beautiful and elegant — the ultimate neutral that's anything but boring. "I love gray," says Anderson. "I can't imagine anything it doesn't blend with."