How To Choose and Style Your Own Personal Vanity
A well-organized space makes getting ready for the day or an evening out easier and more enjoyable.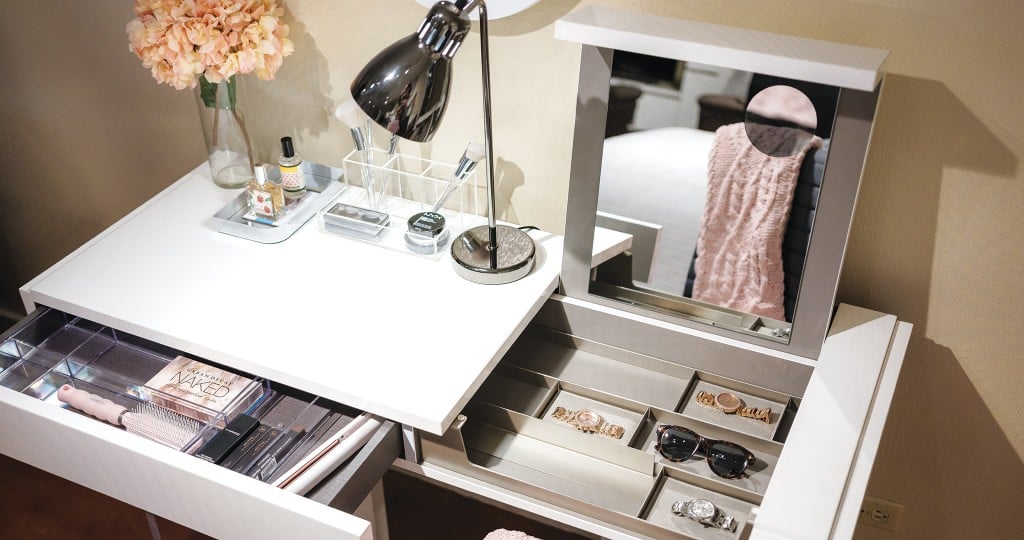 A personal vanity is like a haven – it should be a comfortable space to sit down, relax and get ready. Especially useful for those living in small spaces or for couples with only one bathroom, a dedicated vanity frees up the bathroom mirror for a partner to use, making it easier to share space and time.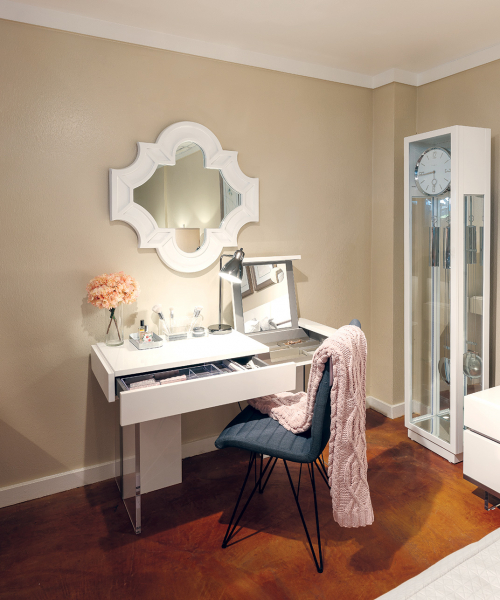 Choose Versatility
When choosing a vanity for your bedroom, think about the different features you want it to include. For instance, if counter space is a priority, a vanity with a hidden mirror and storage compartments that can be revealed as needed may be a good option. The Alf Italia Artemide Vanity from HomeWorld Furniture has both of these features. Crafted in Italy, this desk has a sleek design that features an open-up mirror with a zoom-in mirror on top of it, a drawer for storing products, and an area to display and organize jewelry. Alf Italia Artemide Vanity, $1,500, from HomeWorld Furniture.
Comfort is Key
Feel at-ease during the time you spend at your vanity desk by selecting a chair that is comfortable and complements its look. The Blast Dining Side Chair from Red Knot is a contemporary choice that is comfortable and minimalist. Blast Dining Side Chair by Actona Company, $150 for set of two, from Red Knot.
Shine a Light on Efficiency
Doing hair and makeup can be time-consuming and detailed. Adding extra light can help you avoid missteps and get ready faster. Transitional Steel Lamp in Black Nickel by Style Craft Home Collections, $52, from HomeWorld Furniture.
Stay Organized
To keep your desk organized, designate areas for specific beauty products. For example, use Simply Organized's Acrylic Makeup/Desk Organizer to display and store your makeup brushes, and the Clarity Plastic Storage Drawer Organizer to divide storage space in your drawers for makeup palettes or hair accessories. Acrylic Makeup/Desk Organizer, $26; Clarity Plastic Divided Storage Drawer Organizer, $17; Clarity Plastic Storage Drawer Organizer, $11; from Simply Organized.