How to Personalize the Farmhouse Kitchen Trend
A local homeowner makes this popular design her own.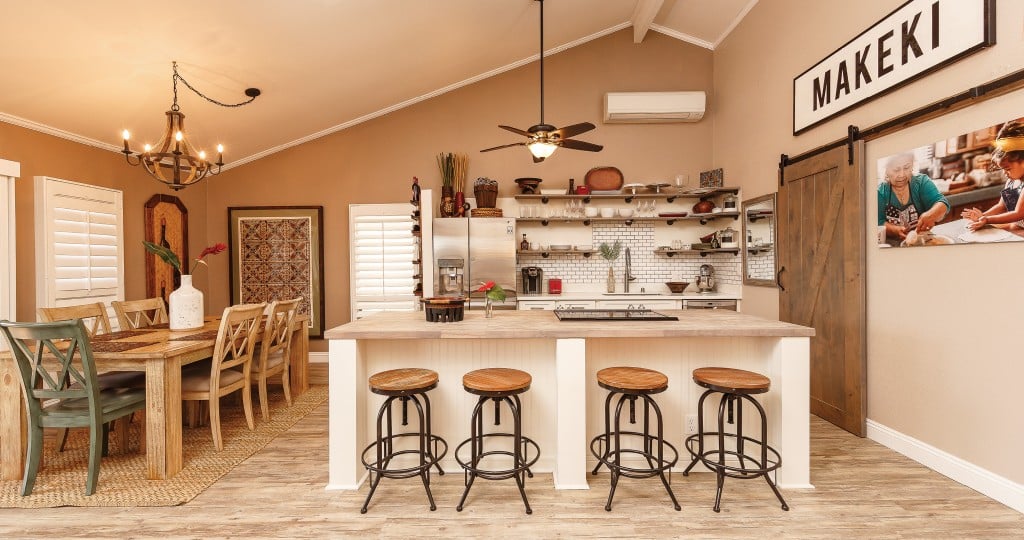 Simple, charming and rustic: There are many reasons why homeowners love to incorporate the chic farmhouse style into their abode, from kitchen to home décor. The design rose in popularity in large part due to home design shows, and continues to be a desired look despite many predictions of a fast decline.
"Farmhouse is known for its simplicity, characterized by wood elements or industrial steels, emphasizing those well-used and loved items. The whites and cream colors really lighten up a space and allow for fun furnishing," shares Richard Breaux of All Things New.
"The farmhouse trend may fade one day, but the farmhouse look will always be alive because of its organic beginnings," adds Breaux. "This will always be a homeowner favorite because of its homelike feel and uniqueness."
Homeowners can embrace this style year-round by infusing their own interior design choices, making it a truly timeless trend. Homeowner Tiffany Thompson, for instance, decided to take this look and incorporate her own cultural style to achieve her dream kitchen renovation.
"Like a lot of people who got turned on to the farmhouse trend, I watched a lot of HGTV's 'Fixer Upper.' Joanna Gaines was my favorite designer at the time, and I just really liked that style," shares Thompson.
Thompson worked with All Things New to help create her desired open-concept kitchen. "My vision was to transform it into a Samoan coastal farmhouse-style kitchen," she says. "Things I had to have were open shelves, a pantry, huge sink, a leveled island and lighter-colored flooring."
She adds, "Although I really liked the coastal farmhouse style, everyone was doing it, which I didn't like; but, I made it my own by incorporating my Samoan décor to keep the Polynesian flair and to tie it in with the rest of my home."
Breaux and his team installed new cabinetry, countertops and a subway tile backsplash, and created a custom-made 10-foot butcher block island top. They also stained the pantry barn doors to match the open shelving. Thompson's kitchen ties in the farmhouse style — the overall light color scheme and industrial look — with her Polynesian heritage, seen throughout her home's accessories and décor.
"This kitchen is a great inspiration for the future of farmhouse kitchens," Breaux says. "Infusing a Polynesian island culture with this farmhouse design is just the beginning of where this look can go."
If you are considering infusing the farmhouse trend into your home, Breaux recommends that you "start with light-colored cabinets as your design palette and go from there. Work in some wood or steel accents and be open to infusing new ideas, knowing the farmhouse design has endless possibilities."
Thompson's remade kitchen is a reflection of her own personal style and culture — as seen in the touches of coastal and Polynesian accents found throughout — infused with her love of the farmhouse look.