Hurricane Preparedness: Midseason Check-In
As the height of storm season nears, it's time to reassess.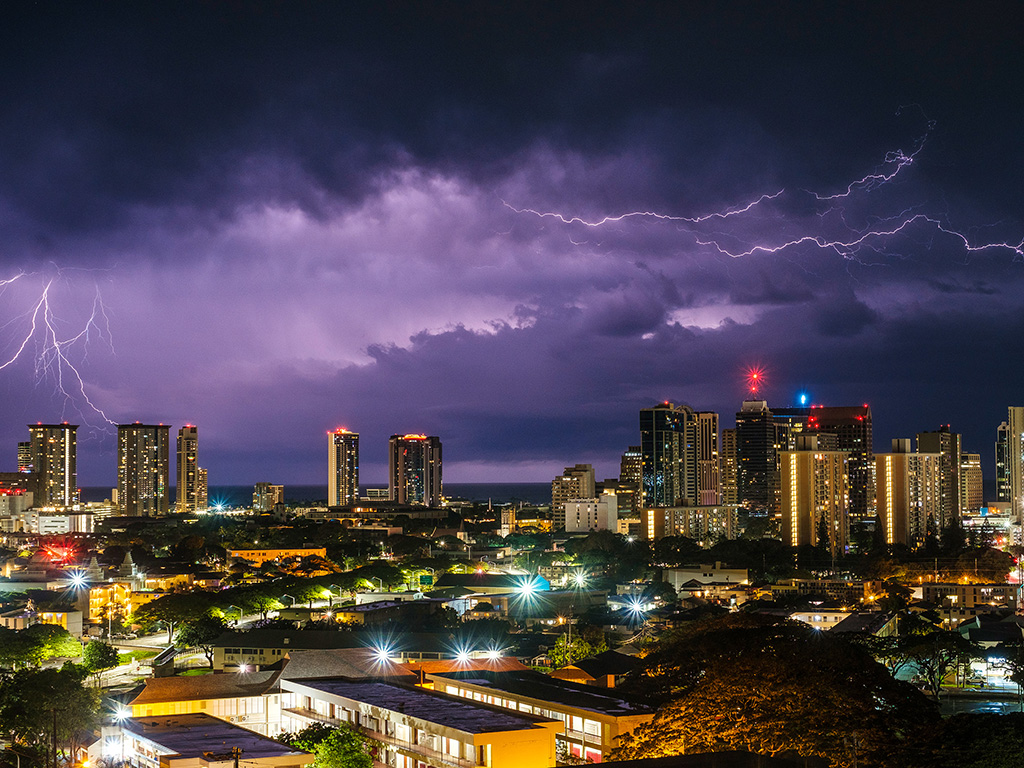 Tropical cyclone season in the Central Pacific runs from June through November. In Hawaii, August and September have historically been the most active months for hurricanes and other destructive weather systems and longtime residents know the impacts these storms can have, with powerful winds, torrential rain, surging surf and damaging floods.
Here are a few midseason tips, reminders and resources to keep your hurricane preparedness plan on track.
Food and Water
Restock your 14-day supply of nonperishable, nutritionally dense food for your family and pets. You should have already dedicated a section in your pantry for emergency food; now's a good time to check on item expiration dates and to make sure rations are in easy reach in case you need to pack them up for evacuation.
Continue to maintain a set of filled 5-gallon purified water bottles and purchase packs of smaller bottles of water as they go on sale. Invest in sturdy coolers and emergency water storage kits, like this one from City Mill.
Ensure propane, charcoal, grills, butane stoves and other items are ready for use, just in case.
Infrastructure Protection
If you haven't done so already, contact contractors to have your home assessed for hurricane risks and work closely with them on a plan to shore up any vulnerable areas of infrastructure that could be damaged by rising wind and water.
Meet with your insurance company to go over your home insurance policy. Keep a printed copy with the most updated line items covered in your agreement.
Visit your local home supply store for plywood, hurricane clips, sandbags, tarps, rope, duct tape and toolkits.
Utilities and Other Needs
Invest in a generator. Speak with a local vendor or hardware store professional to find out which generator will work best based on your home's utilities and family's needs.
Make sure flashlights, radios and mobile devices are still in working order. Stock up on fresh batteries and backup power sources for smartphones.
Be mindful of other needs for weathering a storm such as pet supplies, sleeping bags and blankets, as well as books and activities to keep keiki calm.
For more hurricane preparedness ideas, visit City Mill's website here and the National Oceanic and Atmospheric Administration website here.