Let the Games Begin
Put down the iPad and give these family-friendly board games a try.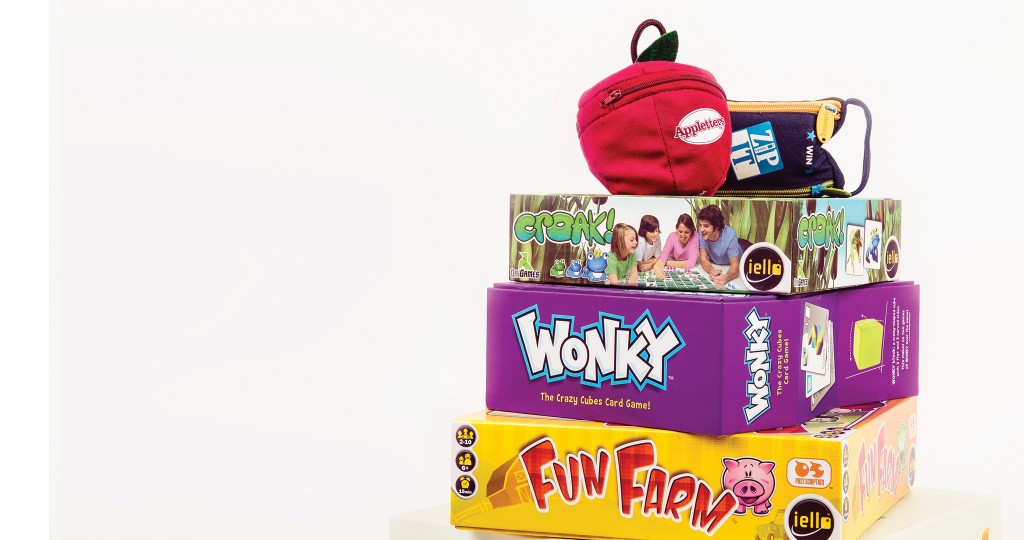 Appletters
Ages 6+ | Playing Time: 20 min. | 2-8 Players $10
HOW TO PLAY: Create a continuous word snake by adding your word to the head or the tail.
REVIEW: Think of it as a beginner's version of Bananagrams. This is the perfect first word game for your child. Plus, it's easy to take anywhere and keep score.
Croak!
Ages 5-10 | Playing Time: 20 min. | 2-4 Players $30
HOW TO PLAY: Send your frog across the pond by jumping on water lillies, but watch out for the pike or you'll croak!
REVIEW: Simple and straightforward. A perfect game for younger ones.
Fun Farm
Ages 6-10 | Playing Time: 15 min. | 2-10 Players $30
HOW TO PLAY: Be the first to bring the animals back before they get into trouble.
REVIEW: Not a quiet, relaxed game as players scramble to collect animals that match the dice. We played with three boys (ages 8 to 11) and it quickly got chaotic. Still, there was lots of giggling all around.
Tokaido
Ages 8+ | Playing Time: 45 min. | 2-5 Players $40
HOW TO PLAY: Travel the East Sea Road, earning credits along the way. The player that discovers the most interesting and varied things wins.
REVIEW: It's a strategic game but not as cutthroat as some. Each character has their own strengths and weaknesses, so every game is different.
Catan
Ages 10+ | Playing Time: 60 min. | 3-4 Players $49
HOW TO PLAY: Players gather resources and use them to build roads, settlements and cities. The board setup is variable, making each game a unique challenge.
REVIEW: Warning! It has caused enough lingering arguments that the game has been banned in some households.
AEG Love Letter
Ages 8+ | Playing Time: 20 min. | 2-4 Players $12
HOW TO PLAY: A game of risk, deduction and luck. Your goal is to get your love letter into Princess Annette's hands while deflecting the letters from competing suitors.
REVIEW: Perfect if you have 20 minutes to spare. Fun with more players.
Jenga – Giant Family Edition
Ages: 6+ | Playing Time: 5 to 90 min. | 1-6 Players $100
HOW TO PLAY:  Just place blocks in a tower and take turns pulling them out until it all comes crashing down.
REVIEW: Size does matter. An absolute must-have for those who love to host game night parties.
Ticket to Ride – Europe
Ages 8+ | Playing Time: 30 to 60 min. | 2-5 Players $50
HOW TO PLAY: Players collect train cards to claim railway routes connecting cities. The longer the routes, the more points they earn.
REVIEW: A family favorite, this is a great game of strategy that is easy for newcomers to learn.
Wonky
Ages 8+ | Playing Time: 30 min. | 2+ Players $20
HOW TO PLAY:  Stack large and small blocks to make the tower wobble. Then watch as your opponents squirm to place the next block.
REVIEW: Unlike Jenga, these blocks are er, well, wonky. The crazy shapes keep you guessing as the tower goes higher. Great for younger kids.
Euphoria
Ages 13+ | Playing Time: 60 min. | 2-6 Players $70
HOW TO PLAY:  Lead a team of workers and recruits to claim ownership of a dystopian world.
REVIEW: For more advanced players to be sure. Victories are well earned as it leaves very little to chance. It's a great way for parents to reconnect with teens.
Karuba
Ages: 8+ | Playing Time: 40 min. | 2-4 Players $35
HOW TO PLAY:  Navigate your way through dense jungle while collecting treasure and avoiding dead ends.
REVIEW: A clever, strategic puzzle game that's fun for the whole family. Easy to learn.
Lift It!
Ages 8+ | Playing Time: 30 min. | 1-8 Players $35
HOW TO PLAY: Race against time as you create structures with a crane that attaches to your head.
REVIEW: Sounds easy, but it's pretty tricky. Younger kids can use their hands to control the crane. It's a great game but requires some patience. We recommend separating into teams to help cheer each other on.
---
Top Tip:
Having trouble understanding a game? YouTube has tutorials to get you up and running.