Proper Pool Maintenance
Pacific Pool & Spa shares tips to care for your aging swimming pool.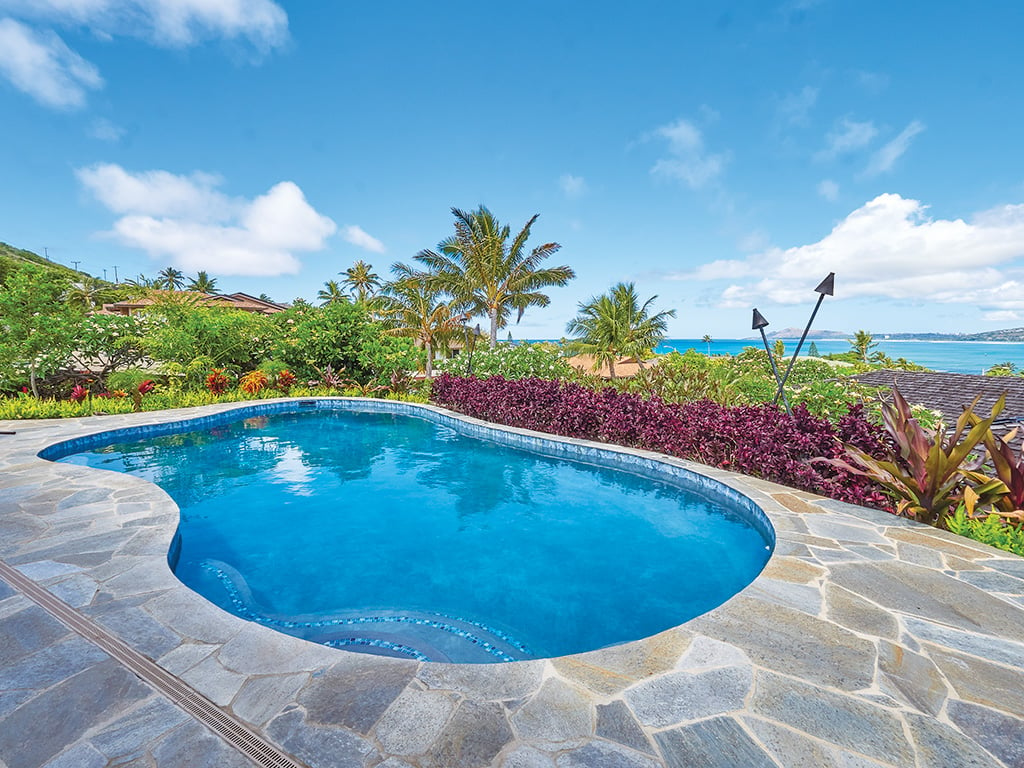 Clifton Crawford, president of Pacific Pool & Spa, has become an expert on swimming pools over the past five decades. He says he's proud of his company and its luxurious projects, and to ensure homeowners get the most out of their investments, he's dedicated to educating them on proper pool maintenance.
"My intention is to teach the consumer how to care for their pool," he explains. That includes teaching homeowners the importance of water chemistry, tile selections and environmental impacts, all of which can add wear and tear to a pool. As part of proper pool maintenance, he recommends that homeowners have their pool water professionally analyzed at least once a year, and that they have their pools cleaned and maintained weekly.
Here are a few helpful tips from Crawford on how to care for your aging pool:
Weekly maintenance
Swimming pools are large investments that require long-term management to keep them functioning properly. "Water is a natural solvent, so water in anything over time will deteriorate or dissolve whatever is around it, so you want to keep it balanced," says Crawford. Without regular maintenance on the pool, "it's just a matter of chemistry" before it begins to deteriorate, he says.
Pacific Pool & Spa manages over 530 service requests a week. These visits include testing chemicals and ensuring proper balance; cleaning automatic pool cleaners; checking filter pressures, pump and skimmer baskets; and cleaning the water line tile. Crawford and his team also assist with vacuuming, leaf-netting and brushing the pool.
The services are also good for pools with salt-chlorine generators, which require more acid along with weekly maintenance. "For every pound of chlorine a pool makes, you need a pint of acid to balance out the pH levels. If you don't balance the pH, that's when your eyes start to get irritated and where mineral deposits start to build up on the tile line," states Crawford.
Annual water analysis
Crawford explains that pool owners should invest in professional water analyses annually, at a minimum. He cautions, though, that the frequency can vary depending on where you live. "If you're in Manoa or Haiku Plantation where it rains every day, your water will last 10 years. But if you're in Kailua or Kahala, your water will last three to five years, so you may need to dilute and rebalance your water chemistry," Crawford explains.
At the time of a professional water analysis, he recommends cleaning the mineral deposits on the water line tile and doing a light acid wash to enhance the surface color and extend the life of the plaster. Before draining a pool for maintenance, Crawford notes that a drain permit is required, and that the water has to be dechlorinated and disposed of properly so it doesn't end up in the sewer system or storm drains.
Resurface your pool when plaster fails
The industry standard life span of a white plaster swimming pool is roughly eight to 12 years; with proper maintenance, however, a pool can last between 15 and 20 years. Pacific Pool & Spa has done renovations on pools up to 20 years old; upgrades to interior materials and surrounding landscapes are done over time as well, for style and durability.
"Newer plasters such as exposed aggregate, QuartzScapes and PebbleTec are composed of a harder concrete, which can extend the life span of a pool to roughly 20-30 years," notes Crawford. Although white plaster is the least expensive, darker-colored plaster can keep your pool warmer by 3 to 5 degrees of temperature, but many homeowners prefer light colored plaster which can better reflect light and add a shimmering water effect. "There are a lot of options in the plaster industry today, which all have pros and cons. It all comes down to aesthetic value and economics."
Consider a cover
"Theoretically, pools are open year-round in Hawaii, but it does depend on where you live," Crawford says. "Normal weather ranges from 75-85 degrees, and 75 degrees is cold for some. This is when people may want a pool cover to retain the heat and prevent evaporation." Safety is also an important aspect to consider, especially for families with young children. Some covers, like solar bubbles, can be hazardous, while others are childproof and can be walked on safely.
Schedule an appointment with Pacific Pool & Spa by calling (808) 261-3508 or visiting their website here. Read more about Pacific Pool & Spa in our archives.