Room to Breath
Renovation adds storage space and much-needed ventilation to outdated kitchen.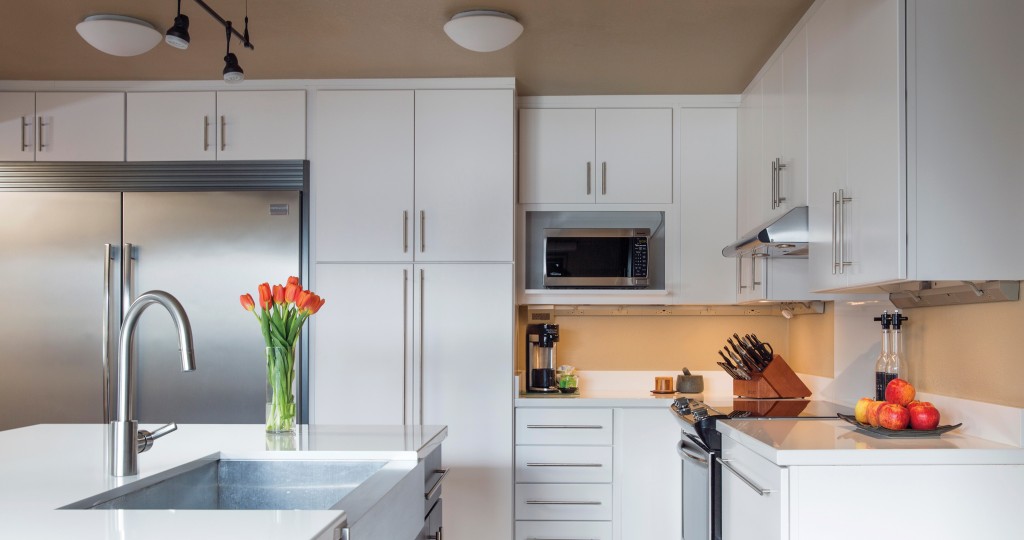 Like many Island homes, this one in Waimalu Gardens had to evolve with the needs of its owners.
"My parents purchased this home in 1958 and I have lived here my whole life," says homeowner Karen Higa. "Over the years, we have done multiple extensions and two kitchen renovations."
During one such renovation in 2006, the Higas chose to close the open-beam ceiling in hopes of reducing the heat in the house. Unfortunately, the project had the opposite effect. "This design change actually made the kitchen hotter," Higa says. "It was unbearable."
In 2015, Dream Home Builders (DHB) was called in to see what could be done and noticed the existing vents in the now covered open-beamed ceiling had not been modified to allow trapped air to escape. "DHB fixed the problem without  much expense and it made a significant difference," says Higa. "We can't believe how we suffered all those years for something so simple it's probably taught in Carpentry 101."
With that fix complete, the Higas turned their attention to renovating the kitchen. "It was clear we needed a modern kitchen that matched the style of the rest of the home," says Higa, who chose Homeowners Design Center and Dream Home Builders for the update.
Needing a complete makeover, the u-shaped kitchen was gutted and redesigned. From there, Higa knew exactly where to begin. "I read an article about Jessica (Omoto) in Hawaii Home + Remodeling. In it, she said cabinets are the foundation of your kitchen and to buy the best quality you could afford," Higa says. "I took her statement to heart much to my husband's dismay."
The Higas installed Dynasty Omega soft-close wood cabinets throughout. Both functional and stylish, the cabinets added much-needed storage and dominated the look of the kitchen. "They are one of the best features of the kitchen," Higa says.
While white was used for all the outer cabinets, dark cabinets were used for the buffet and kitchen island, which was expanded into an adjoining living room. "I've always admired the look of white cabinets, but feared that using white for everything would have been too much," Higa says. "Jessica suggested mixing woods and whites to balance out the room."
The sink was relocated from the outside counter to the island as well. A modern refrigerator and freezer replaced the overmatched appliances and elegant, yet efficient overhead and under-cabinet lighting completes the look.
Now that it's done, Higa says the renovation was long overdue. "We absolutely love it," she says.