Room to Spare: Building an open-concept guest suite
The comforts and conveniences of a full-size home are neatly designed into one small, stylish suite.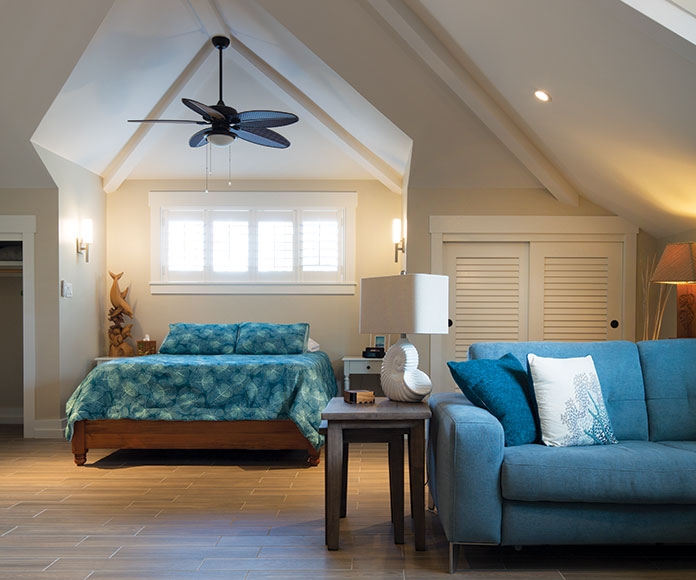 A beach house is a popular place for hosting family and friends, especially when it's well designed and has room to spare.
When Seth and Natalie Sutherland of S.S. Builders were planning their Kailua family home, they wanted to have a separate space so extended family and out-of-town guests could have privacy and conveniences of their own.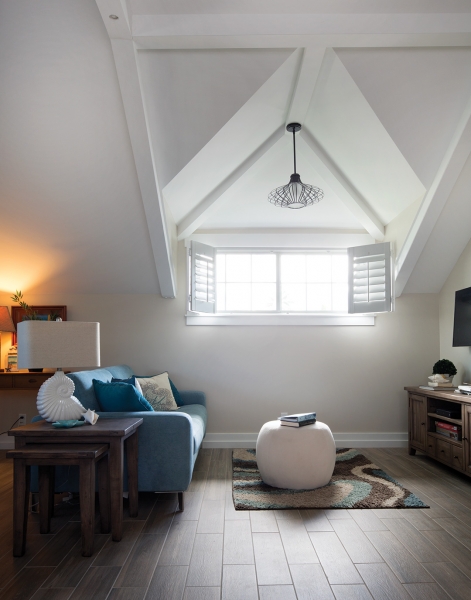 "A guest suite is perfect for multigenerational families and very common to build onto already existing homes," Natalie Sutherland says, noting S.S. Builders has built many guest studios for its clients.
The Sutherlands have a five-bedroom, four-bathroom house beside the guest studio. Geoffrey Lewis Architect Inc., architect of both the house and its detached suite, designed an architecturally interesting suite with the essentials of a home, plus a few extra upgrades, in approximately 500 square feet.
"All of our guests have raved about the uniqueness of the architecture and cozy feeling," Sutherland says.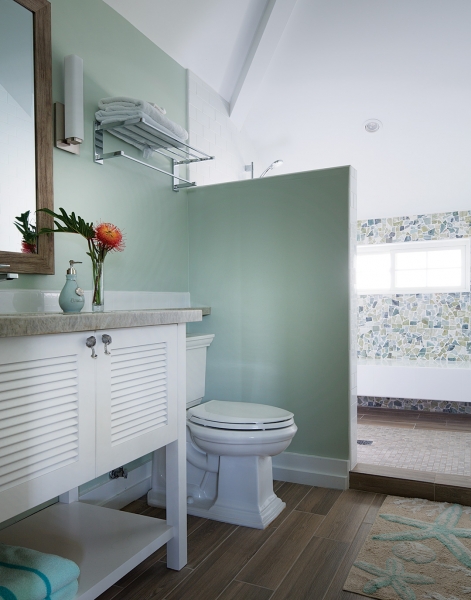 The open-concept suite has a defined living room, bedroom, kitchenette and dining room. The suite also has a storage room with a full-size washer and dryer, and a separate bathroom.
Lewis says in order to reduce the overall scale of the garage with guest suite above, and to give the main house the appropriate larger scale, they reduced the wall height of the suite and incorporated a vaulted ceiling. This resulted in an interesting space with a cozy feel. The added layers of character create a fairy-tale-like atmosphere, he says.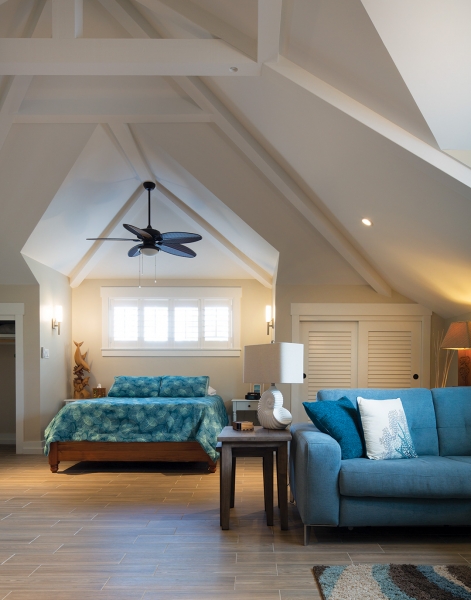 The low plate line at the ceiling edges presents the opportunity for excellent storage or unique niches and use of space. A built-in dining bench along the low ceiling requires a person to slide along it, avoiding the tendency to stand up from a chair and bump into the ceiling. Closets flank either side of the full-size bed, a creative use of space that eliminates the need for a dresser.
"The fun and challenge of a space like this is that the roof line really determines the overall usable space and then we design within this space to make sure it functions properly and provides the amenities required," Lewis says. "The spatial proportions of a space like this provide for some really fun and interesting spaces."
Where to get it
Porcelain tile flooring from Pacific Source
Quartz countertops from Tile Warehouse
Plantation shutters from Island Shutters