Spruce Up Your Surfaces
Upgrading countertops in your home can be done at any budget.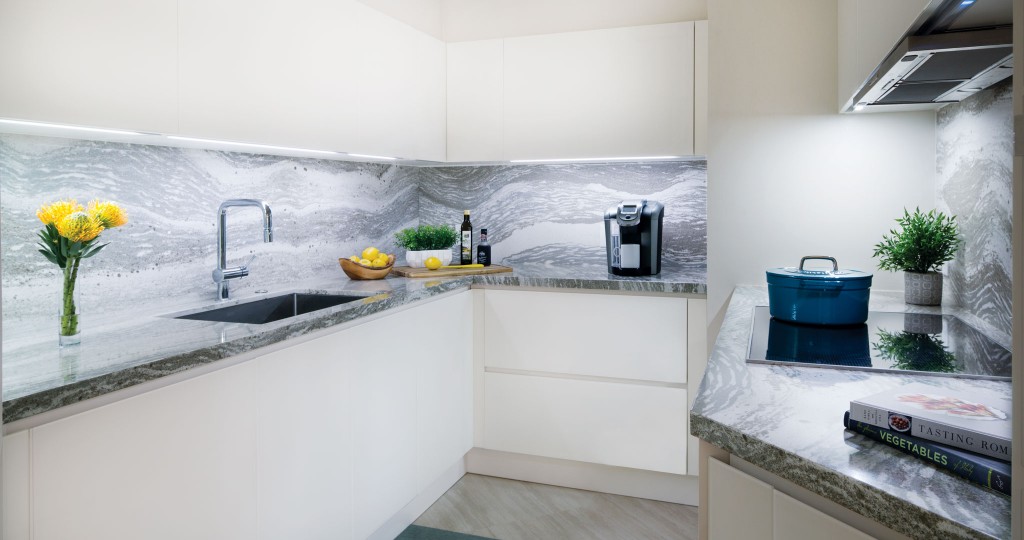 From doing homework to making delicious meals, your countertops endure a lot everyday. Understanding the lifestyle you have will help you pick the right countertops for your home. If you need something tough and stain resistant, choose nonporous surfaces. But if you desire the elegance of natural stone, opt for marble or granite instead. With a wide variety of options, the right countertop will be both practical and pleasant in your home. Once you've picked something you love, let HawaiiUSA Federal Credit Union help you achieve any home project you desire.
Factors to Consider
More Than Material
Plan for the added cost of professional installation when purchasing new countertops.
Continuous Care
Natural stone is porous, so remember to seal it regularly to maintain its luster and keep stains out.
"HawaiiUSA is here to help make your dream remodeling project come to life. We're in it with you from start to finish."

— Malia Vaimaona, Ala Moana Branch Manager, HawaiiUSA FCU
$ $30 to $45 per sq. ft. Carrara Marble
Marble countertops are made from natural stone, which is reflected in the unique veins that run across each slab. Carrara marble, like the type used here in this project by Archipelago Hawaii, has softer tones than other stone surfaces. Make sure to seal and maintain your marble countertops regularly to keep them pristine and glowing for decades.
The naturally occuring veins make each slab unique
Colors tend to be lighter than other stone types.
Natural, porous surfaces require regular sealing.
Pro Tip: Use soap and warm water to clean daily. "If you wouldn't use it on yourself, don't use it on your counters," says Haunani Jones, of Todd Branson Stoneworks.
$ $30 to $53 per sq. ft. Neolith Sintered Surface
Using a sintered surface like Neolith is an excellent option for almost any countertop due to its scratch, heat and stain resistance. It can also be applied to walls and floors, for both indoor and outdoor use, because of its UV resistance. It stays resilient to the harshest conditions while holding an impeccable finish.
Scratch, heat and stain resistant.
100 percent natural and recyclable.
Nonporous, engineered stone requires little to no maintenance.
Pro Tip: The heavy-duty qualities of Neolith mean you can prepare and serve food right from your counter.
$$$ $110 per sq. ft. Pure Emerald Quartz
Pure quartz surfaces are entirely natural, differing from manmade quartz countertops. Pure quartz stone will have variation in patterns throughout the stone, adding to its refined appearance. The porous nature of pure quartz means regular sealing is required to prevent etching or staining from food and beverages.
Extremely hard and robust.
Colors will be saturated and vibrant.
Natural, porous surfaces require regular sealing.
Pro Tip: Ask to see a few samples of the same type of stone to get an idea of how the pattern will generally look.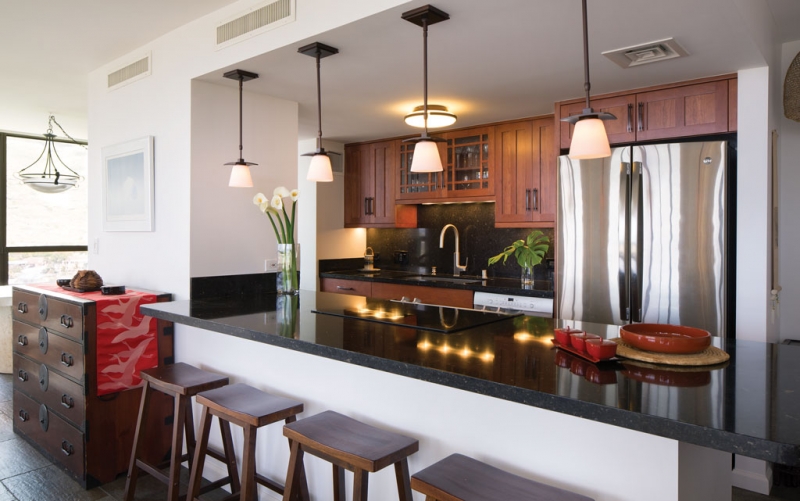 Kick-Start Your Countertop Project
Support your home upgrades with options from HawaiiUSA Federal Credit Union.
When financing a new project in your home, it's important to learn about the different options available to you to get the most for your money. To do so, first make a plan and create a budget for your project, including an emergency fund to account for any unforeseen circumstances that may arise. Once you have a budget in place, you can begin to look at the different options available to see which one best fits you.
For small- to medium-size projects, you might consider using cash if your savings allow you to start right away. The convenience of cash means you don't have anything to repay once you spend it.
Alternatively, using a credit card for your next project provides a safer choice, just in case you need to dispute a charge in the future, which you can't do as easily with cash. Find a credit card that rewards you for spending and enjoy its perks while you get your upgrades underway.
For larger, more expensive projects, taking out a Home Equity Line of Credit, or HELOC, is a great way to help finance your dreams. A HELOC is a type of loan that allows you to draw on funds using your home as collateral, paying it back over time. This option is typically tax deductible, but check with your tax advisor to be sure.