This Kaneohe Home's Backyard Redo Includes a New Pool and Spa
Good times, rain or shine.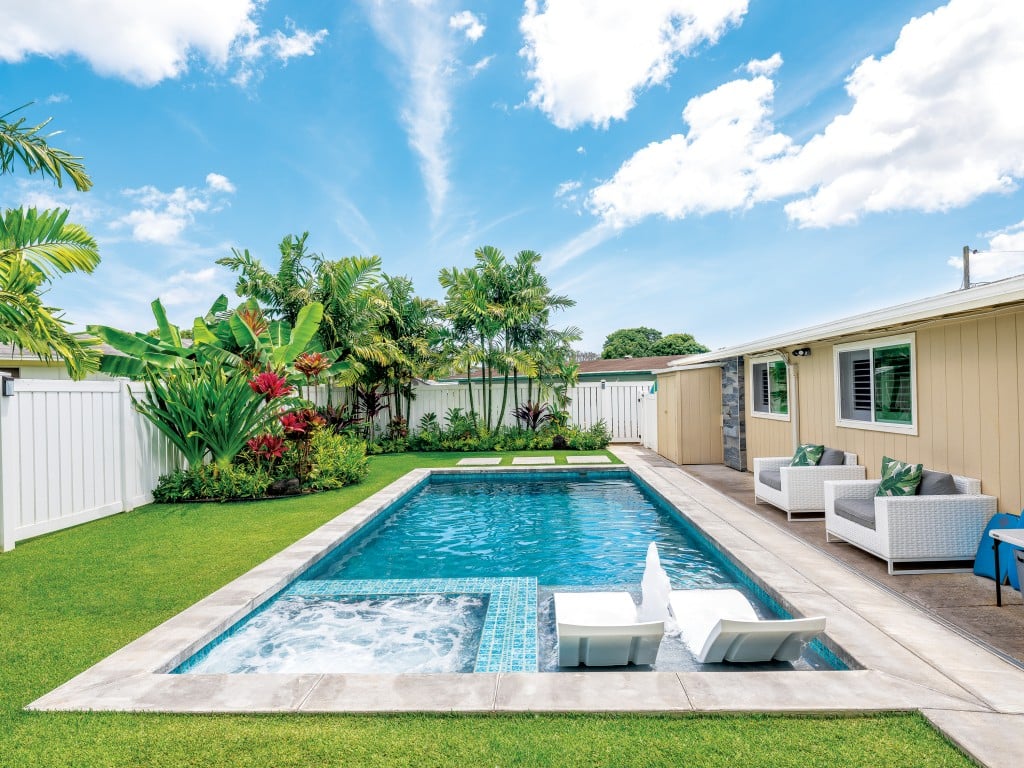 Pool days have become the norm for this family of five, thanks to the construction of a new pool and spa by Pacific Pool & Spa. Before this splashing addition, the backyard was a no-frills grass landscape. "It was a nice yard and I had to convince my husband, because he's a yard guy, that we needed a pool," says Summer Dunhour.
After some persuasion, Dunhour got the pool she wanted, as well as a Jacuzzi. "The Jacuzzi is my favorite part about it," she says, adding that it has eight strong jets in total that hit all the angles.
And the pool and spa can be controlled with an app. Dunhour uses her phone to check the salt intake, as well as turn on and off the Jacuzzi and bubbler. "The spa takes about an hour and 20 minutes to get from 80 degrees to 102 degrees," says Clifton Crawford of Pacific Pool & Spa. "The heat pump will keep their pool at 85 degrees year-round and they have thermostatic control. It's an energy-efficient appliance, too."
Along the inside perimeter of the pool, which measures 15 by 30 feet, is a light blue tile called Aqua Marine from Fujiwa Tiles. There's also a Bali ledge with two loungers. And it's a saltwater pool, which Dunhour loves. "The salt water is less abrasive on your skin," she says.
A bubbler between the two loungers has a light with four colors to choose from — blue, red, white and green — to create a nice evening ambiance.
As for the outdoor shower, the family chose the tile, shower valve and showerhead. "On the opposite side of the wall is the hot and cold water, which made the install simple," says Crawford.
"Clifton was really good to work with; it was easy," says Dunhour. "They made it happen and did exactly what I wanted."