Adjustable Pedals Level the Field
Pacific American Lumber offers Eurotech pedestal systems.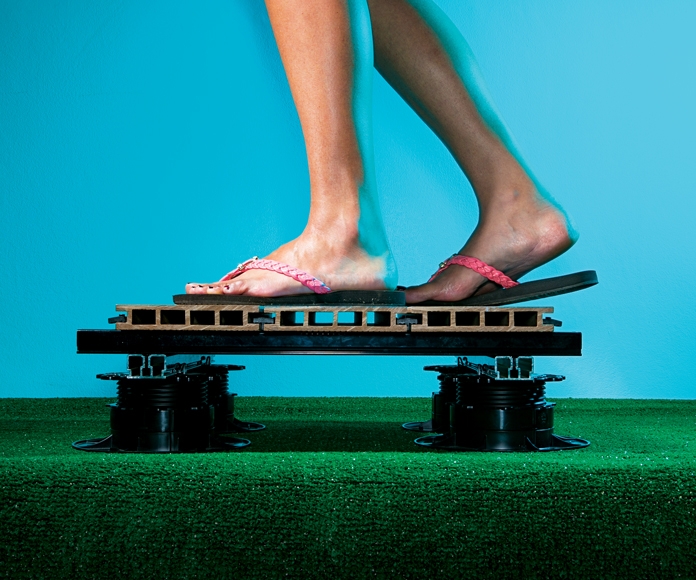 Pacific American Lumber installs the Eurotech pedestal system to level decks on problematic slopes. "Sometimes it's not possible to directly attach to the substrate," says Chris Nied of Pacific American Lumber. "So we use these where the customer needs to keep the deck level on a slope."
HOW IT WORKS
Quick to assemble, the pedestals can be easily altered to provide stability to decks and terraces. "It allows the decking to be flat while the concrete slab underneath can have a slight pitch to allow water to drain off," says Joseph Pozo of Pacific American Lumber. "The substrate the decking is on isn't always flat so this pedestal system allows you to adjust the framing to make it flat, even if your substrate is not level."
WHERE IT WORKS
The adjustable pedestals are suitable for wood or stone terraces in a variety of heights.
WHY IT'S PERFECT FOR HAWAII
The pedestals are resistant to weather, UV exposure, insects and rot. "Most of the time, lumber is used for the subframe, but Hawaii's hot weather often makes the frames go bad," Pozo says. "Our system is made from high-quality PP plastic and marine-grade aluminum. It saves labor costs and reduces installation time."
DID YOU KNOW?
Each pedestal can hold up to 2,500 pounds.
VALUE
$5 to $8 per pedestal. "The amount of pedestals needed depends on the spacing of the joists," Pozo says. "For example, we needed 490 pedestals for 1,200 square feet of decking on our most recent job."