Stonework Flooring Makes an Impact
Add a luxe touch to your entryways and indoor-outdoor spaces with Selective Stone.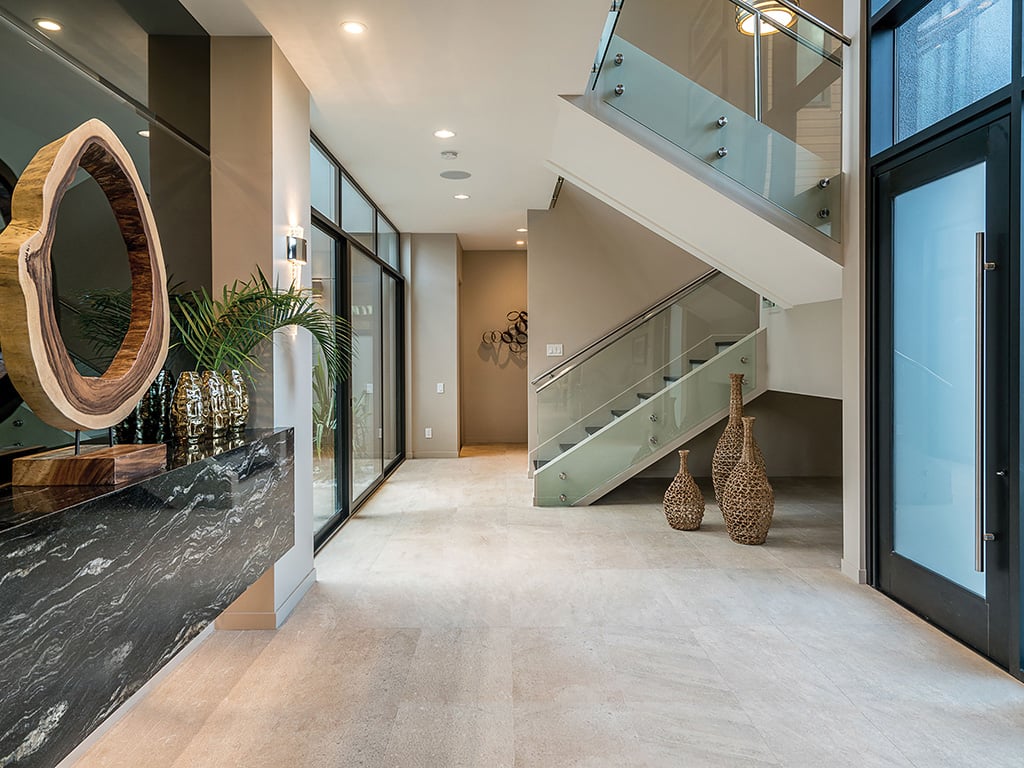 If you're looking for a fresh way to incorporate the beauty of stonework into your home, consider flooring for your entryway and indoor-outdoor living areas. Beyond backsplashes and countertops, stonework can set the tone for the aesthetics and ambiance in your abode when used in these key spaces.
Selective Stone is here to help you explore creative options for flooring. Its expert staff understands how to choose the best products for a high-foot traffic area such as an entryway, or an indoor-outdoor living setup in Hawaii's elements.
Kevin Nip, founder of Selective Stone, says that the first step is working with a client to establish the "visual image" they have in mind for their floors. Selective Stone offers a diverse array of durable tile options for different preferences in color, shape and design.
"Are we considering making a statement with a contemporary 'wow' look," he explains, "or do we want to tone it down a bit and focus on a more conservative rustic/antique appearance?"
The environment and structure of your home are also factors in determining your stone floor choices. If you live in a rainy area, for example, you'll want to work with the Selective Stone team to choose products that can withstand such conditions. "Consider safety when tiling these sensitive areas," says Nip — opt for stonework that won't cause slips and falls in wet weather.
"We provide a wide variety of options in random and dimensional stone tiles like natural quartzites, slates, basalt/lava and limestone, travertine, and marble in slip-resistant finishes," notes Nip. "Some of these stone products also have veneer ledgestone that can be used to accent the walls of your entry."
Nip adds that "full-bodied porcelain tiles are now more intricate with ink-jet technology to mimic the look and texture of natural stone. They come in a variety of sizes and are durable, hard with very low water absorption, hence making it an ideal low-maintenance exterior product."
While it's nice to ensure cohesiveness with the exterior-to-interior transition of your entryway and indoor-outdoor flooring, Nip says that it's more important to find the aesthetic and design impact that suits your personal tastes.
"Elite designers prefer to have a consistent flow between the entry and foyer," he says, "and the same material is used with potentially different finishes, especially if there is no step-up or step-down between these two areas. However, there is no general rule of thumb, and transitions can be left up to your imagination."
Start your next flooring upgrade with Selective Stone by calling (808) 839-2979 or learn more at www.selectivestone.net.