5 Tips for Revising and Refining Your Spaces
A professional home and office organizer offers her advice.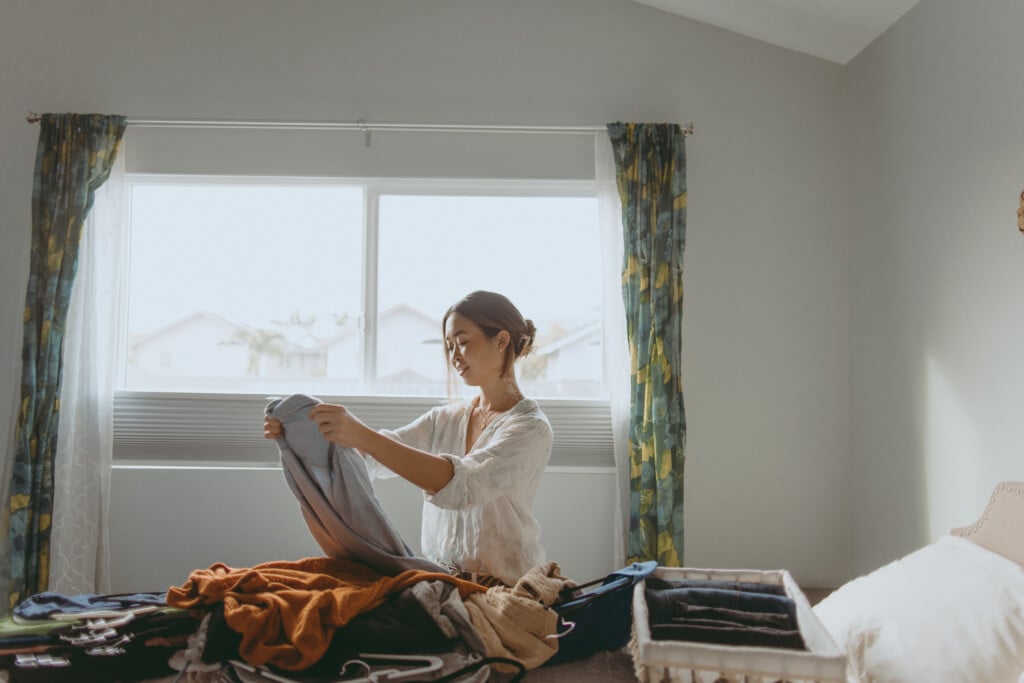 Owner of Revise + Refine, Chelsea Tsuchida, found her love for decluttering and organizing during an act of self-care. After reading Marie Kondo's The Life-Changing Magic of Tidying Up, she gave the KonMari Method a try in her own home.
As Tsuchida decluttered, she documented her progress on social media, where she received positive feedback from friends. "I think I was also looking for a creative outlet, so it got me thinking about how fun it would be to have an account dedicated to organizing content," she says.
The name of her company was born out of her love of literature and the parallels between the art of writing and the process of organizing. "Unlike the magic of TV and home makeover shows, decluttering and getting organized in a way that's sustainable requires edits over time, and I wanted this to be reflected in the name," she shares. "Sometimes those edits, or revisions, are small, but collectively, their impact can be life-changing. I know it was for me."
Revise + Refine offers in-person and virtual services. "I've created my offerings based on the level of support someone is seeking," Tsuchida says. Her virtual service called "DIY with Direction" is a one-on-one program focused on designing systems and product recommendations for a particular space or area in a client's home or office.
Tsuchida's most popular service is for those who are looking for a "done for you" approach. "It provides my highest level of support and guidance, as well as donation drop-offs, custom labels and product sourcing, delivery and returns," she explains.
If you're looking to declutter and organize your home, here are Tsuchida's five tips on how to get started:
1. Take time for reflection
Start by asking yourself, "What is important to me in this season/stage of my life and what are my goals?" Being clear on your values, what lights you up and your aspirations will serve as a helpful guide, she says.
2. Declutter, then organize
"I notice many people try to simultaneously declutter and organize," which can be overwhelming, Tsuchida shares. "Decluttering requires more of your emotional energy because you are making decisions about whether to keep or let go of your belongings, some of which may have sentimental value."
3. Measure, measure, measure
"Although it may be tedious, you will save time, money and energy by measuring your space before shopping for storage products," she says. "The standard measurements you should take are length, width and height. However, if there are things like hinges (common in cabinets), plumbing (common for under-sink spaces), or other irregular features, your measurements will need to account for those as well . I prefer to keep measurements and corresponding photos in a note on my phone for quick reference."
4. Make it fun
Tsuchida recommends putting on your favorite playlist and inviting friends over to celebrate the fact that you're taking the time and energy to care for your space — and thereby care for yourself. "If you make it an enjoyable experience, you are more likely to do it again," she adds.
5. Hire a professional
"Despite what our society has taught us, you do not have to do it on your own," Tsuchida explains. "Furthermore, you do not have to wait until you're frustrated and pulling your hair out to ask for help. There's a possibility that the results will be the same, whether you enlist the help of a professional organizer or not, but the difference is how much of your time and energy you will spend. If organizing lights you up, then go for it! But if you would rather be doing something else, do your future self a favor and hire a professional."
In addition to the services she already offers, Tsuchida expects to be a certified feng shui consultant by the end of 2023. For more information about Revise + Refine, visit its website and follow the company's Instagram @reviseandrefine.