A Home's Backyard Pool and Spa is a Pocketful of Sunshine
A Makakilo family soaks up panoramic views from its new pool and spa, just in time for summer.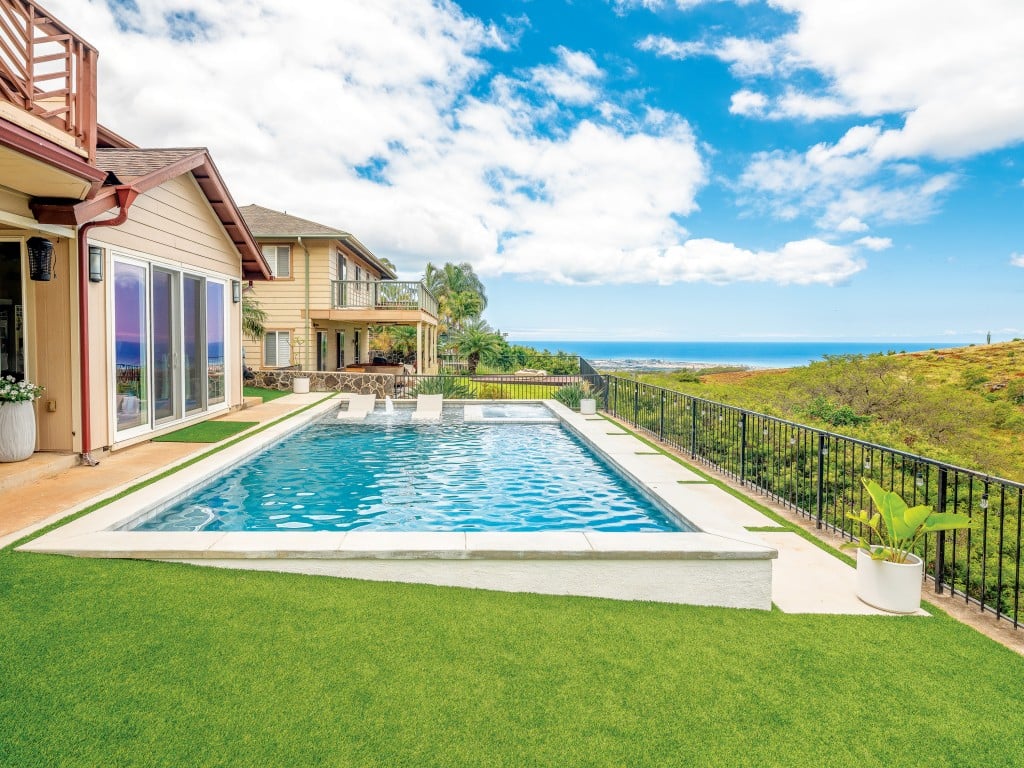 Located in Makakilo, this refreshing oasis features a brand-new pool, spa and outdoor shower complete with a priceless view of the ocean. The Simon family's vision for the backyard was brought to life by Pacific Pool & Spa.
Inspired by their past Disney vacations, homeowners Dayna and Nick Simon wanted their pool to be a place for their family to lounge and spend time together. "We saw the size of this backyard and felt we could build our dream swimming pool," says Dayna. "We asked Pacific Pool & Spa to inspect this property before we submitted a bid to purchase."
Construction on the Simons' pool started right away. "The intention was to compliment the scenery," says Clifton Crawford of Pacific Pool & Spa. "We wanted to make the pool the same color as the ocean out in the view."
Crawford and his team put a lot of thought and creativity into ensuring the pool blended in with its surroundings. The waterline around the pool includes tile from Fujiwa Tiles and a French Gray plaster, which is an exposed aggregate plaster material that's twice as durable as regular plaster, shares Crawford. "Picking that gray color to compliment the ocean and then you have the reflective qualities of the sky," he says, "that's what gives it the blue-gray color."
The pool is 15 feet by 30 feet, with a depth of 3 ½ feet to 6 feet. In the shallow end of the pool, Crawford and his team installed a Bali ledge, which highlights a shallow entry. "It's a 1-foot step down that's probably got 6 or 9 inches of water off of it and then we put the ledge lounger chairs so that the ladies can lay down without getting their hair wet and cool off a little bit," he explains. And "the ladies" aren't the only ones who like the feature, Crawford says: "It's great for dogs and excellent for grandkids too."
Then there's the spa, which is easy to get into and out of because of its level height. Inside are 10-12 jets, all at various heights. "They're not just in one spot hitting everybody in the same place," says Crawford. "You can get it on the lower back and in between the shoulder blades."
Before or after jumping into the water, the family can rinse off at the outdoor shower. There's a 3-inch by 6-inch concrete masonry unit at the base and a hollow tile wall. The Simons hand-picked the showerhead and valve, and Crawford waterproofed and tiled the walls.
Now that the pool is complete, the Simons have been spending more time outdoors. "We spoke with Clifton on what we can do to make the view and our oasis a reality, and he helped us visualize everything we see today," says Dayna. "The view during sunset is our most favorite time."