A Renovated Home Overflows with Refreshing Features
Savor the summer.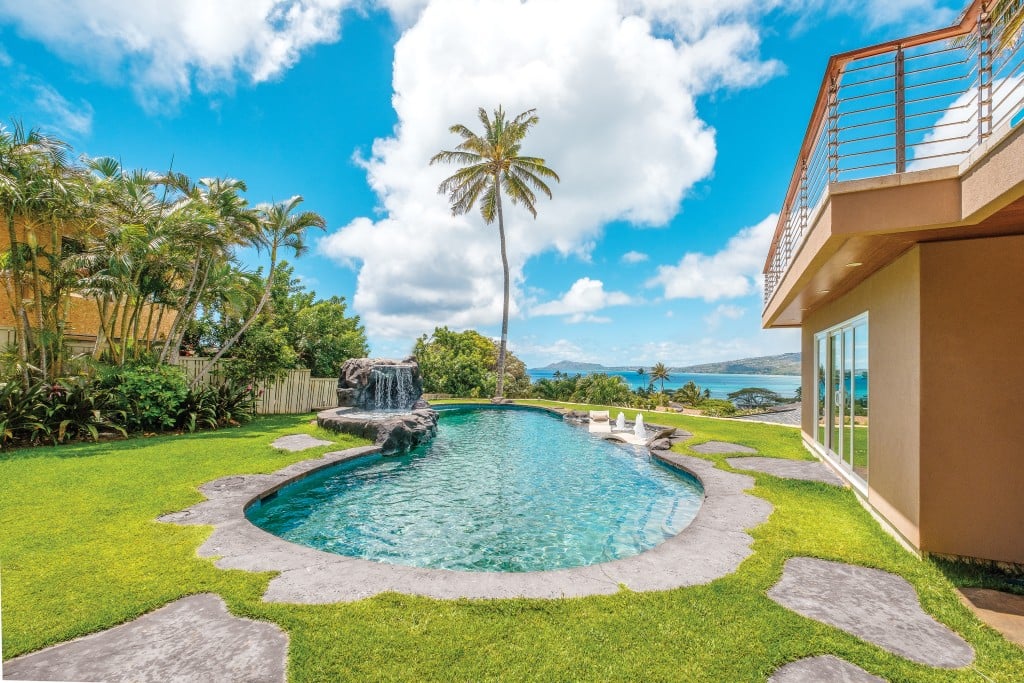 Tucked away in Hawaii Kai, a recently renovated home gets a brand-new pool and spa. Where a standard swimming pool once sat is now an eye-catching addition that blends in with the surrounding beauty.
For the design of the pool, the homeowner wanted to incorporate nature as much as possible — and Pacific Pool & Spa did the rest. The pool, which is 3 ½ feet to 7 feet deep, has a Bali ledge with two bubblers, lounge chairs and a waterfall that flows into the spa. The sounds of water in transit are an invitation for guests to jump right in.
The pool is covered in French gray plaster that matches the color of the ocean and reflects the sky, shares Clifton Crawford of Pacific Pool & Spa. The spa is made for relaxation and features 12 jets at various heights. "We used good, strong jets," he says, with piercing, rotating and spinning options.
The spa was designed as a single body of water, so there's no extra maintenance needed, explains Crawford. The pool water goes into the spa, the spa fills up and overflows into the pool and creates a small waterfall effect. "That circulation of water leaves the spa in good shape," he says.
There's a lot of space in this backyard for large gatherings and to enjoy the sunshine too. In addition to the pool, the property has a gazebo, outdoor kitchen and a deck with breathtaking views of the ocean.