Contemporary Coastal
A homeowner finds serenity in her new spaces.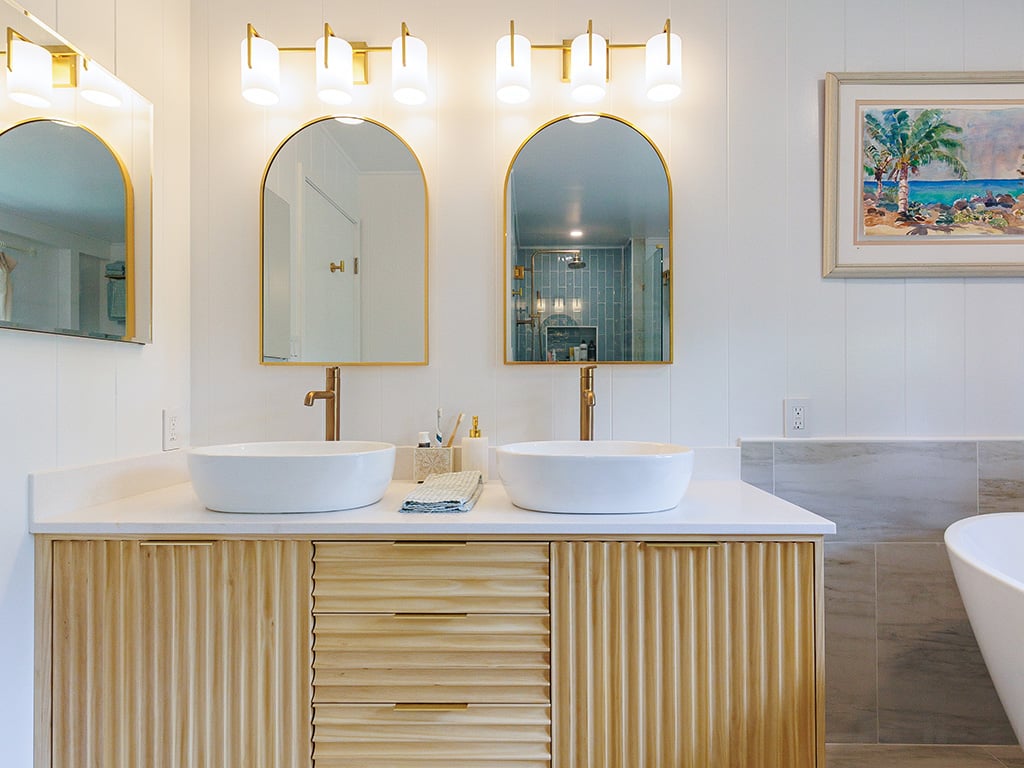 A master bathroom and guest bathroom in a Pupukea home recently got a beach house makeover.
Before the remodel, the guest bathroom had a shower that was rusty and worn out. "The floors were a very outdated tile with cracks and an old, cheap, water-damaged vanity," says homeowner Marisa Griffin.
"We gutted the entire space."
The master bathroom is brand-new.
"The bedroom was a very long rectangle shape, so I used half the room to create a brand-new master bath," she says. "I moved the existing closet to a new space to use that space for the new bathroom as well."
The Vanity Art bathtub was at the top of Griffin's wish list when designing her new master bathroom. "If I was going to start from scratch to create a brand-new bathroom, it had to have a big, comfy tub," she says. "I also wanted tiled-in showers with glass doors and natural wood vanities for both bathrooms."
To keep the general look and feel cohesive, Griffin stayed true to the same vendors for accents and fixtures for both bathrooms. All fixtures are Delta, and sinks are by Fine Fixtures. The vanities, vanity countertops and backsplashes are by Citron & Date Studios, and the floor tile is Dreamstone Dolomite Snow from Tile Bar.
"The homeowner wanted clear glass to make the bathrooms appear larger," says Guerric de Coligny, owner of The Glass Guru of Honolulu. "And they wanted as little hardware as possible for a sleek, modern look."
The Glass Guru of Honolulu designed and installed the shower glass, with the glass itself supplied by PRL Glass in California, and the shower hardware from CR Laurence, de Coligny says.
The master bathroom features brushed gold and satin brass hardware, while the guest bathroom has matte black hardware.
Griffin credits Ryan Taylor for completing this project and connecting her with The Glass Guru of Honolulu. Additionally, her stepmother, Sarah Griffin, did all the architectural drawings and layouts for the project.
While working on both bathrooms, there were challenges from start to finish. "The biggest challenge was sourcing materials — specifically tile and plumbing fixtures," the homeowner says. "There are really not a lot of options on-island; if you want something unique, it has to be special-ordered."
For example, the tile Griffin originally wanted for the master shower was from a mainland company, and it got lost in transit one week before the scheduled delivery date. "I had to go back to the drawing board and find another option," she says. This led her to Daltile in Honolulu, however, the option she found and loved was out of stock and she had to order it from California.
Another challenge was finding a matching set of fixtures in the same brand and color for each bathroom. "Shipping to Hawaii is another big challenge," she adds.
The vanities in each bathroom are one of a kind. "They are custom-designed and made by Jasmine Mullins and Tom Allen from Citron & Date Studios," shares Griffin. "They add such a fun touch to both bathrooms and are so unique. And they ended up costing less than having to order and ship something over from the mainland!"
Says Jasmine Mullins of Citron & Date Studios: "The design for the master vanity came from wanting to create something that really spoke to who Marisa is as a person. The space is specifically for her and is her retreat, so it had to tick the boxes of what style she personally likes, but also something that felt a bit more timeless for her because her tastes lean toward traditional."
The design of the vanity bridges the gap between a few different genres. "Its clean lines are modern but not trendy, and it still has a traditional shape and feel to it. So 10-15 years down the road, it's not going to look like such a decade-specific bathroom but rather still feel really fresh."