Home, at Last
Peek inside the Manoa home of former Hawaii Gov. Neil Abercrombie and Nancie Caraway.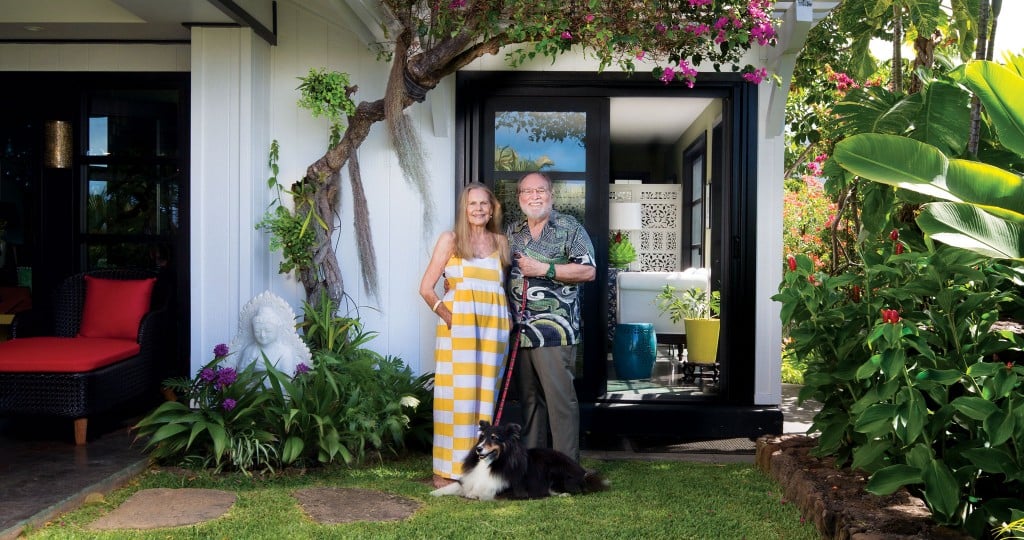 Tucked away on a quiet Manoa hillside, a small, street-front house looks unassuming with its polished exterior and landscaping, typical of the neighborhood.
But take a step inside and you're transported into a home that's furnished with treasures from the homeowners' storied past, sprinkled with hand-selected décor from their international travels and thoughtful gifts from friends and dignitaries.
Former U.S. Congressman and Hawaii Gov. Neil Abercrombie and his wife, Nancie Caraway, always wanted to own a home in Manoa. The path that led them to be first-time Hawaii homeowners was about as long as their respective careers in politics and higher education.
Before they were homeowners, they rented an apartment in Manoa for 23 years. After years of house-hunting in a neighborhood that was growing increasingly desirable, they finally discovered a for-sale sign in front of a square-shaped little house built in 1970. It had a wonderful view of Diamond Head and Waikiki, and a thriving bougainvillea tree in the backyard that Caraway adored.
"Nancie came home and said, 'I found it,'" Abercrombie recalls.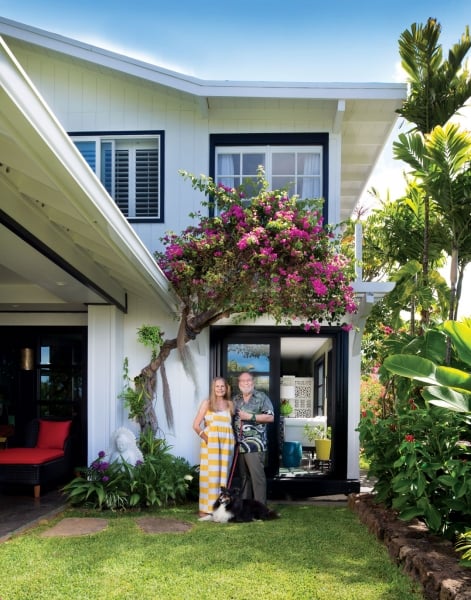 While they've owned the house since 2000, they hadn't spent much time in it together as a couple. Their work required them to be in Washington, D.C. — Abercrombie representing Hawaii in Congress, Caraway teaching at Georgetown University, George Washington University and American University. Then, when Abercrombie became governor, they lived in the governor's house, Hale Kia Aina, in Washington Place.
When Abercrombie's tenure as governor came to an end, it was time to settle back into Manoa. They had plans to renovate the house and make it the home they'd always wanted to enjoy together.
"It was going to be an absolute revelation to return home to our Manoa sanctuary," Caraway says. "This was going to be our little jewel box in Manoa. It was a spiritual-, aesthetic- and community-driven journey of the heart – it really was."
For Abercrombie, it feels like he and Caraway are finally home.
"It's not like we're newlyweds, but it's our first house. It sounds kind of strange that, at this point in my life, I'm coming into my first house, but that's what it is, because we are able to spend time here together now, as opposed to trying to schedule time," Abercrombie says.
"More than anything else, what the house represents to us is time for us," he says. "To have a place as pleasant as this."
Color and Light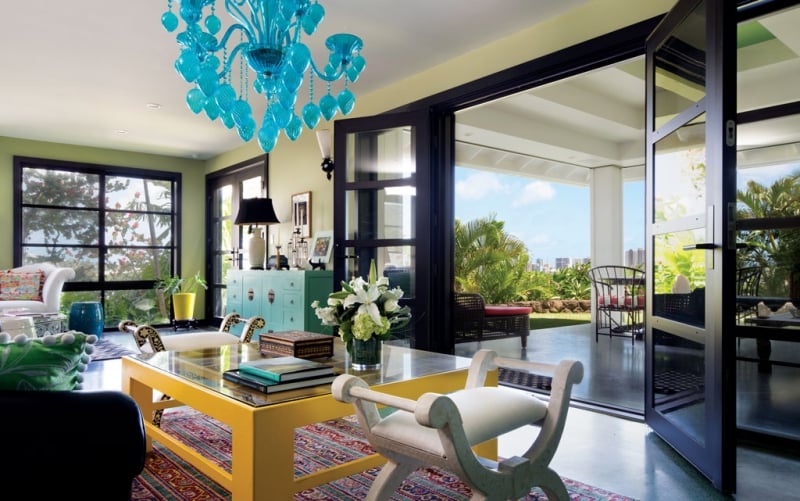 The house was previously small and sectioned off, especially the main living area. Working with Mason Architects, they expanded the house further onto the property's backyard, pushing the existing lanai out. They designed the addition around the bougainvillea tree that Caraway was drawn to when she first saw the house. It now grows between the backyard and the new lanai, a comfortable spot to entertain friends.
One of the first and only changes Abercrombie and Caraway made to the house when they first bought it was to remove the sliding doors and replace them with French doors. "Nancie is so smart with the black and white steel French windows and doors,"Abercrombie says.
It was important their main living area incorporate color and natural light. "I wanted it to be open, I wanted the light, and I wanted to enjoy the color palette Nancie put together here. She has the best color sense," Abercrombie says. "I looked forward to the openness and the light, which of course leads to the whole view. It's paradise."
Caraway worked closely with interior designer Dana Johnston throughout the renovation, collaborating on color pairings and furniture placement. "I love colored furniture," Caraway says.
Abercrombie is particularly fond of the house's original distressed concrete floor, which he felt strongly about polishing and incorporating into the aesthetic. "I want it just the way it is because that's what this house was," he says. "Every time I see this floor it gives me great joy."
Powder Room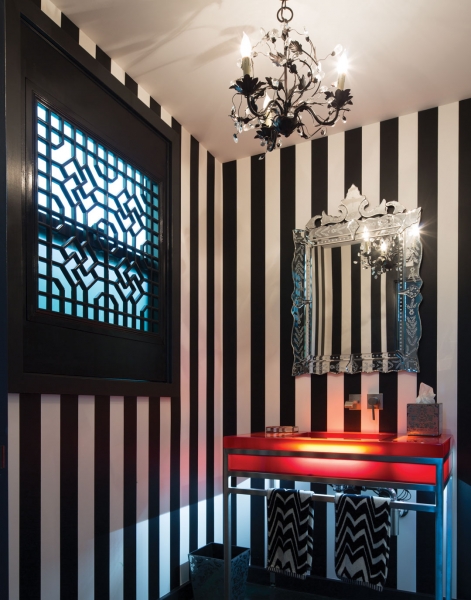 The powder room combines styles and patterns to make a strong impact with only three colors.
The translucent cast resin sink console in red with underlighting from Neo-Metro makes a bold statement. "I like contrast," Caraway says.
Master carpenter Dave Scondras of Parker Builders, the contractor for the renovation, crafted the Chinese screen over the window.
A Work of Art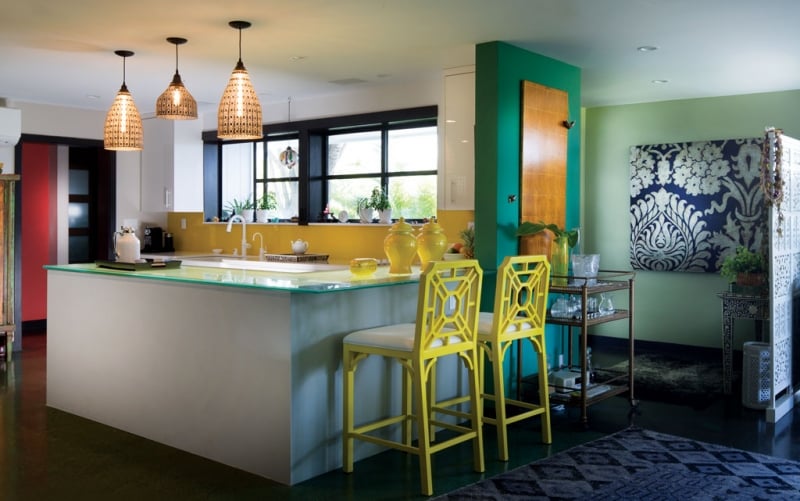 "I wanted a very clean, white palette, sort of like an art canvas," Caraway says of her kitchen. Appliances are concealed behind white panels to blend with the white cabinetry.
Artist Jonathan Swanz created the yellow glass backsplash, which brings a warm pop of color to the canvas. HN Glass oversaw the fabrication and installation of the single-piece glass bar countertop with LED lighting.
The Sub-Zero refrigerator is just outside of the kitchen, which helps the space feel larger and more open. "I didn't want there to be a sharp design transition from the kitchen to the rest of the room. I wanted to try to integrate it as an art and living space," Caraway says.
Room To Reflect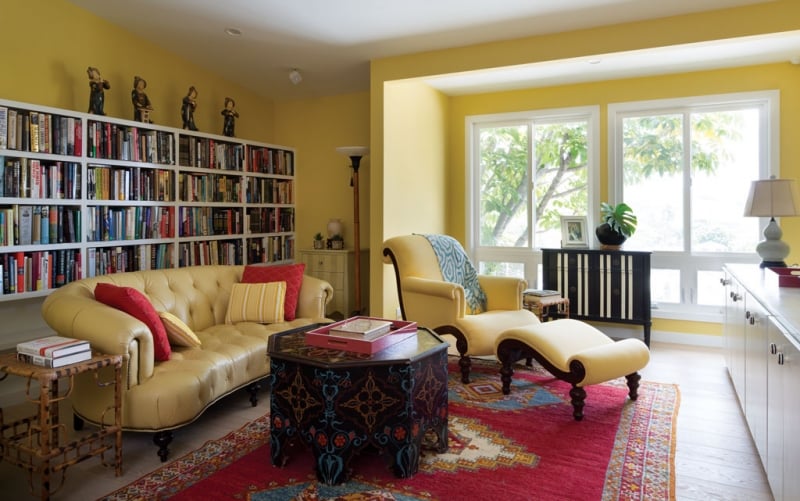 Abercrombie's second-floor media room is one of his favorite rooms. The renovation extended the space by about three feet, which allows additional room for only some of his and Caraway's extensive collection of more than 5,000 books. Abercrombie selected a Tuscan yellow that sets a calming tone for reading in his favorite chair and ottoman he bought at C. S. Wo & Sons several years ago. Caraway later reupholstered them in a complementary yellow. Abercrombie sits there and reads, gazing up now and then at the Diamond Head view on his left, and a framed photo of himself and former U.S. Congresswoman Patsy Mink directly across. "When I'm there thinking, reading, figuring things out, I'm looking at my picture of me and Patsy Mink, " Abercrombie says.
Abercrombie's desk is also in this room, facing the windows.
"I wanted that media room to be inviting and bright and entertaining and lively, " Abercrombie says. "I wanted to have, not a vivacious sense, but I wanted it to be lively.
I didn't want it to be a library room. I wanted it to be cheerful and inviting. "
Unwind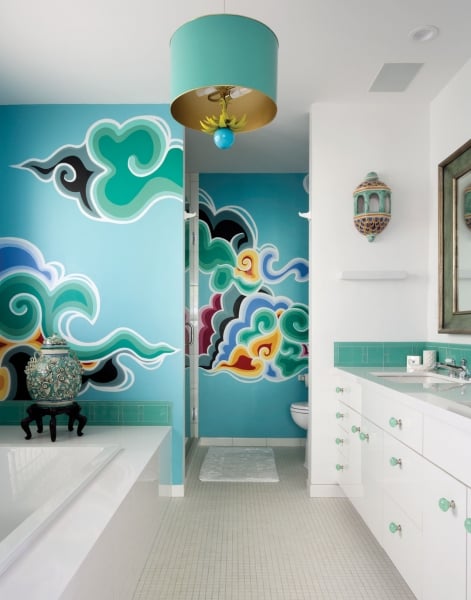 Caraway wanted a Tibetan-theme master bath to complement the Tibetan influence throughout the house. Art student Glory Munoz hand-painted a Tibetan cloud motif. "I'm very much inspired by Tibetan culture, "  Caraway says. The other rooms in the house were painted by Eric Van Natta, who recommended Munoz for the motif.
Relax and Recharge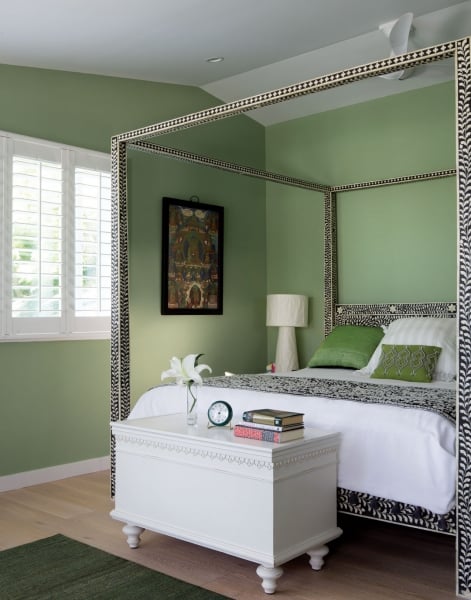 The master bedroom is a peaceful sanctuary with calming green walls. The hand-made bone inlay bed from India, purchased through Anthropologie, was hauled into the second-floor bedroom in several pieces through its large windows. Additional windows on an adjacent wall welcome in the trade winds through a cross breeze that keeps the room cool. The hallway leading to it has his-and-her custom walk-in closets.
The flooring throughout the second floor of the house, except for the bathrooms, is the same white oak flooring made for The Howard Hughes Corp. 's residential condo tower, Waiea. Pacific American Lumber had excess in stock, and Abercrombie and Caraway found it to be perfect for the second floor of their house.
Now with the renovation complete, Abercrombie and Caraway are enjoying spending time together in their Manoa home.
"The operative emotion and sentiment here is gratitude. Deep, deep gratitude. We just cannot believe that we are so lucky, "  Caraway says.
"For the first time in going on 40 years, all the time we've known each other, we are spending time," Abercrombie adds. "We go to bed together, get up together, do things together. "
EXCLUSIVE WEB BONUS:
Abercrombie and Caraway have a carefully curated collection of personal treasures inside their Manoa home. Take a look at their favorite pieces.