Outdoor Living Spaces That Will Inspire You
Check out these patios, pools and decks in paradise.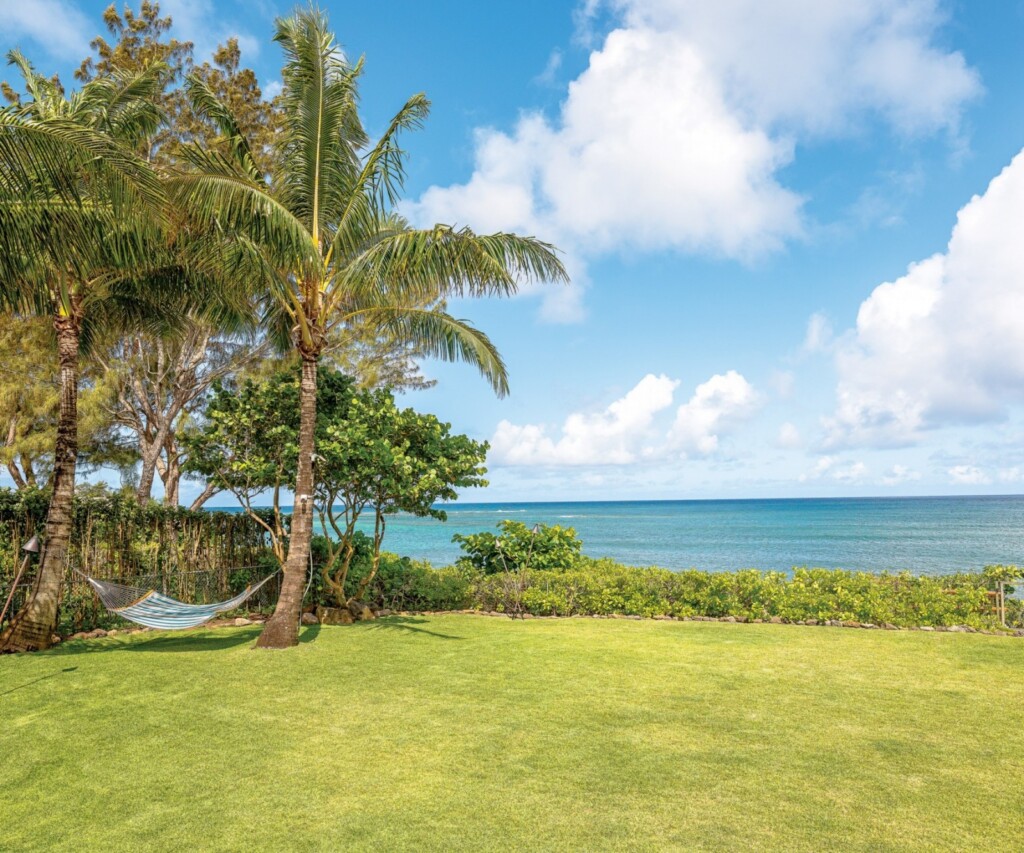 There's something special about outdoor living spaces, especially in the summertime. See below for five spots that we love.
A family's playground
While playing the championship Ko Olina golf course, a family couldn't help but notice a spectacular pool in the backyard of one of the residences. At their own Ko Olina property, the grass in the backyard extended from the house straight onto the golf course. This inspired them to get started on their backyard transformation, which resulted in a fantastic compilation of water, fire, an outdoor kitchen and recreational areas. They call their outdoor living spaces collectively, "Lagoon 5."
Outdoor patio retreat
With an impressive view, abundance of greenery and innovative use of lighting and furnishings, this Honolulu condo's outdoor patio has become a lively oasis and flexible space for the homeowners to use day or night. The owners use the space to store their bikes, exercise, grow seasonal vegetables and share meals together. The overall design of the condo allows for effective cross ventilation, letting in cool breezes while the homeowners enjoy the view. On gorgeous summer nights, an outdoor patio, lanai or balcony can be the perfect escape from the hustle and bustle of daily life.
Oceanfront property
This oceanfront property wasn't always this picture perfect. The overgrown vegetation, loose gravel and massive boulders of the original landscape weren't suitable to the current homeowners' lifestyle. They needed a place that would be ideal for their active family and able to withstand the coastal climate. To remedy this, Steve Dewald of Steve's Gardening Service was tasked with bringing the landscape design by Steve Mechler to life — allowing the family to fully enjoy their outdoor spaces.

Completely decked out
For some, decks are where homeowners spend most of their time. Whether they have a pool, prefer to sip their morning coffee out in the sun or enjoy watching the sunset, decks are an important and lovable home feature to have. The deck on this Aina Haina home was recently brought back to life. Before that, it had been deemed unsafe, left untouched by the homeowners and their kids. The family considered different colors, patterns and rail material, ultimately deciding to go with black aluminum rails to match the existing aluminum doors and windows.
Hidden garden oasis
When you step into this lush garden, you are immediately immersed in the sights and soft sounds of nature, from the vibrant greenery to the occasional chirping bird. The roars from the nearby beach and busy streets all but disappear. It's exactly what the owners had intended when they set their sights on creating an outdoor sanctuary at their new home on the Windward Side.

For more outdoor living stories, click here.