Great Ideas for All Areas of Your Home
Save time with these smart products and tips for your Island home.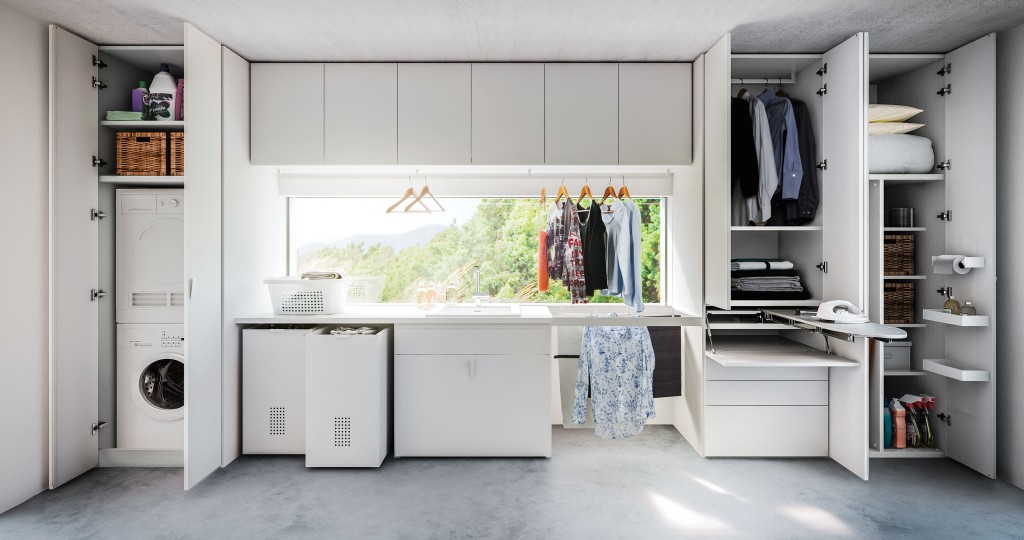 OUTSIDE
DECKS
Cable Hookup
Modern and sleek, cable railing opens up the view plane from a deck, lanai or balcony. It's ideally used with a complete metal rail system with custom bolts on metal railing posts, but it can be constructed with wood posts and hardwood caps. "Cable railing offers less maintenance, a cleaner look and longevity over traditional wood railing," says Evan Fujimoto of Graham Builders. "It's perfect for a ridge home with gorgeous views to show off."
LANDSCAPES
Design to Scale
Think of landscaping as an opportunity to beautify the front of the house with specific plants to give it curb appeal. For those with a turn-in garage or carport set back on their property, plant small trees or taller shrubs that match the size of the house, not only for beauty, but also for shading. For example, plant taller trees in front of a two-story home that's close to the street. "When done properly, landscaping will reduce the scale of the dwelling so it doesn't overwhelm the site," says Evan Fujimoto of Graham Builders. "Don't forget to mix and match different leaf shapes, sizes, colors and textures."
ENTRYWAY
Come on In
Grand Entrances with Single Large Pivot Doors — manufactured locally by Island Shutters — make an impressive statement while inviting guests into your home. "If you are looking to command attention with a visual impact to the entrance of your home, there is no better way than to do it with these," says Mark Iwasaki of Island Shutters. The oversized pivot doors are typically 5- to 8-feet wide per single door and open and close on a pivot system versus traditional hinges. Available at Island Shutters.
Add Style With Tile
Tired of looking at that old concrete exterior slab? Walkways, decks, patios and lanais can all be dressed up to provide a final touch. Natural stone, such as quartzite in a flagging pattern, can be a timeless addition to any design. Available from Tile Warehouse Inc.
All Fired Up
A fire pit will be the instant center of attention at any outdoor gathering – big or small.  "It adds instant ambiance to any outdoor design," says Clifton Crawford of C & J Contracting, which installs a variety of fire pits in many of its landscape projects. "Plus, it can provide some warmth for cooler areas of the island."
COOLING & VENTILATION
Simulate Natural Breezes
The Haiku Fan from Big Ass Fans is up to 80 percent more efficient than a traditional ceiling fan and composed of premium materials like fast-renewing moso bamboo and aircraft-grade aluminum. The Haiku Fan includes a "Whoosh" feature that simulates natural breezes and "Sense Me," a feature that allows the fan to operate autonomously, turning itself on and off based on motion detection. Ceiling fans achieve the best cooling results when paired with a whole-house fan. Available through RevoluSun.
Consider PV-Powered Skylights
These skylights from RevoluSun have insulated glass panels with Low-E coatings to minimize heat gains and come equipped with sensors that close the skylights at the first touch of rain. Plus, they're eligible for a 30-percent federal tax credit due to their integrated PV technology.
INSIDE
LIVING SPACES
Very Versatile
The versatile Poker System from Alf Da Fre can be put into virtually any room in a home. From the living room to the laundry room, bedrooms to the garage, the system includes features such as Murphy beds, pullout ironing boards, media units and built-in tables. The Poker System, which conceals itself with frameless doors in numerous finishes, is on display now on the first floor of INspiration Interiors at the Honolulu Design Center.
Feeling Exposed
For renovations requiring the removal of existing drywall or canec ceiling, leave the joists and beams exposed to create an open, rustic look to the living space. "It's best utilized where a second story exists above the open-beam ceiling to mitigate heat gain," says Evan Fujimoto of Graham Builders. "The roof will feel higher without the drywall lid and a light color will brighten the space.
Murphy Chest Bed Opens Up Room
With its shape-shifting design and modern features, this Murphy chest bed from HomeWorld Furniture is the ultimate piece for space-saving function. When not in use, the bed folds and slides into a large chest that offers one drawer for storage. Keep the bed in this position for more open space and simply unfold it when you have guests over. The queen-size mattress provides comfort, while the footboard drawers and built-in outlets offer storage and modern function for your guests.
Walk the Plank
Looking for a smart flooring solution? Consider the versatility of Paradigm luxury vinyl planks. "It's waterproof and has a thicker base so you can use it in kitchens or bathrooms without the worry of water ruining it," says Marshall Hickox of Homeworks Construction Inc. Paradigm is FloorScore certified and readily available in all types of stains and colors here in Hawaii.
KITCHEN
Open Cabinetry
For a modern kitchen with a light, open feel, consider open shelving to display glassware and dinnerware or forego some of the upper cabinets altogether. "When paired with an island that contains additional base-cabinet storage, decreasing the number of upper cabinets makes the kitchen look more sculptural and custom," says Evan Fujimoto of Graham Builders. "It affords flexibility for other ideas like running a tile backsplash way up the wall."
LIGHTING
Let the Sun Shine In 
Designed to deliver natural light to dark areas of the home where skylights are impractical. The sun tunnel from RevoluSun captures daylight at the roof and carries it through the reflective tunnel into the home. Velux sun tunnels are also available with an electric LED light kit for night lighting.
Stay Plugged In —Even in the Bathroom
Why do builders put the electric outlet toward the back corner of the bathroom countertop? The cords stick out and are constantly knocking over toothbrushes and other items every time someone uses the hairdryer. "Install electrical outlets toward the counter edge of the sidewall and orient the plug horizontally to help fit those chunky plugs on bathroom appliances," says Evan Fujimoto of Graham Builders.
BONUS IDEA!
Energy Storage
Solar storage options such as batteries, when combined with a photovoltaic system, can reduce or eliminate a home's monthly electric bill, giving homeowners energy independence and the security and peace of mind of having power when they need it most. RevoluSun Smart Home uses best-in-class components — Tesla Powerwall, Blue Ion and Sunverge — to deliver customizable energy-storage solutions to fit any home's energy needs. These lithium ion batteries are safe, modular, and can be stored inside or outside the home.
ACCESSORIES
Privacy, Please
A fantastic design element in bathrooms, kitchen areas or public facilities, EcoStyleScreens from Pacific American Lumber can be used as privacy screens among many various other applications. Made of a hybrid sustainable, natural-fiber compound, these 2-ft.-by-4-ft. panels are weather resistant and come in a variety of colors and designs and cost just $150 per panel.
Cool It Now
Suspended in your attic, whole-house fans from RevoluSun pull the hot, stale air in the house up through intake grills in the ceiling and replace that air with fresh, cool air from outside. Sized correctly, a whole-house fan system will refresh the air in your home every two to three minutes.
DID YOU KNOW? 
The reason a room feels cooler when a ceiling fan is running is because it moves air, causing water on your skin to evaporate. If no one is under the fan to feel the air move, the fan is doing nothing but using power.
Install a whole-house fan and be eligible for a $75 rebate from Hawaii Energy.
Natural light has positive effects physically, emotionally and psychologically. It also helps to lower energy costs, which can contribute up to 14 percent of a home's electric bill.
Source: U.S. Energy Information Service