This Colorful, Inviting Oahu Home Showcases the Work of Top Professionals
You don't have to look very hard to see the brilliance in every room of this award-winning home.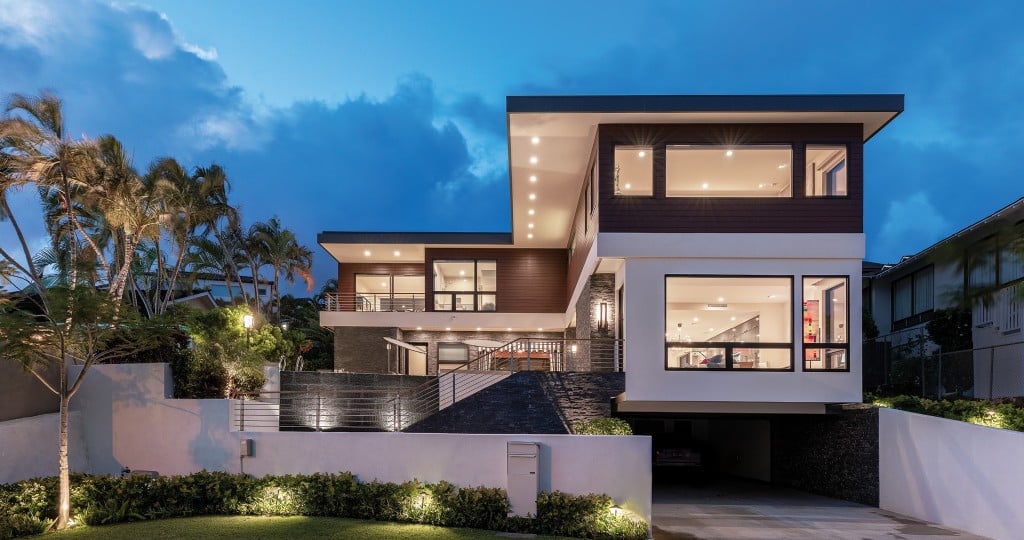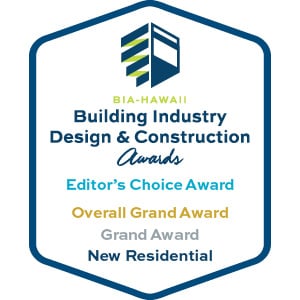 In a breezy hillside street in Waialae Iki, sidewalks dotted with manicured hedges and trimmed trees underscore the façade of a grand estate that gazes out at the ocean. The clean, modern lines of the residence combined with the use of wood, stone and stucco elements emanate an air of grace and poise.
This is home for one East Oahu family. The newly built property is a tour de force, showcasing the masterful skills of a few select professionals at the top of their games. "I wanted to be able to use every piece of the property, every square foot," says the homeowner. "I love to entertain, so it also had to be the kind of home that allowed for outdoor entertaining, and of course, we had to have a view of the ocean."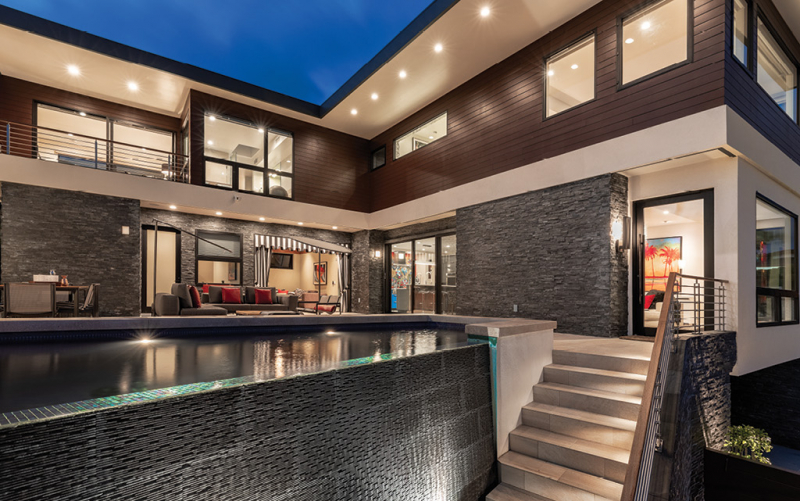 She first entrusted the vision of her new home to John Sutton at Sutton Construction, having worked with him before on a previous home she owned. "I decided that when I built this house, the only person I really wanted to build [with] was John, because I knew he would build a really high-quality house," she explains.
Sutton then reached out to local architect Fritz Johnson Jr. and structural engineer William Blakeney to draw up a set of initial plans for the homeowner. As the process gained momentum, Sutton called upon Dian Cleve, an interior designer at Hawaii Modern Architecture and Design, to fine-tune the design and flow of the home. "I came in with fresh eyes and was able to pinpoint some things that I thought would help the project," Cleve says. "All of my ideas were brought up to Fritz and John as suggestions … we were always a team."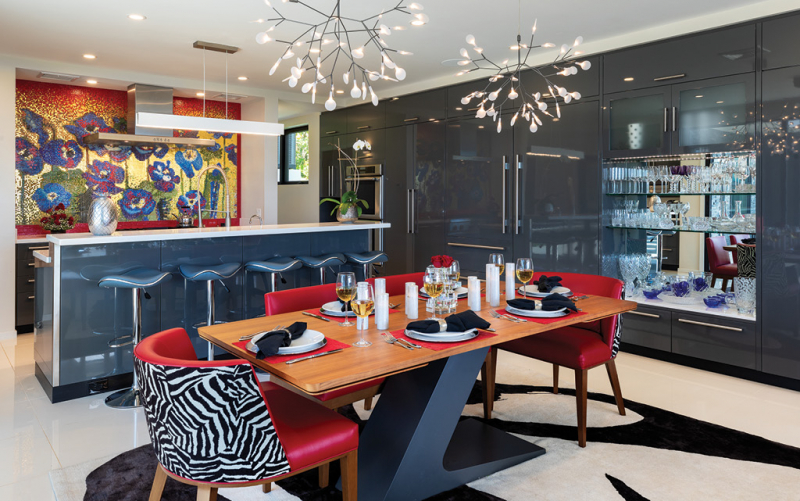 Tasked with spearheading the home's interior design, Cleve was also responsible for lighting design, plumbing fixture selection and cabinetry design, as well as furnishing each living space in the home. Working with the homeowner, the pair collaborated on a fresh and vibrant design that reflected the homeowner's personal style. "It was the first home I'd done with that kind of feel. All my other homes have been a little more traditional," the homeowner admits. "And this house – I wanted this to be my last home, and I wanted it to be different from anything I'd ever done. And you know, I think it's pretty reflective of my lifestyle, which is fairly colorful and outgoing."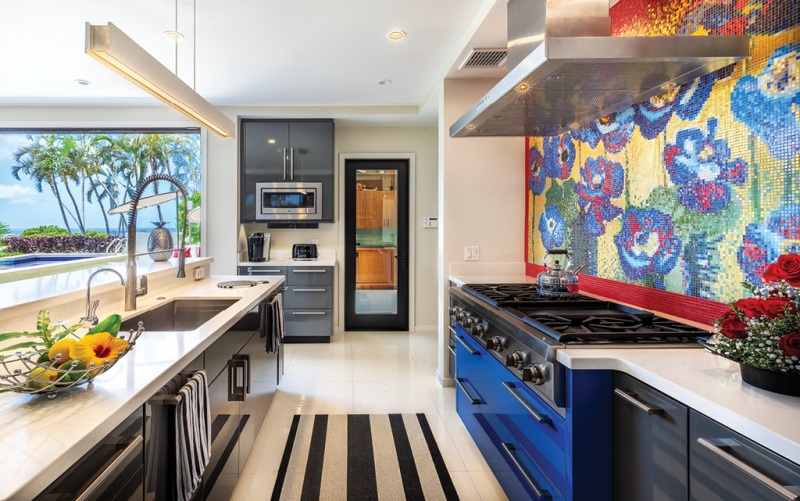 And one doesn't have to look very hard to see the brilliance in every room. Splashes of color decorate the kitchen, with the blue poppy tile mosaic taking center stage. Modeled after a painting that the homeowner had seen while traveling abroad, the ruby red tiles frame the deep blue and shimmering gold tones to make every aspect pop. The mosaic is directly opposite a large picture window in the great room that looks out to the ocean; Cleve says the two strong focal points on either side of the space balance each other out.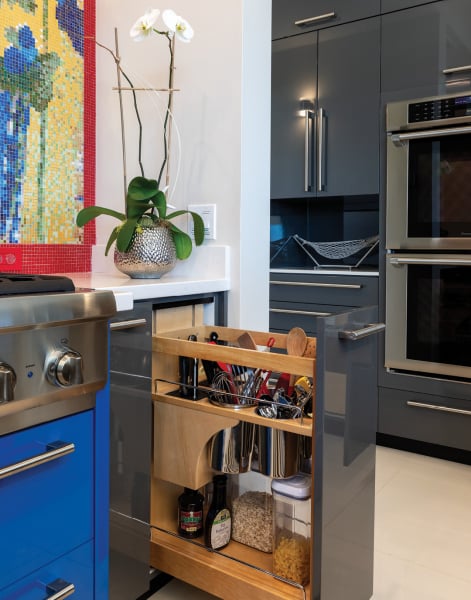 However, a house designed in part to entertain guests needed to have heavy-duty appliances to keep up. And that's where Cleve says a design challenge presented itself. It started with the inclusion of a powerful cooktop, one she says generates a lot of heat. "When you have a cooktop like this, you have to vent it and you have to vent it with a matching hood," she begins. "Well, the last thing I wanted was a big, bulky hood interfering with [the mosaic]." After some searching, Cleve provided a creative solution – use a sleek island hood that matched the capacity of the cooktop instead. The cooktop had to be pulled out 6 inches from the wall so that the new hood would not touch the mosaic. The front of the cooktop now sports cabinetry in a vivid blue finish to stand out and draw attention to the stove. The result is a beautifully accented – and functional – kitchen space. "And that's frequently what happens, your challenges end up being your most successful design elements," Cleve says with a smile.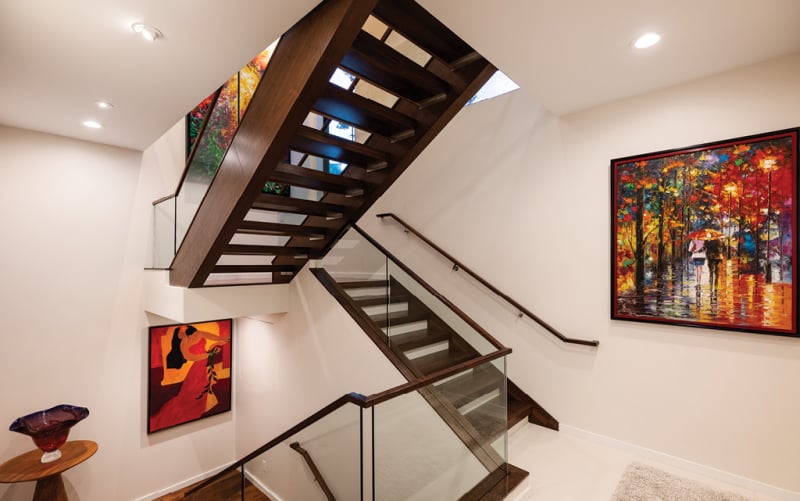 Upstairs, the private quarters are as majestic as the rooms below. In particular, the master bathroom and closet are a couple of the homeowner's favorite spots in the house. "I'm a little partial to my closet," the homeowner says glowingly. "I like being able to see everything, I like walking into the closet and feeling like I'm in a designer store." With custom cabinets designed and built by Makainai Cabinet Systems, the closet can neatly display an incredible number of personal items, from shoes to clothes to handbags.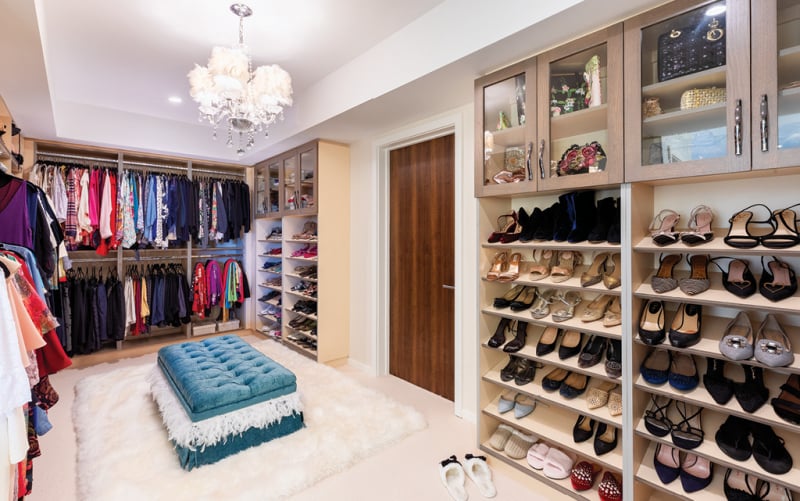 Cleve describes the master bathroom as feeling "very feminine." The porcelain ceramic tile establishes the refined look of traditional marble while still being easy to maintain and care for. Each vanity mirror is softly backlit with a built-in television for the homeowner to catch up on breaking news as she starts her day. "And then you go into that closet with the feathered chandelier and the bench that has feathers and crystal – it's actually all very feminine," she concludes.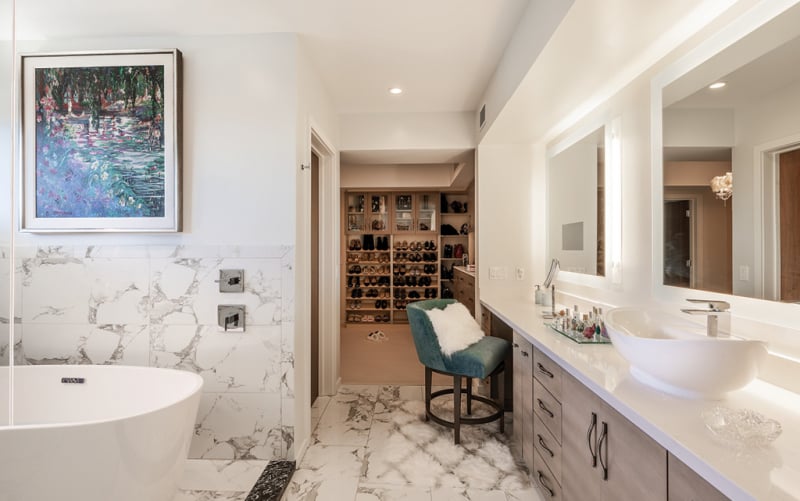 In looking back at the yearslong journey to achieve her dream home, the homeowner says she has been asked time and again by friends and family if she would ever do it all over again. "In a heartbeat. I loved it," she replies. "The house is everything I wanted it to be."