Why Painted Cabinets Are Popular in the Kitchen
Colored cabinetry is trending in home design.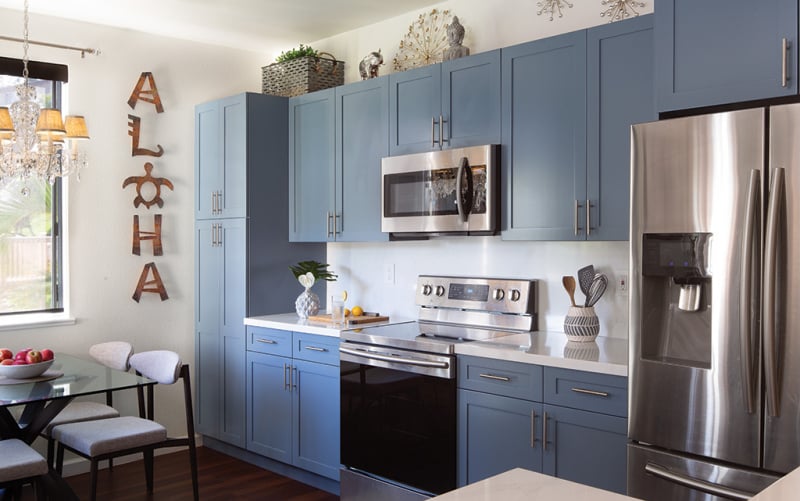 Painted cabinetry has been trending this year for good reason: It's a great way to refresh your space, infuse personality and brighten the room with color. And the color options are endless, with many homeowners embracing bolder hues — forest green, navy blue or dark gray, to name a few — moving away from the classic white kitchen.
The decision to go with a bolder color isn't a light one either, as the cabinets in your kitchen take up a large amount of space. This makes it a prime component that you want to give attention to during the design process, from deciding what kind of cabinets you want and the accessories you want them to have.
You'll want to select a color that'll make your cabinetry a focal point or complement your design look — and utilizing custom cabinets are the best way to get exactly what you want for your kitchen: made-to-order cabinetry that can be painted in the color of your choosing and outfitted with all the accessories you want and need.
Rather than doing it yourself, trust in the professionals to deliver your custom painted cabinetry, such as Bekin Cabinets. The company can make, paint and install cabinets that are tailor made to your home. There is limitless design potential when it comes to Bekin Cabinets' custom cabinets, including the color you want it in.
For instance, this condo renovation features new painted cabinetry by Bekin Cabinets in both the kitchen and bathroom. The shaker-style custom cabinets feature a deep blue, the key color used throughout the whole house. In the heart of the home, the colored cabinets are the main attraction. They are also equipped with high-end hardware and soft-close mechanics.
Learn more about this home renovation that features painted cabinets by Bekin Cabinets here. And check out these other home renovations that feature custom cabinetry by Bekin Cabinets: a cool and colorful kitchen and this functional, stylish kitchen.