Better Builders 2021
Program in partnership with the Better Business Bureau Great West + Pacific.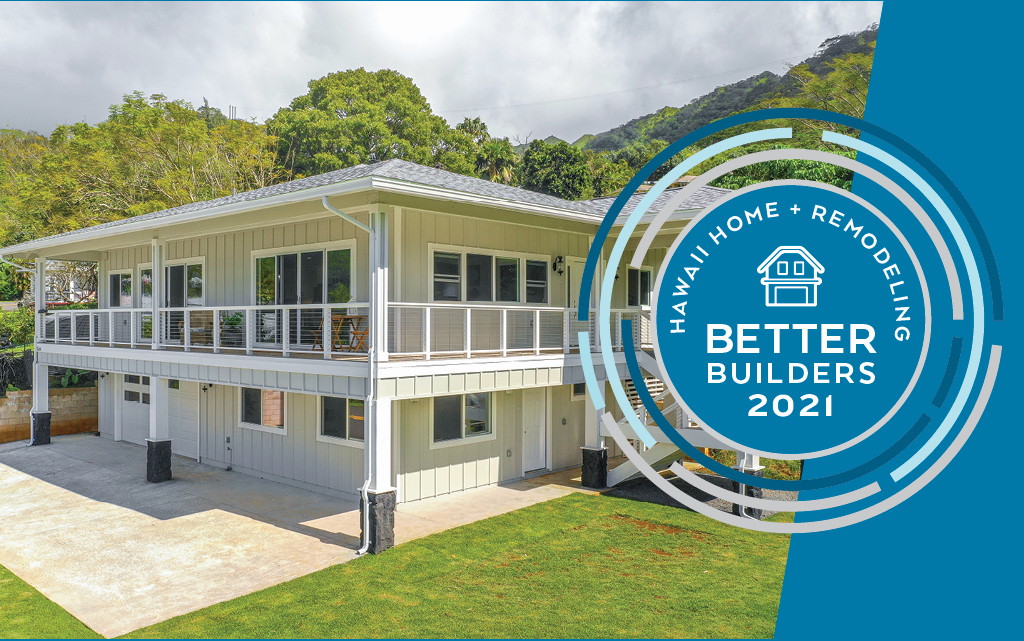 No matter the size or scope of your home project, whether it's a renovation or new build — you'll need a trusted builder or contractor for the job. Finding the right fit, however, can be a stressful process. That's why Hawaii Home + Remodeling has partnered with the Better Business Bureau Great West + Pacific to create the Better Builders program, which aims to help homeowners find the right fit for their home. 
"Having your home be a place of rest, relaxation and time with the family is priceless," shares Roseann Freitas, Hawaii marketplace manager for the Better Business Bureau Great West + Pacific. "At BBB, collaborating with Hawaii Home + Remodeling magazine to highlight the best building companies who embody integrity and higher standards is valuable to our trusted businesses and consumers." 
Better Builders showcases profiles of top building professionals that have earned A+ ratings on the BBB website. In this section, you'll learn about the companies' values, strengths, expertise, specialties and achievements. Some of these businesses are even accredited, and that's noted on each profile. 
"An A or higher rating represents the BBB's opinion of how the business is likely to interact with its customers. The rating is based on information BBB obtains including complaint, response, transparency, appropriate licensing, honest advertising and honor promises," shares Freitas. "Accredited companies have exceeded the standards and support the mission of trust in the marketplace. Businesses want to let their customers know they are trustworthy." 
For more than a century, the BBB has made it its mission to help businesses and consumers. "The BBB vision is an ethical marketplace where buyers and sellers trust each other. We do this by setting standards for trust. We educate businesses on best practices and how to run a company that exceeds standards. We also educate consumers on how to shop smartly and what they should look for in a business," shares Freitas.  
The organization offers an extra level of research and can assist in solving disputes, as well as providing listings of pre-vetted businesses, tips on how to shop smartly, and education on fraud. 
"Finding the right builder allows the consumer to spend their money on quality work," shares Freitas. "Trusting someone with one of your most considerable assets can be scary, and left in the wrong hands, can cost you more in time, money and frustration. 
"Start with trust and begin your research at bbb.org."  
Read on to see profiles of these Better Builders and what they have to offer.  
The Better Business Bureau's Recommendations on Finding a 'Better Builder'
Vet the contractor. Search bbb.org and the state's Professional and Vocational Licensing Division.

 

Ask for references and read reviews and complaints.

 

Get everything in writing. The contract should include contact information, start and completion timeline, detailed description of the actual work to be performed, projected material costs, payment arrangements, warranty details, and information on subcontractors. 

 

Decide who is working on the permit — and do not allow work to start without it.

 

Ask for a lien waiver when completed to verify all suppliers and subcontractors have been paid.

 

Ask about warranty and potential future service issues.

 

For more ways to protect your home, see the Better Business Bureau contractor checklist.