Editor's Notes: April-May 2023
To everything turn, turn, turn.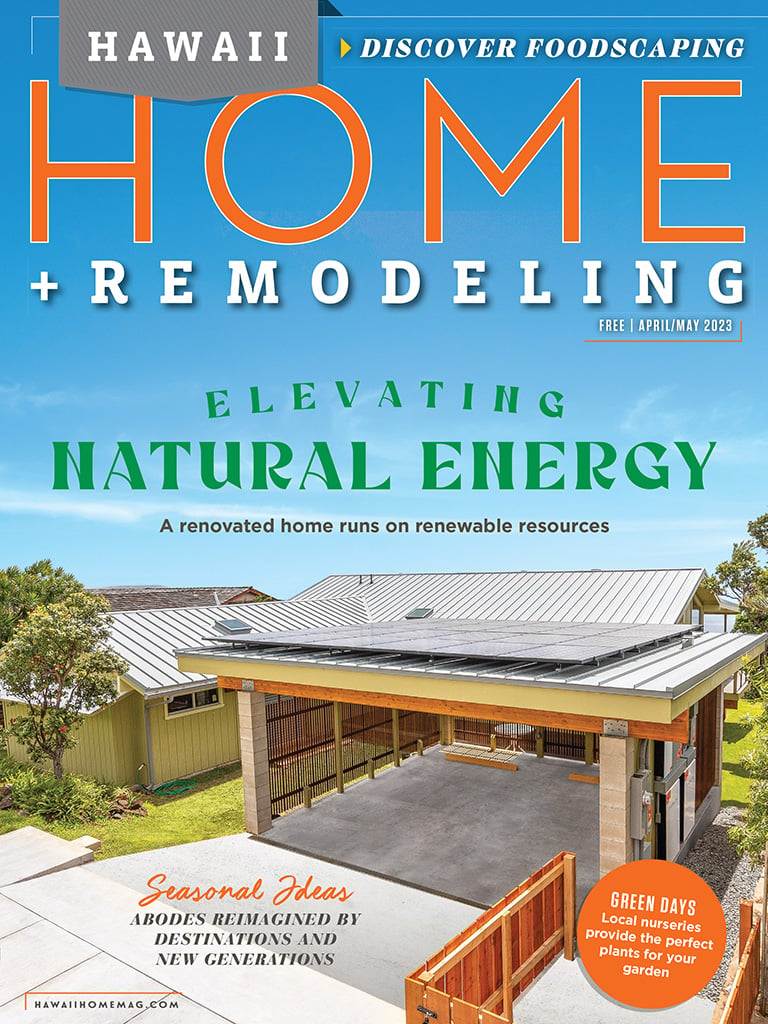 One of the constant themes in this column, ironically, is change. A classic song by the Byrds came to mind as I reflected on our April/May issue: To everything, there is a season; a time to plant, a time to reap; a time to build up, a time to break down.
It's a testament to the tenacity of the small but mighty Hawaii Home + Remodeling team that neither wind nor rain nor seasons of change can put a damper on our dedication to the work that we do. We hope you enjoy the stories and photos we've captured in this edition — some of which come with great backstories themselves on the amazing people we've met and interesting experiences we've had while putting this magazine together.
In honor of all things spring, this issue includes everything from refreshing remodels to ideas on incorporating "green" living at home. Beyond the traditional spring cleaning and decluttering, there are many ways to embrace a bigger shift in perspective when it comes to the potential your home holds for inviting new energy and warmth.
That could be said in the literal sense with our cover story, which highlights the work of RevoluSun. With more than a decade of serving Island homeowners as a provider of solar energy systems, photovoltaic installations and other environmentally conscious home upgrades, company co-founder and chief innovation officer Eric Carlson shares his insights on how renewable energy can benefit the planet — and your electric bill. We spotlight a Kahala residence with a new RevoluSun system that was customized for the homeowners' needs during a recent renovation.
Our home stories take us to Manoa, where remodeling projects opened spaces to let light and imagination in. One of our featured homes — a modern plantation-style abode — has a new sunroom that's perfect for quality time with a growing family. Another residence has a Moroccan motif woven throughout its redone master bedroom and bathroom, inspired by the homeowners' dreams of someday visiting the Mediterranean destination.
In this issue, we also meet Robin Petersen, who carries on her mom's legacy at Sharon's Plants, and learn about the fruit trees that have become popular with home gardeners. And we begin exploring the concept of food sustainability or "foodscaping," an important movement in which homeowners and communities cultivate their own food sources.
I often tell people that my goal in life is to change the world and make it a better place. As spring is in full swing, it's a good reminder that refreshment and renewal are always happening in big and small ways. And some of the most heartening, positive changes can begin at home.
On that note, we love to see what our Hawaii Home + Remodeling community is up to. Tag us on Instagram (@hawaiihomemag) and share photos of your home projects using the hashtag #hawaiihomemag. Thanks for reading!
Aloha,
Darlene Dela Cruz, Editor